5 Ways to Boost Treatment Results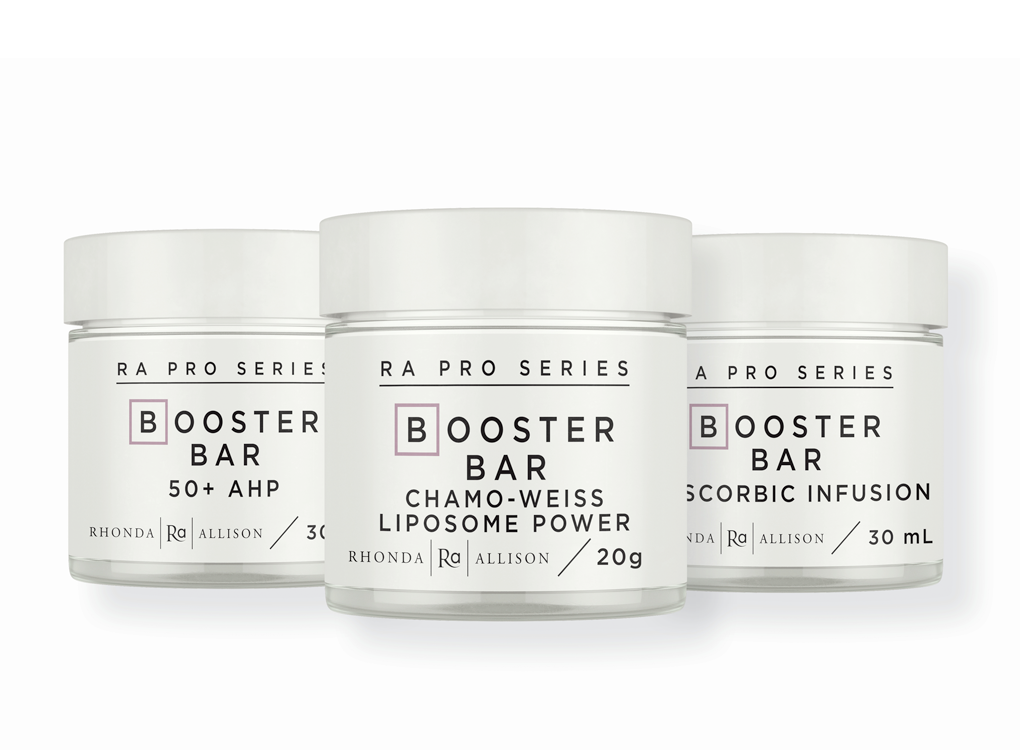 Like a snowflake, no two skins are the same. There are many contributing factors that impact the condition of a skin –– lifestyle, genetics and skincare history, to name a few. This makes treatment customization truly essential for achieving results. Of course there are numerous ways you can customize skincare, from the products used in the treatment room to prescribed homecare, but when you're dealing with a very specific skin condition, how do you zero in on correcting that issue?
This is where boosters come into the picture. A booster is a very targeted formula that hones in on specific skin issues by harnessing the unique properties and benefits of particular ingredients, which are often used in higher concentrations.
Let's explore a few skin challenges and the types of boosters that may be used to restore the skin to optimum health.
For compromised barrier: To resuscitate a compromised barrier, hydration and healing will be imperative. Two ingredients that provide support are pure liposome aloe vera and hyaluronic acid. Both reduce inflammation and irritation, increase hydration levels to the epidermal cells, prevent water loss, and boost elasticity and tissue repair. Aloe vera also accelerates collagen synthesis, and prevent immune suppression caused by UVB light by repairing damage to langerhans cells. Hyaluronic acid helps to remove waste matter from cells and reverse free-radical damage, protecting skin from UV damage.
These ingredients may be blended with peel formulas to further support healing and strengthening, and they work particularly well with mandelic acid and arginine-based formulas. Find these in the 50+ AHP Booster
For acne: Ingredients like niacinamide, beta glucans and cornflower extract are particularly beneficial for acne skin, as they deliver antioxidant support and promote healing. Beta glucan works through the inter-cellular lipid matrix to deeply penetrate the dermis and epidermis, promoting wound healing and reducing scarring. Niacinimide, a potent B3 and natural antioxidant, works with the natural substances in the skin to improve the appearance of fine lines, wrinkles and enlarged pores, while renewing dull, uneven skin. Cornflower (centaurea cyanus flower) extract delivers deep hydration, regulates sebum production, and brightens and soothes skin.
These ingredients, when in a powder form, may be added to enzymes, acids and masks to boost the results of acne treatments. Find it in the B3 Booster Imperfection Diminisher.
For Pro Youth skin: Advanced ingredients such as coenzyme Q10 (COQ10), camellia sinensis (green and white tea) leaf, and echinacea purpurea (purple coneflower) root extract will work together to firm and tone the skin while increasing elasticity and hydration. COQ10 encourages cell membrane regeneration, boosts cell energy, and increases collagen and elastin production. Camellia sinensis leaf provides antibacterial and anti-inflammatory support, and echinacea purpurea root supports wound healing, improves hydration, reduces the appearance of fine lines and wrinkles, and counters sun-related skin damage. Other important ingredients include, whey protein isolate, D-beta glucan and niacinamide.
These may be mixed with masks and enzymes containing mandelic acid and arginine to enhance pro-youth results, or with a hyaluronic serum for an antioxidant-rich finisher. Find it in the Nutra 8 Booster.
For strengthening: When the skin is in need of strengthening support and a collagen boost, look to ingredients with a high vitamin C potency. This includes ingredients like L-ascorbic acid, organic camu camu, kakadu plum extract, wild cherry, and pomegranate. Each is known for their superior antioxidant protection and ability to increase cellular strength without producing oxidation in the skin.
Organic camu camu extract, which is rich in flavonoids, antioxidants and vitamin C, protects from free radical damage, increases collagen, stimulates tissue regeneration, and diminishes fine line and wrinkles. Kakadu plum extract, with its unmatched concentration of vitamins C and E, carotenoids and folic acid, delivers myriad benefits including brightening and evening skin tone, lessening puffiness and dark circles under the eyes, reducing signs of aging, and increasing cellular vitality. These can be added to enzymes, serums and masks to further support skin strengthening and cellular integrity. Find it in the L-Ascorbic Infusion.
For healing and soothing: Active herbal ingredients that are rich in antioxidants and flavonoids, such as chamomile, purple coneflower, cornflower and edelweiss, are ideal for providing healing relief to rosacea-prone, dry, sensitive and inflamed skin.
Chamomile flower extract conditions and soothes while also supporting wound healing with its antibacterial and anti-inflammatory properties. Edelweiss extract, a natural antioxidant that is three times as powerful as vitamin C, stimulates blood flow and penetrates the deepest layers of skin to deliver moisture, strengthen and reduce the signs of photoaging. Echinacea root extract and centaurea cyanus flower (cornflower) extract further protect from environmental stress, encourage healing and help fight fine lines, wrinkles and puffiness. These may be added to enzymes, peels and masks containing milk proteins, papaya, mandelic acid and arginine to treat rosacea and sensitive skin. These are also ideal as finishers when blended with serums and moisturizers to calm inflammation and provide additional hydration.
Boosters can prove to be your secret weapon in the treatment room for taking customization to the next level and enhancing results, particularly when dealing with a very specific skin issue or working toward a specific goal. Of course these are one part of the bigger picture. It's always imperative to talk to clients about proper home care and how lifestyle choices may be impacting their skin.