Are You Responding to the Boom in Male Personal Care?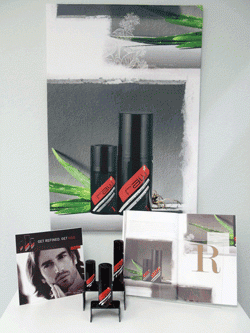 You may have noticed the explosion in the male personal care market lately (the Old Spice commercials took the Internet by storm). Beyond comedic commercials, male grooming is outpacing most beauty categories, thanks, in part to the new demographic that has emerged. This new demographic desires a more clean-cut appearance, but still wants simplicity.
The men's personal-care market measures nearly $2.1 billion and that figure is expected to reach $2.8 billion by 2012 according to Nielsen. How can you reach this demographic?
Keep it simple, but effective
Studies have shown that men equate good grooming with success and confidence. Being men, however, they want products that demonstrate utility, multiple uses and effectiveness without compromising simplicity.
The RED Method line was developed on the simple premise of the five critical Skin Laws: cleanse, exfoliate, tone, restore, and build, protect. The formulations are complex and sophisticated, but when it comes to use, most serve a dual purpose.
Marketing matters
Men are getting facials, but it's how you appeal to them that makes the difference. The term "metrosexual" no longer resonates with the male consumer. Today it's the "everyday guy" who values a groomed appearance without taking it to extremes.
RED Method was developed with this man in mind – the active man,the "RAW Man." How can you effectively market to this demographic?
Use strong, bold colors in your displays
Utilize keywords like "active," "serious skin care," "raw," and "confidence"
Promote the idea of dual purpose products
Appeal to their wives, girlfriends and mothers with gift sets or couples treatments
Try partnering with a local golf club to package a treatment with a round of golf or develop specials for gym goers
Make sure your marketing materials promote the idea that everything about the treatment and products are geared specifically for the active man's skin – from the ingredients, to the ease of use, to the serious results and even the alluring scent.
Don't miss out on this emerging trend. It's here to stay and will only continue to grow. If you aren't ready to meet the demand, you could be neglecting a very powerful segment and potential new clients.