Body Contouring Minus the Knife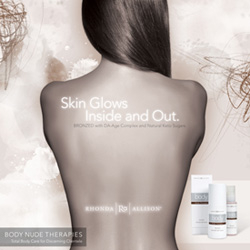 With New Year's just around the corner, many will resolve to get in shape. As clients set their sights on toning and firming the body, why not provide them some tips and tools for body contouring.
I'm not talking about the surgical procedures that typically result in significant downtime. I'm talking about the advances in skin rejuvenation treatments that have become effective non-invasive alternatives for creating toned, supple, firm, and smooth skin. These treatments take what we know from facial rejuvenation – the proven protocols and ingredients – and apply them to the body.
How can you help your client reach their goals for a firmed and toned body in 2011? Treat the body as you would the face, and give the skin a workout.
Peeling Away the Layers
Exfoliation is absolutely essential. It stimulates cell turnover, lifts dead cells and begins the regenerating process. Physical exfoliators like the Nude Therapies Bamboo Scrub uses natural bamboo and pearl extracts to scrub away dead skin cells, and refresh and hydrate. Combined with the 20% L-Lactic massaged into the skin, this is the perfect prep to a body treatment.
Moving into the peel – the Ultra Exfole, the Liquid Enzyme Peel, 25% AHA Gel or 50% L-Lactic Acid, which work well with the body – will lift away deeper layers of dead skin cells, provide antioxidants, and regenerate and hydrate, leaving the skin smooth and polished. Clients will notice an almost immediate difference in firmness.
Rebuilding the Body
Just as our bodies need support from nutrients to function, so does our skin. Peptides, essential fatty acids, growth factors, and amino acids, which we know are key in facial applications, also work wonders on the body.
Though Ultra Exfole and Peel Cream have exfoliating properties, they also support tissue repair and are essential to the rebuild process. Fruit acids blend with vitamins and minerals to penetrate deeper layers of the skin, activating cell renewal and providing antioxidant support. The Ultra Exfole can also be mixed with the Omega 6 EFA to boost tissue support.
To finish the treatment, Bio Reform 28, Energizing Peptide Spritz or Exotica Rhodiola Body should be applied to deliver energy to the cells, activate collagen production, detoxify skin tissues, hydrate, soothe and support the rejuvenation process. Of course, don't send clients on their way without providing their skin a shield from environmental elements with the Daytime Defense.
Your clients can continue the contouring at home in between treatments as well. Determine what their skin needs are and create a customized home regimen just as you would do for their facial care. Educate them on the benefits of non-invasive body contouring and help them achieve their New Year's resolutions for a firmed body in 2011.
Question: What skin solutions do you provide for your clients who ask about improving various areas of their body?