Cooling Treatments Your Clients Will Melt For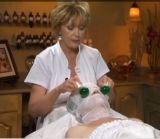 Whenever the temperature rises we begin to search for creative ways to keep cool. Many will spend their days pool or beachside, while others (like our friends in Arizona) seek out the cool confines of air conditioned buildings. For me, I try to escape to a cooler region for a short while every summer. This got me thinking, however, about how refreshing simply taking a trip to the spa for a cooling treatment can be.
Cooling treatments not only revive tired skin, but can also transport clients to another place…even if it is just for an hour or two.
Cooling Down the Treatment Room
Most treatments can be adjusted slightly to make them more summer appropriate. Simply swap out hotter enzymes for more manual exfoliants, which will help keep the "sizzle" to a minimum, and apply masks and topicals chilled. All of our masks, including the Cacti Mud Mask in the RAW Man Facial, can be chilled prior and feel like absolute luxury during the hot season. Keep in mind too, if you are administering a peel, some of these can also be chilled first like the Goats Milk Peeling Cream.
You don't have to make everything cold however. Try alternating between tepid and cold using a heated compress followed by Ice Globes or chilled Purifying Lotion spritzed on after cleansing or the enzyme application.
Finish the treatment with more cooling topicals like the Blushed Wine Gel, which keeps the skin firm, tone, hydrated and cool – essential for summer care. Most topicals can be chilled first as well, such as the Cucumber Spritz, Moisture Au Lait and many of the serums. Try cooling your hands before you work too. Gently place them over your client's forehead and temples at the start of the treatment…they absolutely love it.
Summer Treatments
As I mentioned, most treatments can be made more cooling with a few adjustments, but there are a few that lend themselves particularly well to the summertime:
Maui Spa Facial – this treatment is like an escape to the tropics with fresh, invigorating scents of papaya and pineapple. It leaves skin purified, toned and bright.
Facial Extraordinaire – this acid optional treatment uses several deep hydrating and cooling ingredients like the Gentle Milk Cleanser, Milk Mask, Blushed Wine Gel, Grape Seed Hydrating Serum, and Cucumber Spritz.
Multi-Vitamin Hydrating Facial – a vitamin-rich treatment, perfect for summer. It leaves skin smooth, soft, nourished, and moisturized thanks to its powerful dose of vitamins and antioxidants.
Nature's Bounty Fruits & Nuts with Milk & Honey – ideal for sensitive, dry, dehydrated skin. It incorporates citrus, pineapple, papaya, an almond-based exfoliant, and finishes with the Honey Paprika and Milk Masks.
These are just a few of the many treatments that are wonderful for the hot summer months. Get creative with your treatments and look ways to turn your treatment room into a cool summer escape for clients.
For more information and protocols on these treatments refer to the Facial Recipe Creations book.
Question: What is your favorite cooling treatment? Do you have any creative summertime tricks?