Guide To Holiday Promotions and Marketing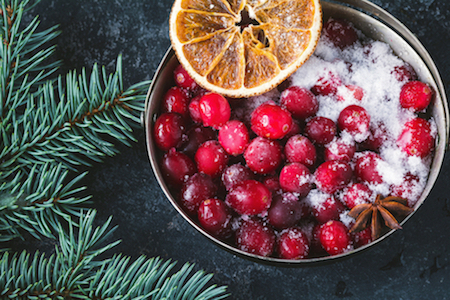 We're officially in the thick of the holiday season and barreling towards the gift-giving time of year. If you're still looking for ways to boost your holiday promotions and finish the year strong, we've put together a quick guide to kick-up your marketing.
Indulge in the flavors of the season
We've come to love seasonal, special edition flavors ––thanks in part to the Pumpkin Spice Latte. This time of year clients love the aromas of chocolate, warm spices and cherries, and as such, holiday-themed spa menu options and homecare systems that indulge their senses tend to do very well.
Why not offer clients an escape from the holiday hustle to get radiant skin in time for the party season? Two treatments clients will love this season include the Unwrap & Glow and Gift of Radiance.
The Gift of Radiance offers relaxation, soothing support, and hot and cold therapy sensations, leaving the skin absolutely radiant. The Liquid Enzyme Peel and Skin Brightening Enzyme will aid in the suppression of melanin, while the Grape Seed Parfait Mask and Chocolate Antioxidant Mask enrobe the senses in tantalizing flavors and deliver antioxidants and hydration to the skin.
The Unwrap & Glow is a progressive peel designed to deliver glowing, pro-youth results without the downtime. It uses the limited-edition holiday cleansers and mask: Spiced Oil Cleanser, Holiday Cocoa Cleanser, and Decadent Cherry Milk Mask. Clients not only love the aromas, but also the sensations each of these delivers. The Spiced Oil Cleanser feels like pure silk on the skin, while the Holiday Cocoa Cleanser provides a gentle physical exfoliation with the jojoba beads.
Marketing tip: Consider offering special packages for the holiday season such as buy one get one half off so clients can bring a friend or loved one; or consider a special gift with purchase. Clients then have a gift to give someone else and get to treat themselves.
Make holiday shopping a cinch
Many of our clients are strapped for time and want packages that have done the heavy lifting for them. Grouping together seasonal products or pairing systems that aim to treat a specific skin issue go over well with clients. For example, we've created a few systems and box sets:
RA IllumiColour Mineral Glow System – includes the Natural Mineral Crème or Matte Natural Mineral Crème, Mineral Powder and Elegant Brush.
Minus 10 Youthful Skin Collection – includes the AGE less, Peptide 38, Infuse 7, ChronoPeptide A, Eye & Lip Renew Serum, and Sheer Tint Finisher. This one is great for addressing fine lines and wrinkles, puffy eyes, dry and lifeless skin, and crow's feet. It will leave skin hydrated, plump and healthy.
Teen Start System – created to help teens get started on the right foot with their skin care. It includes the Beta Green Tea Cleanser, Cucumber Spritz, eZinc Protection Cream, and Blemish Serum.
Winter Iridescence – everything the skin needs to stay healthy-looking and hydrated. The system includes the Foaming Peptide Cleanser, Grape Seed Hydrating Serum, Grape Seed Parfait Mask, and Blushed Wine Gel.
Marketing tip: Start marketing these in your spa with counter cards and other signage as well as cross-selling to clients following treatments. Consider offering a discount on gift sets to clients who come in for a treatment. Send out an email campaign with information about gift sets and special offers. Now that Black Friday and Cyber Monday are behind us, it's a good time to cut through the clutter.
Give back to your clients
'Tis the season of giving…in many ways. Beyond just thinking about gifts your clients can purchase to give to their loved ones, what can you give them this season to show your appreciation?
Consider inviting your list of past and present clients to "Holiday Radiance Party" and make it all about them. Serve light hors d'oeuvres and sweets, hot apple cider, hot tea or hot cocoa, and consider giving away a gift set or treatment to a couple lucky clients. You might even give a party favor (a petite skincare set or a cleanser) and provide hand treatments or bring in a masseur for 5-minute chair massages. Your clientele will feel appreciated and you'll get more people through your doors.
Marketing tip: To be eligible for the giveaway, have your clients bring a friend and consider giving the friend a gift card or special discount for booking a treatment that night. Don't forget to make the most of social. Take lots of photos and some short videos for Instagram, Facebook and Snapchat.
Think about what may be burdening your clients this time of year, and what you may be able to do to ease that. Tie your marketing and promotions into the joy of the season, and put your clients first, and you (and your business) will reap the rewards.
Question: What is a major stress for your clients this time of year and how do you help them alleviate it?