How to Restore and Protect Rosacea Skin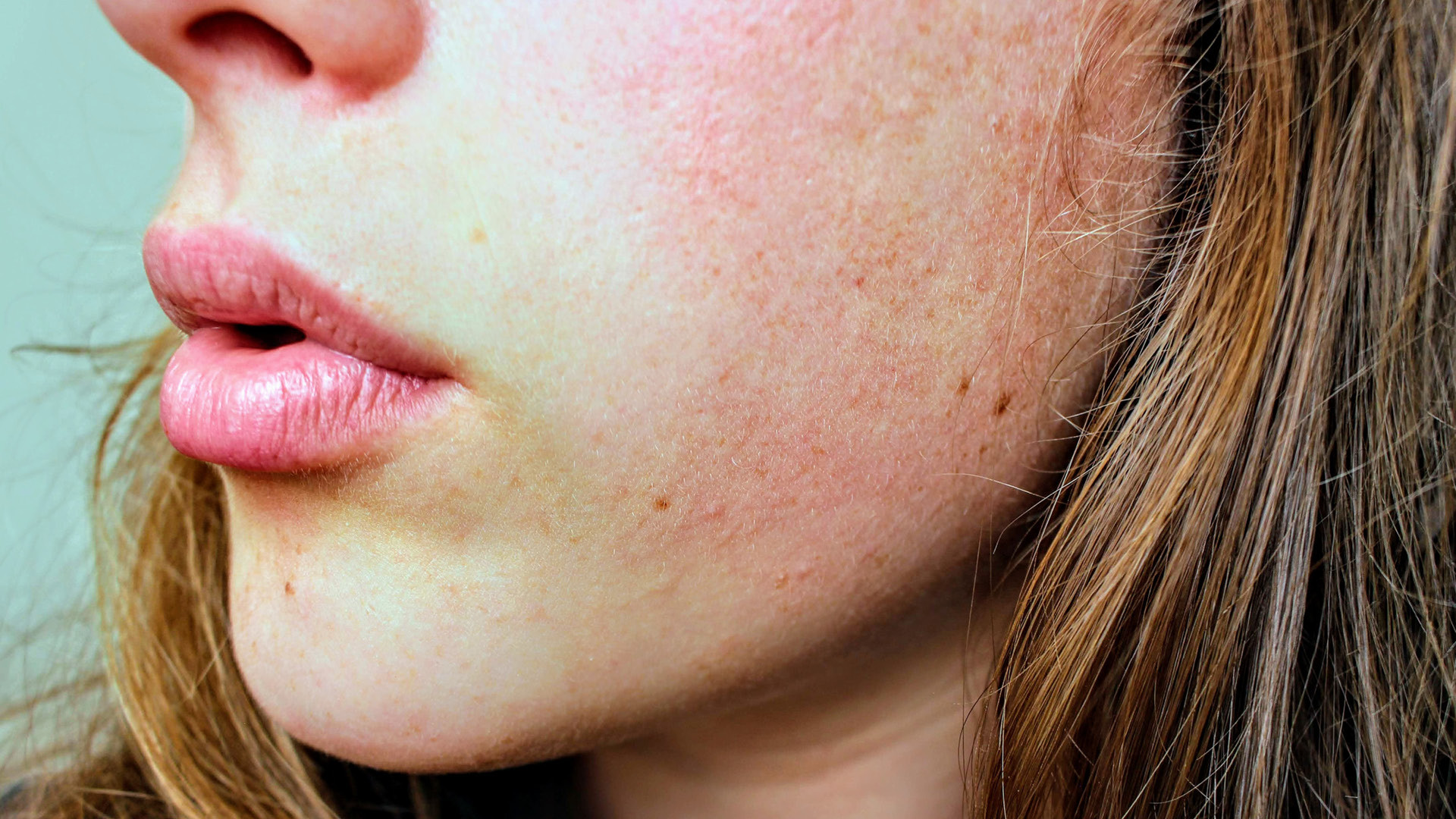 It's estimated there are more than 45 million rosacea cases globally – dispersed among women and men. Despite its prevalence, rosacea remains one of the most commonly misunderstood inflammatory skin diseases.
Typically, rosacea will cause facial redness in the cheeks, nose, chin or forehead, as well as sensitive skin, burning, stinging, swelling, papules, pustules, expanded surface capillaries, and dilated veins. Often misdiagnosed as adult acne, allergies or eczema, if left untreated, rosacea tends to worsen over time.
The first stage will often manifest in the form of frequent blushing or flushing as skin becomes irritated by certain topicals, acne medications, chemical-based sunscreens, and improper care and protection. The second stage will appear as a continuous reddening of the skin. Expanded surfaced capillaries, and papules or pustules may also appear. The third stage is a deeper, more persistent redness often accompanied by dilated veins particularly around the nose. An early sign is fibroplasia (excess tissue growth), which may produce enlarged pores.
There are many theories around what causes rosacea, however much of the research points to internal issues such as a sluggish circulatory system, the inability to flush bad bacteria from the body resulting in gut issues, emotional stress which aggravates the nervous system, and an excess of demodex mites.
While there's no known cure for rosacea, we can make an impact and slow down its progression. This is why early diagnosis is so important.
Restoring rosacea skin
There is not a one-size-fits-all remedy to these issues, each will require a personalized approach to fit the exact needs of the skin. There are, however, a few best practices and ingredients that work well for restoring the health and vitality of rosacea skin.
The goal with rosacea skin is to focus on ingredients that reduce redness, bacteria, inflammation and strengthen the skin from within. For this, turn to ingredients found in our new Rosacea Rescue line, such as:
Retinaldehyde –– encapsulated retinaldehyde is similar to retinol in that it converts to retinoic acid, but it is less irritating to the skin. This vitamin A derivative also encourages regeneration and cellular cohesion, and fights bacteria.
Mandelic acid –– derived from almonds, this powerhouse ingredient helps desensitize the skin, enhance healing, and strengthen it with antioxidants. It also increases oxygen, stimulates cell turnover, and provides antibacterial and antiseptic support.
Stem cells –– organic stem cells increase antioxidant resistance, inhibit the production of collagenases, and provide antioxidant, anti-inflammatory and antibacterial support.
Sea buckthorn oil –– a therapeutic oil that contains palmitoleic acid, it nourishes the skin and promotes tissue regeneration.
Totarol – a naturally derived plant extract, it contains superior antioxidant actions while limiting acne vulgaris outbreaks due to its potent anti-bacterial properties.
Other ingredients that support rosacea skin include, salicylic acid, omega essential fatty acids, and flower extracts like chamomile, edelweiss, purple coneflower and cornflower. These are merely a few ingredients that will support rosacea skin by reducing inflammation, providing anti-microbial, soothing, nourishing and wound-healing support, and strengthening blood vessels and the capillary wall.
In the treatment room, the goal for rosacea clients is to strengthen the skin without over stimulating the underlying inflammation. This is achieved primarily through the use of "rosacea-friendly" ingredients, specific techniques, and facials and peels, like the new Rhonda Allison Rosacea Rescue that increase overall circulation.
Daily attention is critical
A good homecare system and educating clients about how ingredients and the lifestyle choices they make impact their skin health will be imperative. For a homecare system, a good regimen might include:
Additionally, talk to clients about stress and inflammation management, as these are two primary contributing factors. Here are a few additional daily care suggestions for rosacea-prone clients:
Get plenty sleep and exercise
Take time to rejuvenate
Drink 6-8 glasses of water a day
Avoid sun exposure and use SPF30 Daily
Eat life-giving foods
Apply topical antioxidants to skin daily
Avoid irritating skin by rubbing or touching it too much
Protect the face against excess heat or cold
Use products non-comedogenic so as not to clog pores and sweat glands
Healthy lifestyle choices combined with ingredients and treatments that rebuild and strengthen, will put your clients on the path to achieving optimal skin health.
For more information about the new Rosacea Rescue line, visit RARosaceaRescue.com