National Face-Off Winner Announced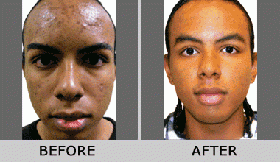 The 2010 National Face-Off Competition has come to a close and we're proud to announce this year's winner. Congratulations to Nancy K. Betzen with Skin Assist in Englewood, Colorado! Her work exemplifies what our profession is truly about: performance, professionalism and lasting results.
While we could only select one winner, the entries this year were truly remarkable. Congratulations to all of the amazing aestheticians from throughout the country who participated in the 2010 National Face-Off Competition. It is clear, judging by the attention to detail and the before-and-after photos, each of you have tremendous dedication to the art of skin rejuvenation and passion for delivering results to your clients.
I personally reviewed numerous entries and selected a winner based on the most significant challenges, changes and overall results. This was a very tough decision, but Nancy's entry demonstrated the most notable difference and achievement. As the winner, she will receive $1,000 and her client Ray Prestonwill receive a six-month supply of Rhonda Allison home care products (a retail value of up to $1,200).
Several notable aestheticians were selected as finalists for their commendable performance of excellence as well:
MaryCompan – A Touch of Venus Skin Care, Dallas, TX
Marilyn Giason-Fenker – Santa Facials, Santa Fe, NM
YvonneM. Saenz – Esthetic Beauty, San Antonio, TX
IsabelleTurner – Isabelle Daudre French Skin Care, San Ramon, CA
During the three-month challenge, the participating aestheticians worked towards solving a skin health challenge and rejuvenating a client's skin using only Rhonda Allison treatment systems and home care products. Beyond giving clients hope that healthy skin is attainable, aestheticians also give countless clients the confidence to put their best face forward. The National Face-Off Competition is our way of awarding and highlighting this amazing work.
If you didn't participate this year, be sure to enter in 2011. It's your chance to shine, and show off your talent, expertise and healing touch. For all of those who did participate, thank you and congratulations! Every single entry demonstrated a high-level of performance and expertise in the art of skin rejuvenation. You should all be proud. I know I am.
Rhonda Allison