Peels & Skin Cancer Prevention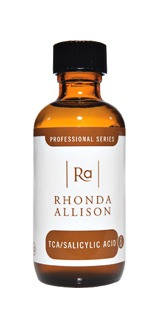 Peels have become one of the premier treatments for anti-aging, pigment reduction, rosacea and acne control, but did you know that new research shows they may also help in the prevention of skin cancer? In a recent study conducted at the Veterans Affairs Palo Alto Medical Center in California, facial resurfacing methods including TCA peels successfully treated actinic keratosis (AK), the most common skin precancer, 10% of which develop into squamous cell carcinoma, the second most common skin cancer[1]. Three months after treatment with a 30% TCA chemical peel, the number of actinic keratoses lesions were reduced by 89% and basal cell carcinomas and squamous cell carcinomas were reduced by 40% in up to 4-5 years of long-term follow-up. Although the study was small the outcome was extremely promising.
Although aestheticians must not make medical claims, offering a series of TCA treatments, spaced in 3-4 week intervals may reduce the incidence of these lesions. Precancers like AK are in the epidermis and since peels work in the epidermal layer; these resurfacing treatments take them off.
TCA is a key ingredient in many of Rhonda Allison's peels formulas. You will find TCA in 10% TCA/AHA, 15% TCA/AHA, TCA/Salicylic, Kojic Clay TCA, Sake Peel, and Salicylic Solution. Although a 30% TCA solution was used in the VA study, a series of lighter peels and ongoing homecare with retinols may have a similar impact. I'm not suggesting that you tell your clients to stop seeing their Dermatologist, or that these peels be used as a replacement for medical treatment for active AK lesions. However, a regular program of peels is an effective solution to future incidence of these lesions, and a key part of an on-going preventative regimen.
In 2009, more than 1 million people were diagnosed with skin cancer, making it the most common of all cancers.[2] About 1 in 5 Americans will develop skin cancer during their lifetime.[3] The best prevention is of course, avoidance.
Don't Burn
Avoid Sun Tanning and Tanning Beds
Use Sunscreen (Generously apply a broad spectrum sunscreen with an SPF of 15 or higher. Reapply at least every two hours, and after swimming or sweating.)
Cover Up –Wear a hat and buy sun resistant clothing to use for extended outdoor exposure.
Seek Shade (UV rays are most intense between 10 a.m. and 4 p.m.)
Watch for the UV Index
Also, be aware of the signs of skin cancer:
Skin Cancer Detection - ABCD
Checking moles for any of the following changes:
Asymmetry
Border
Color
Diameter
And recently some health organizations have added E to that group – an elevated or evolving mole.
This is a great visual that was offered by a Dermatologist's office.
Peels stimulate the formation of new healthier cells, improve the appearance of fine lines, reduce pigment and help control acne. The new research adds another possible benefit to offering this valuable, profitable service.
COMMENT FROM RHONDA: Thank you Ann for reminding aestheticians what valuable tools they have that will support the health of their clients skin. I observed this benefit more than 20 years ago when I had my clinic – clients were reporting back to me after a series of peels and using retinol home care that they were getting excellent reports from their annual doctors visit of no occurrence of basil cell carcinoma. Most importantly Ann pointed out our roles as professionals, not to make claims or to treat any suspicious lesions without first referring the client to a doctor for diagnosis.
[1] Facial Resurfacing Treatment for Photo Aging May Also Prevent Skin Cancer, Skin Cancer Foundation Website 2012.
[2] American Cancer Society. (2009). Cancer Facts and Figures: 2009. Retrieved October 8, 2009, from http://www.cancer.org/downloads/STT/500809web.pdf
[3] Robinson, J.K. (2005). Sun Exposure, Sun Protection, and Vitamin D. Journal of the American Medical Association, 294, 1541-1543