The Skin Care Gift Guide for Men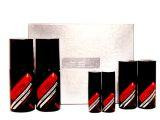 Is it just us or is this month flying by at warp speed? The holiday season is officially here and it's time to start gathering gifts for friends, family and co-workers. Maybe you're the type who has their holiday shopping done in November, but for the rest of us…we better kick into high gear.
Deciding what to get is 75 percent of the battle. So,in hopes of eliminating some of the guesswork, we've compiled a list of skincare gifts you can give this holiday season. Who wouldn't want the gift of better skin?
The Guy on the Go:
For those guys are constantly on the move, or those who don't want to dedicate a lot of time to their skin, easy skincare kits and express treatments make great gifts.
RAW 1-2-3 Method kit– This is a simple skincare kit, but hits all the vital elements: cleanse (Blue Agave Wash), build (Stone Power), and protect (EnviroProtect).
Cntrl.Halt. Del.– These cleansing pads are great for quick cleanses after the gym or for those rushed mornings. They keep oil and bacteria at bay with little effort.
RAW Express Treatment– This 30-minute treatment is quick, but packs a punch…it's also the right amount of relaxation time for busy guys.
The Meticulous Groomer
Some guys are perfectionists when it comes to their beards, goatees and staches. Even for those who aren't, shaving is a necessary chore. However, there are a few tools and services that can make the process easier and more enjoyable:
A badger brush– These have a number of benefits when it comes to shaving. They help create a thicker lather to prevent razor skipping or dragging, provide a mild exfoliation, and best of all soften and lift the hair for an easier shave.
Gift certificate for a professional shave– Sometimes nothing feels better than a clean shave with a straight razor and a hot towel. (Sometimes the pros even throw in a facial massage.)
The Stress Ball
We all know at least one. He's the guy who operates in a high-stress work environment. Why not send him to the spa for a little R&R or help him get a good night's rest?
Gift certificate to a salon or men– There are several throughout the country and they're dedicated specifically to men (think country club or boys club meets old fashioned parlor).
A silk pillowcase– What could be better than sleeping on silk? Not only do these aid in a good night's sleep they actually help to reduce the signs of aging because the fabric doesn't pull on the skin.
Hopefully this skincare gift guide gives you some slightly off-the-beaten-path ideas for the guys in your life. If anything, you can treat yourself to a few of these as a way of escaping the holiday hustle and bustle. Happy Holidays!