UpLift Your Clients in 2014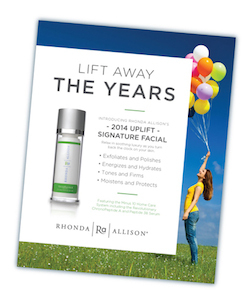 It feels like it was just a few weeks ago I was writing about resolving to becoming your client's skin care coach for 2013, and now we are a week into the New Year. So how did you do? Were you able to get your clients committed to a skin fitness regimen and adopt a healthier approach to their skin?
My guess is many of you did! For 2014, it's all about continuing the support and uplifting clients in doing so. This can take shape in many forms from raising emotions and spirits, to enriching or enhancing a specific condition, and of course improving or lifting up the skin.
Provide an uplifting experience
This year we introduced the UPLIFT Facial as our Signature Facial to help you turn back the clock for your clients, and well, provide an uplifting experience. While it's a very pampering facial – with a luxurious hand treatment, soothing massage and hot-towel treatment – it also produces real results. The experience begins in the treatment room and carries over to home care.
In the treatment room
This luxurious treatment begins with a double enzyme exfoliation using a combination of the Derma Peel and Mint Papaya Enzyme to provide a deep cleanse. The Derma Peel liquefies then bonds to form a granular exfoliation to remove cellular buildup. The Mint Papaya Enzyme, with a delightful minty aroma, works to digest surface cells. While the Mint Papaya enzyme is on the face, a heated compress or vapor steam may be applied. Upon removal the skin is smooth and polished.
The next step focuses special attention on the eye area and works to build and strengthen the skin. A cocktail of the ChronoPeptide A and Drop of Essence Hydration Drops is massaged into the skin, including the eye and neck. This drives nutrients into the skin. The Eye & Lip Renew Serum is then gently smoothed into the skin followed by a quick heated compress.
The mask application is designed to stimulate and tone the facial muscles. The Natural Lift Mask, Natural Lift Tonic and Peptide 38 work in tandem to deliver essential peptides to the skin and continue the rejuvenation process.
While the mask is on, the Easy Hand Treatment may be performed. Clients love this treatment. It's relaxing and leaves the skin hydrated and smooth.
Following the mask removal, it's time to firm and nourish the skin. The Eye Lift will be applied to the eye area, and Natural Lift Tonic to the entire area. This is then massaged into the skin with Ice Globes. A cocktail of Growth Factor Serum Plus, Drop of Essence Hydration Drops and Elite eEGFleaves skin hydrated and firmed. As always, we finish with a layer of protection using the Daytime Defense SPF30. The outcome? Skin is youthful, hydrated and radiant, and your client is in a state of pure bliss!
Continuing the care at home
Clients may continue to lift away the years and have uplifting experiences at home with mini treatments or a few products to support their journey to skin health. A few home care products might include:
Pumpkin Cleanser – provides a deep cleanse, but is for gentle enough for most skins
ChronoPeptide A – delivers 24-hour pro-youth support
Peptide 38 – cutting-edge, next-generation peptides help rejuvenate and plump the skin
Growth Factor Serum Plus – enhances regeneration, healing and hydration
Eye & Lip Renew Serum – melts into delicate eye tissue to provide a more youthful, softened appearance
Daytime Defense SPF30 – using natural zinc, it provides broad-spectrum daily protection
Phyto-Endorphin Hand Cream – antioxidants, skin brighteners and hydrating elements leave skin smooth, firm and healthy
Let's make 2014 all about providing uplifting experiences for our clients, ourselves and others in our lives! Here's to an uplifting year!
Question: What goals do you have for 2014?