Face Off Competition
FACE OFF RULES
PROMOTE YOUR OWN 90 DAY CHALLENGE
90 DAY FACE OFF COMPETITION
Rhonda Allison's Face-Off competition is an exciting event that allows aestheticians from all over the world to showcase their outstanding contributions to this amazing profession and the art of skin rejuvenation.
Promote your own 90 Day Challenges and create a portfolio of your work with result-oriented before and after photos. Enter your clients' photos based on the work you've done over a 90-day period, using only Rhonda Allison treatment systems and home care products.
The winners will be selected based on the most significant skin changes, challenges, and overall
results. Exemplifying what aesthetics is truly about, each winner will receive the following: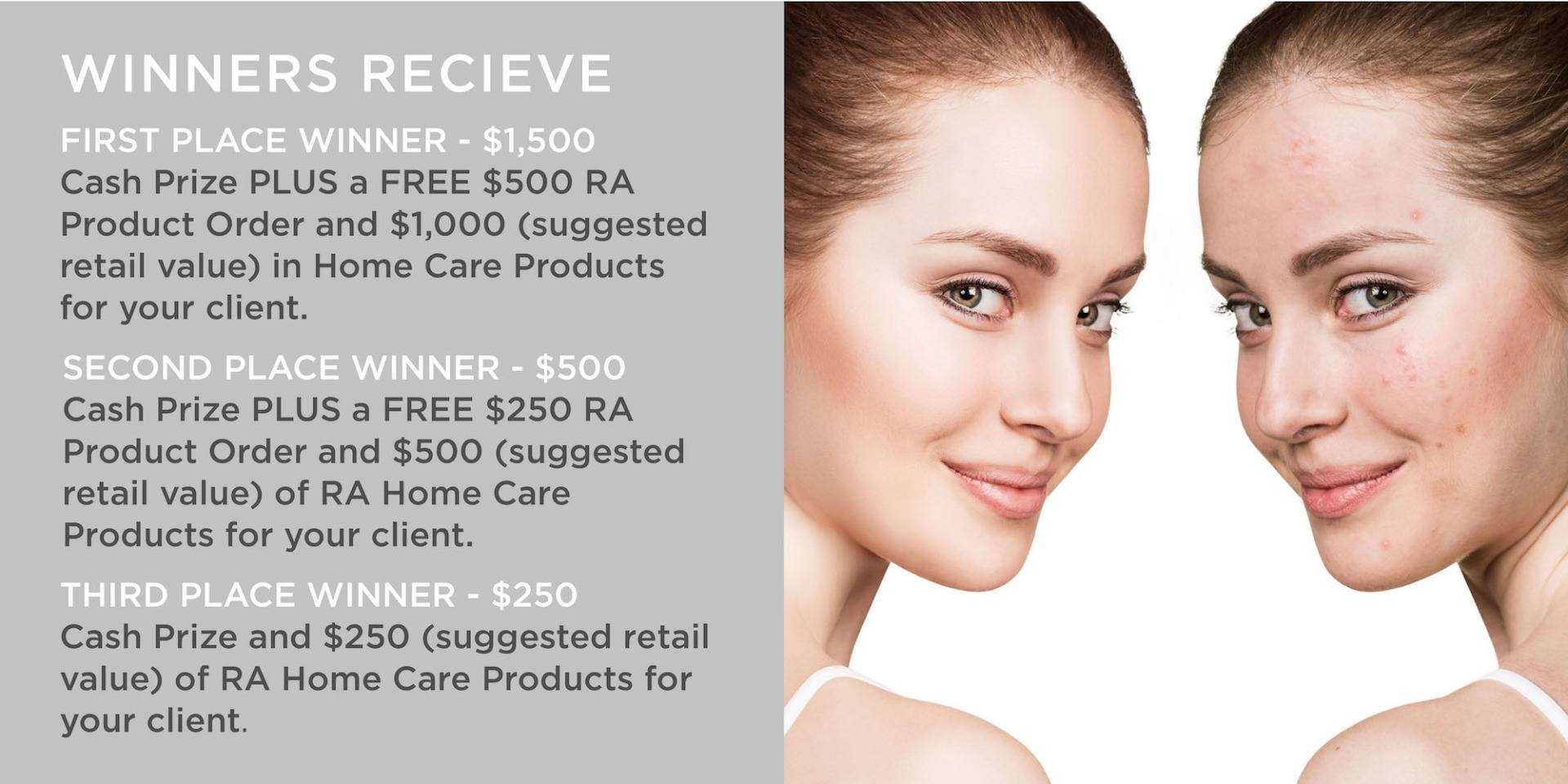 FACE OFF RULES
- Aesthetician must be an active RA account to enter.
- Aesthetician must fill out and submit a Participation Agreement & Registration form to enter.
- Aesthetician may enter more than one client.
- Aesthetician and client/s must agree to use only Rhonda Allison products for the duration of the Face-Off Competition. Microdermabrasion, Dermaplaning, LED and Micro-Current may be used in treatments, but no other product line or modality such as Micro-Needling, Laser, or IPL may be used.
- Aesthetician must keep a log of treatments and clients must keep a weekly log of home care products used to be turned in with final photos.
- Before/after photos, Professional Treatment Log, Home Care Log, and signed Photography Release Forms (both from aesthetician and client/s) must be received by Rhonda Allison no later than 90 days after Participation Agreement & Registration form submission.
- All pictures submitted must be in digital format. No altering or touch-ups permitted.
Start your 90 Day Face Off any time before September 30, 2018.
Must complete 90 days by December 31, 2018.
(All materials need to be postmarked no later than January 2, 2019.)
Please return all forms and pictures to info@rhondaallison.com or send to Rhonda Allison Face Off, 523 Park Point Dr., Ste. 290, Golden, CO 80401.
Stay tuned for more details.
Face Off Participation & Registration
---
Face Off Consent & Photography Release
---
Face Off Photography Instructions
---
Face Off Weekly Homecare Log
---
Face Off Treatment Log
---