Post Care
Due to the high level of skin exfoliation associated with peels, you may expect some discomfort following treatment. While the majority of people describe any discomfort as minimal, experiences may vary depending on the type of skin peel administered and an individual's pain tolerance. Rhonda Allison Post Care products are formulated to reduce skin irritations, itching, tenderness in the skin, and reducing the risk of pigmented scarring, while protecting and hydrating the skin, stimulating cell renewal, and ensuring healthy wound healing. Most people agree that any discomfort is offset by the dramatic improvements attained in skin appearance.
See our Post Care in action below.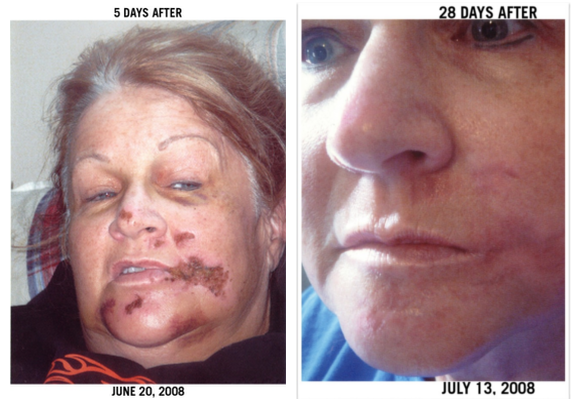 Your skin care practitioner will give you specific instructions to follow after your procedure – these post care instructions are as important to successful results as the peel itself. Post care treatment will include occlusive healing balms, epidermal growth factors for cell renewal and wound repair, calming topicals to reduce skin irritations, and sunscreen. Like all Rhonda Allison formulations, post care products are free of dyes, fragrances, and additives.
After the skin has healed, daily skin care is essential to maintaining results. Your practitioner will recommend a daily cleanser and sunblock in addition to a supportive cell rejuvenator. Additional specialty products, such as scrubs, antioxidants, eye serums, nighttime moisturizers, AHA's, peptides, retinol, enzymes, masks and topical correctives may be prescribed based on your individual needs.
Click here to view our Post Care product selection.