Pumpkin Vitality Series
Are you ready to repair summer damage and reveal new skin for the holiday season?
Pumpkin is your answer!
Fall into youthful radiance with our Pumpkin Vitality Series. Pumpkin is nature's richest source of Vitamin A, and infuses the skin with potent antioxidants, brightens and smooths imperfec­tions, as well as stimulates collagen activity. This series will give you beautiful, healthy skin just in time for the Thanksgiving and Christmas season!
Did you know that pumpkin…


contains the highest content of naturally occurring Vitamin A and Beta Carotene over any other fruit (yes, it's a fruit, not a vegetable).
is often referred to as "nature's natural collagen".
helps remove toxins that are stuck deep in pores and neutralize free radicals.
naturally protects skin from ultra-violet rays due to its high zinc content.
firms and tones for pro-youth results.
Fall into Great Skin with Rhonda Allison's
PUMPKIN VITALITY SERIES
Corrective Treatments to Revive Your Skin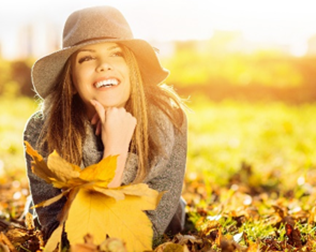 Ask your skin care professional about the Rhonda Allison Pumpkin Vitality Series today!
PUMPKIN PEPTIDE FACIAL – Experience our Pumpkin Peptide Facial to begin the repair and rejuvenation process, giving you an amazing glow and preparing your skin for our Pumpkin Apple Peel.
PUMPKIN APPLE PEEL - Increase cellular turnover and antioxidant support through the benefits of pumpkin and wine - boosting skin rejuvenation, softening fine lines and firming for younger-looking skin.
PUMPKIN APPLE FACIAL - Our final treatment in this series is the Pumpkin Apple Facial to lock-in nutrients and hydration, leaving skin firmed and toned with a healthy, beautiful glow!
Book your Pumpkin Vitality Series today! Click here to find a professional nearest you.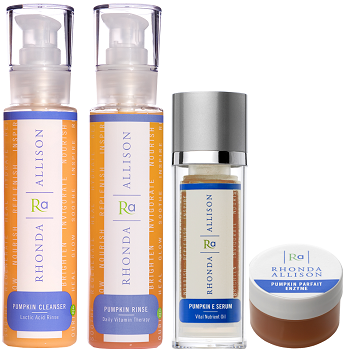 Look for these Rhonda Allison Pumpkin Products and Home Care Systems!
PUMPKIN CLEANSER – With a wonderfully enticing aroma, this natural, all-purpose daily cleanser removes surface residue and protects against free radical damage - gentle enough for ultra sensitive skin but cleanses deeply for normal to oily skin types. With valuable antioxidant benefits and a high content of vitamin A and beta-carotene, Pumpkin Cleanser combines with natural surface reducing lipids and essential oils to provide important skin nutrition as well as deep cleansing benefits.
PUMPKIN LOTION – A valuable second-phase cleansing toner for ultra-sensitive to normal, combination skin types. Pumpkin Lotion aids in maintaining proper skin pH as well as providing antioxidant, humectants, and nourishing benefits. Due to the naturally occurring nutrients in pumpkin, this daily vitamin toner will bathe skin in valuable antioxidant and regenerating support.
PUMPKIN E SERUM - A silky, velvety serum that supplies skin with potent antioxidants and valuable hydration and healing support, Pumpkin E Serum contains a blend of flavonoids from wine extracts and essential oil for much needed nutrition and cell protection. Ideal for tired, lifeless, dehydrated skin since it provides oxygen respiration to the tissue, Rhonda Allison's Pumpkin E Serum is considered a "treatment" serum - a very concentrated oil containing Tocopherol D-Alpha (Vitamin E) and the natural extracts of pumpkin seed oil which include Beta- Carotene, Zinc, Salicylic Acid, and Retinol.
PUMPKIN PARFAIT ENZYME - Although pumpkin pie filling may smell and look the same as our Pumpkin Parfait Enzyme, the difference is potency and the way it is processed. The natural fruit-acid and enzyme benefits in Rhonda Allison's Pumpkin Parfait Enzyme is concentrated and enhanced through a very unusual freeze-drying process. As a mild, all-natural vegetable enzyme, it dissolves surface cells and gives the skin a smooth polish making it an excellent nutrient-based enzyme for home care.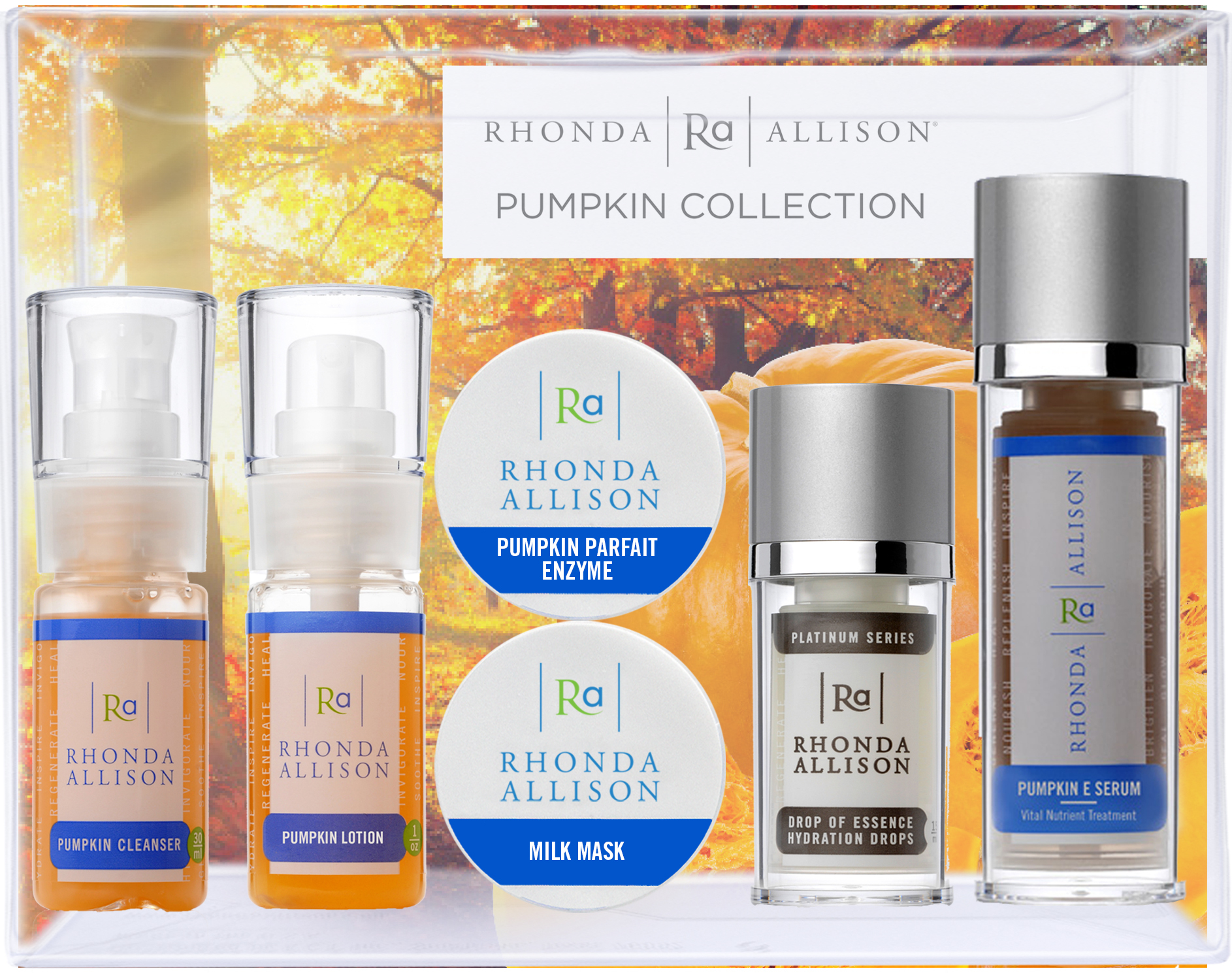 PUMPKIN COLLECTION - Nature's own collagen therapy, the valuable benefits of pumpkin are the high content of vitamin A and beta-carotene - two powerhouse antioxidants. Rhonda Allison's Pumpkin Collection offers a potent ally, protecting skin against damage from free radical damage and supplying important nutrition for healthy skin.
System Includes:
Pumpkin Cleanser (30mL)
Pumpkin Lotion (30mL)
Pumpkin E Serum (30mL)
Pumpkin Parfait Enzyme (15mL)
Drop of Essence Hydration Drops (10mL)
Milk Mask (15mL)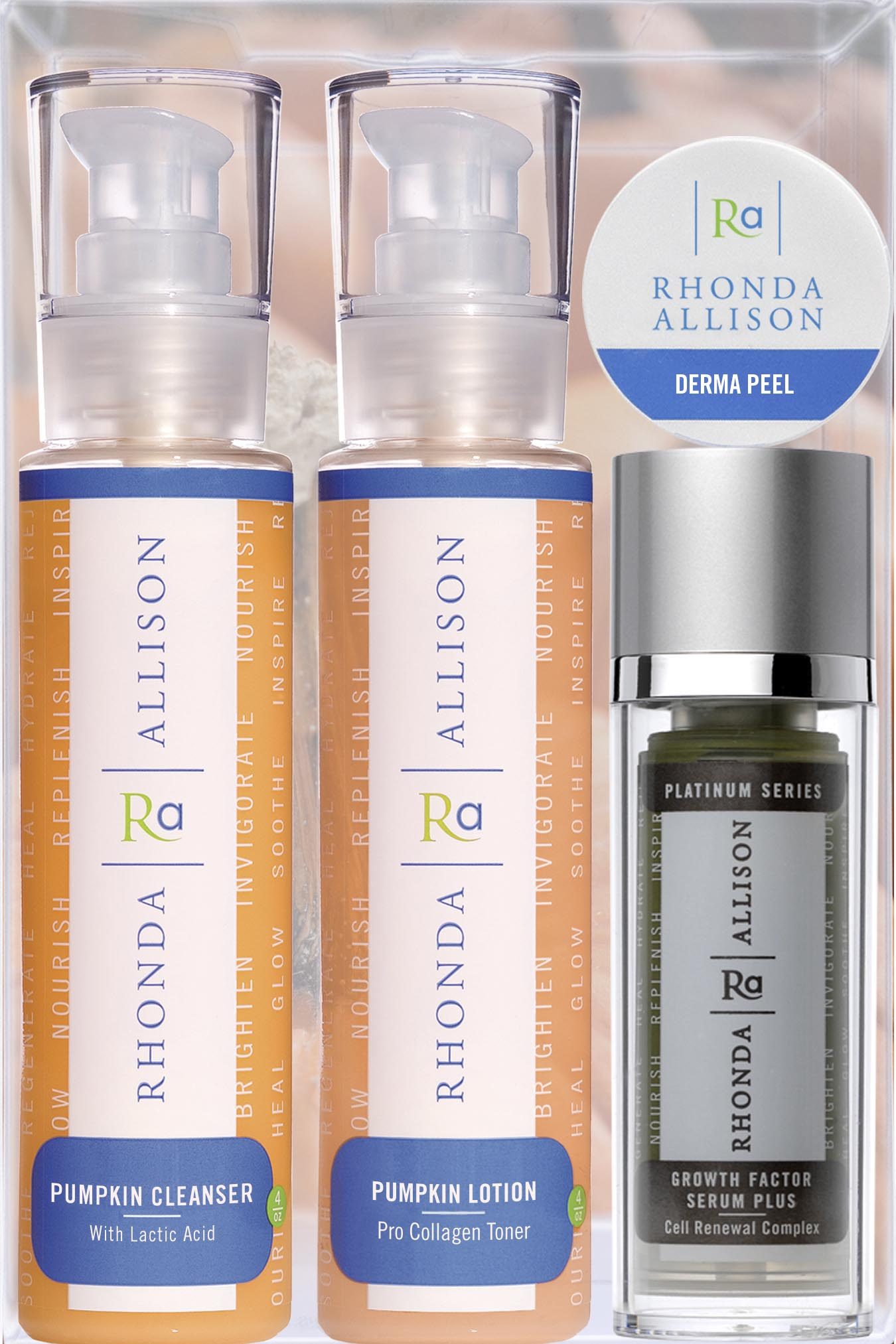 REFRESHINGLY PUMPKIN - Look no further, Rhonda Allison's Refreshingly Pumpkin Clear Box Set is the answer! Beautifully packaged, this high-end system is a potent ally in the anti-aging business, protecting skin from free radical damage and supplying important nutrition for healthy, younger-looking skin.
System Includes:
Pumpkin Cleanser (120mL)
Pumpkin Lotion (120mL)
Growth Factor Serum Plus (30ml)
Derma Peel (15ml)