Get Clear Results and Beautiful, Healthy-Looking Skin
RA has been treating acne skin conditions for decades. Our success lies both in our philosophy and the fact we do not approach acne as a one size fits all. This is why we have some many amazing formulation choices and combinations for this complex skin condition.
Our Clinical Approach is simple and is important to keep in mind for every type of acne client you see:
Reduce Bacteria & Infection
Leads to acne lesions, inflammation and increased risk of infection.
Recommended ingredients to help reduce bacteria and inflammation:

Salicylic Acid
Heart of Green Tea
Totarol
Increase Cellular Exfoliation
We recommend working with enzymes, scrubs and acids since:
Exfoliation reduces cellular buildup and congestion
Oxygenation into skin reduces bacteria
Support Wound Healing

Acne should be treated as a wound. The use of wound-healing ingredients reduces the risk of scarring and speeds up the healing process. Wound-healing ingredients include:
Epidermal Growth Factors
Vitamin E
Explore more in-depth with our Corrective Facial, Peel and Home Care options.
SIGNATURE SERIES – ACNE REMEDIES CORRECTIVE FACIAL AND ADVANCED PEEL
Get clear results and beautiful, healthy-looking skin with Rhonda Allison's Acne Remedies Corrective Facial and Peel. Incorporating our Clinical Approach these professional treatments reduce bacteria and inflammation, increase cellular exfoliation, and support wound healing. By blending advanced actives such as Mandelic Acid, Salicylic Acid, Ursolic Acid, and Niacinimide with potent botanical extracts, we aid in the clearing and healing of problematic acne conditions.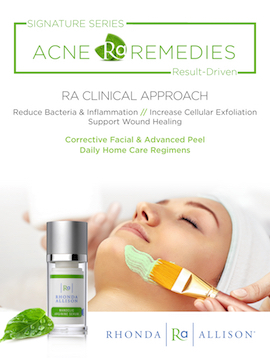 Click here to download protocols:
RA ACNE REMEDIES HOME CARE COLLECTION
Home care is a vital component in achieving results. Rhonda Allison offers effective home care products to meet all your acne client's needs through our clinical approach of reducing bacteria and inflammation, increasing cellular exfoliation and addressing wound healing. Build your confidence with clear, healthy-looking skin

View Rhonda Allison Top Picks for Acne Products or try our Cystic Relief, or Clear Relief System today.