Minus 10 - Pro Youth Solutions
We can slow down how the skin ages! Using our Minus 10 multi-faceted approach to cellular aging, we take into consideration DNA health, energy efficiency, communication between cells, collagen and elastin synthesis, epidermis cell health, and so much more.
Antioxidants & Cellular Protection
Protect skin cells from UV and free radical damage
Incorporate ingredients high in antioxidants to boost cellular protection:
L-Glutathione
Super Oxide Dismutase
Rejuvenate & Hydrate
Promoting collagen and elastin synthesis
Signal tired cells to function properly
Gently loosen glue like substance around cells to bring forth new cells
Incorporate ingredients like:
Peptides

Retinaldehyde
Mandelic Acid
Omega EFA's
DNA & Energy Health
Repairing skin cells from damage caused from oxidative stress
Increasing cellular energy
Incorporate ingredients like:

Exfoliation
Avoid damage triggered from over exfoliation
Focus on exfoliation in the treatment room
Enzymes and Peels help boost exfoliation, reduce fine lines, wrinkles and rough texture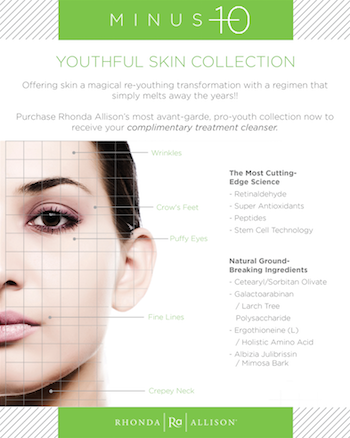 Explore more indepth with our Corrective Facial, Peel and Home Care options
---
---

Click here to download protocols
Minus 10 Facial
---
Minus 10 Youthful Skin Collection – Normal Skin
The name speaks for itself! RA's comprehensive Minus 10 Youthful Skin Collection is one of the most avant-garde, pro-youth lines on the market today offering aging skin a powerful re-youthing transformation with an advanced, yet easy to use, AM and PM home regimen that simply melts away the years.
The Forefront of Cutting-Edge Science
Retinaldehyde
Anti-Glycation Ingredients
Advanced Peptides
Stem Cell Technology
Natural, Ground-Breaking Ingredients

Arginine (L)

Albizia
Ergothioneine
Galactoarabinan
Each System Includes:
AGE less - Our newest enhanced anti-glycation serum to lessen the signs of skin fatigue, provide key antioxidants and UV support and improve the appearance of skin elasticity and firmness. All the while, improving tone to provide a luminous, radiant glow to the skin.

PEPTIDE 38 – One of the most powerful peptide complexes to date blending a next-generation matrikine-mimetic peptide with the added benefits of essential oils for oxygenating and rejuvenating benefits. Skin will immediately feel plumper and more buoyant.
CHRONOPEPTIDE A – A unique retinaldehyde-based, skin-building peptide complex that strengthens, firms, tones and minimizes the appearance of wrinkles – all the skin rejuvenation benefits of retinol without the irritation or down-time.
EYE & LIP RENEW SERUM – Unrivaled opalescent nighttime defense, this ultimate eye and lip renewal serum restores that youthful glow as cholesterol liquid crystals melt into skin for a moisture infusion as retinol and ascorbic acid increase collagen production and provide antioxidant support.
INFUSE 7 –A rich supply of fatty acids, tocopherol, vitamins, flavonoids and antioxidant support that nourishes skin while delivering potent pro-youth benefits, improving elasticity, increasing skin thickness, reducing inflammation and providing deep hydration to restore the lipid barrier and slow down the signs of aging.
SHEER TINT FINISHER - A healthy choice for skin, this zinc oxide, mineral-based day cream provides natural antioxidants with sun protection qualities to form a safe, soothing emulsion with a hint of color, leaving skin refreshed and glowing.
Recommended RA Treatment Cleansers for this system include: Foaming Peptide Cleanser and Pumpkin Cleanser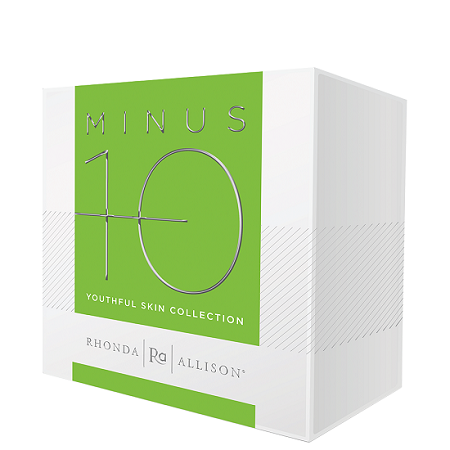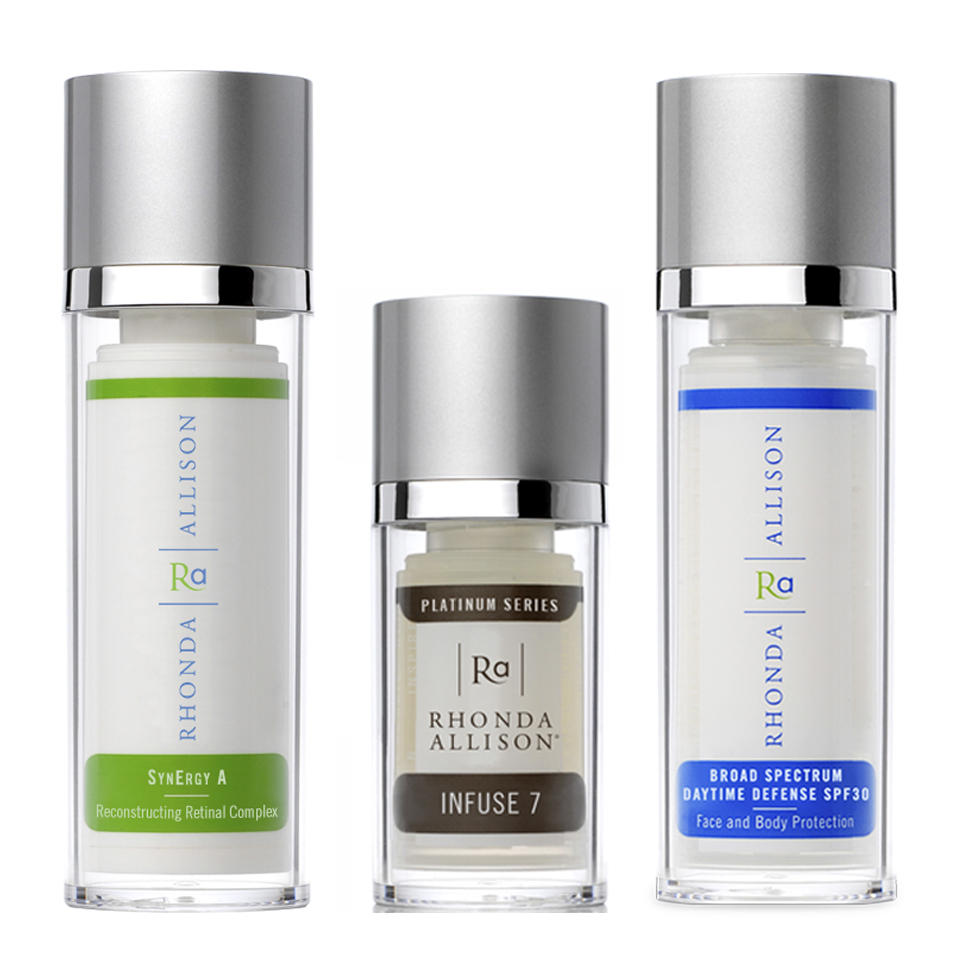 Minus 10 Sensitive Skin System
Target all the mechanisms that affect skin degradation! Rhonda Allison's Minus 10 Youthful Skin Collection for Sensitive Skin merges advanced science with natural, groundbreaking formulas to bring you one of the most powerful, yet soothing, re-youthing regimens to date.
This gentle, yet very powerful pro-youth system provides round-the-clock support with an AM and PM regimen to strengthen and rejuvenate while providing anti-inflammatory, anti-redness benefits and vital nutrition for beautiful, glowing, younger-looking skin.
Rejuvenating Retinals
Plant Stem Cell Technology
Anti-inflammatory Extracts
Super Antioxidants
Antimicrobial Peptides
Natural SPF
C-STEM CELL– A potent skin strengthener that protects against environmental stress, firms, brightens and hydrates skin using three times the antioxidant power of regular vitamin C and eco-sustainable plant stem cell technology for healthy-looking skin.

MANDELIC ARGININE SERUM – A gentle rejuvenator using the synergy of amino acids, antioxidants and AHAs to correct and balance skin, minimize excess oil, reduce photo-aging and prevent free radical damage to pave the way for healthy-looking skin.
SYNERGY A – A reconstructing retinal complex with plant stem cell and peptide technology for even the most sensitive skin. Provides powerful collagen support, strengthens skin and reduces the appearance of redness and inflammation.
EXOTICA RHODIOLA – An exotic blend with specialty extracts and potent pro-youth properties. Includes plant growth factors, anti-inflammatories, antioxidants, strengtheners, superior hydrators and wrinkle-reducing support for sensitive, rosacea-prone skins. A luxury moisturizer like none other.
INFUSE 7 – A vital replenish serum that infuses skin with 7 elements for silky hydration and velvety, soft skin as nourishing oils and EFA provide vital moisture, improve skin elasticity and reduce the appearance of inflammation for immediate relief from dry, moisture-depleted skin.
DAYTIME DEFENSE SPF30 – A healthy choice for skin, this zinc oxide, mineral-based day cream glides on skin for soothing moisture protection, giving skin support to guard against environmental pollution.
Recommended RA Treatment Cleansers for this system include: Creamy Milk Cleanser and Beta Green Tea Cleanser.
Click here to purchase your Minus 10 Youthful Skin Collections today!