Let's Stay Connected - Social Media, Retreats, Convention News, Special Life Events
No matter what - just keep moving forward!

The Rev. Martin (Born as Michael) Luther King, Jr., was born on January 15, 1929. More than 50 years after his death on April 4, 1968, his life still inspires us to keep moving forward – inspiring hope in all those who feel their dreams are just out of reach. As aestheticians and skincare professionals, we deal with clients whose self-esteem may be low because they are self-conscious about their appearance. Or, we may have fallen short of our own personal goals or business goals.
Whatever the challenge, we must never lose site of the goal, keeping our eyes on the prize until we win the race. We see amazing results all the time with our clients. Differences in their skin that totally change their outlook and self-esteem. Those are great days that should be celebrated! Encourage your new clients when first starting with a new skin regimen or treatment plan, to never give up and get lost in the present. Endurance, sticking with the protocol, and a little time will get them where they want to be!
Above all, as we celebrate MLK's legacy on Monday, January 20th, let us remember, no matter what, to just keep moving forward!
2020 NEW YEAR'S SKINCARE RESOLUTIONS

The Simple Stuff is the Most Important Anyway!
Most people make their New Year's resolutions in relation to jobs, health and lifestyle. But do they ever consider the impact their skin makes on all those areas? The face is your first impression when applying for jobs, it can affect your overall health and certainly weighs into your self-esteem. Just a few little changes to your normal skincare routine is the key to success. Remember, the simple stuff is typically the most important anyway!
Here are a few simple, yet easy, impactful tips to recommend to your clients for their best skin in 2020!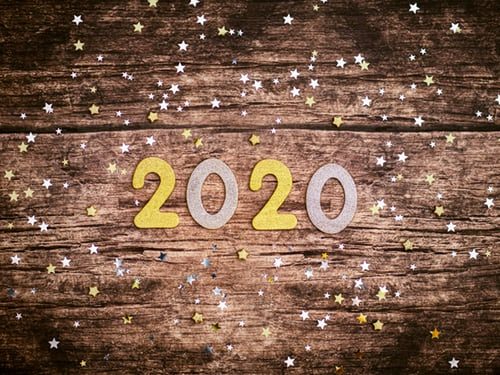 Wash your face twice a day. This is probably the most important step for healthy skin. In order for skin to accept nutrients, hydrators and correctives, it must be squeaky clean. And yes, you've heard it before, this means no sleeping with your makeup on!
Wear SPF - Every. Single. Day. 90% of skin aging comes from UV rays. UV rays are also one of the main causes of skin cancer. So, wear your sunscreen every day, even if you're just going to the mailbox – and re-apply frequently if you're out in the sun!
Switch it up – do your skincare last! Brush your teeth before washing your face or applying your skincare products. Toothpaste often spills over onto the chin and we typically wipe around our mouths after brushing. This will essentially wipe away any skincare products you've applied. The same applies for washing your hair. Shampoo and conditioner can cling to skin around the hairline and can clog pores if not properly rinsed off. So, wash your face last!
Keep your hands off! Try to avoid putting your hands on your face or picking at blemishes. This may be the hardest goal to set as we often do this unconsciously, but it will reduce bacteria and prevent scarring.
Clean your makeup brushes. Make it a habit to routinely clean your makeup brushes. This will also reduce the risk of spreading bacteria.
FOUR SEASONS OF HOLIDAY CHEER!
Our annual RA holiday extravaganza began with a little team building this year as we had to "Escape This". I am happy to report all Rhonda Allison employees safely escaped a wide-spread breakout of a deadly pathogen and retrieved the cure just in time to save the world!! And it wouldn't be Christmas in Texas unless we ended the evening with some delicious Mexican food and margaritas!
The RA family took the next day to relax and enjoy the 70 degree weather before Trey and the Tritones kicked off the RA ball the next evening at the Four Seasons in Las Colinas - a reminder that the Christmas spirit should be carried with us all year, not just during the holiday season. We danced the night away to this year's theme, "A Patriotic Holiday". Red, white and blue filled the room, sparklers lit up the evening, peppermint hot chocolate was enjoyed by all and American sliders to finished off a fun-filled night! Holiday magic filled air with laughter, a rekindling of old friendships and a spark of new friendships… and plenty of love to go around!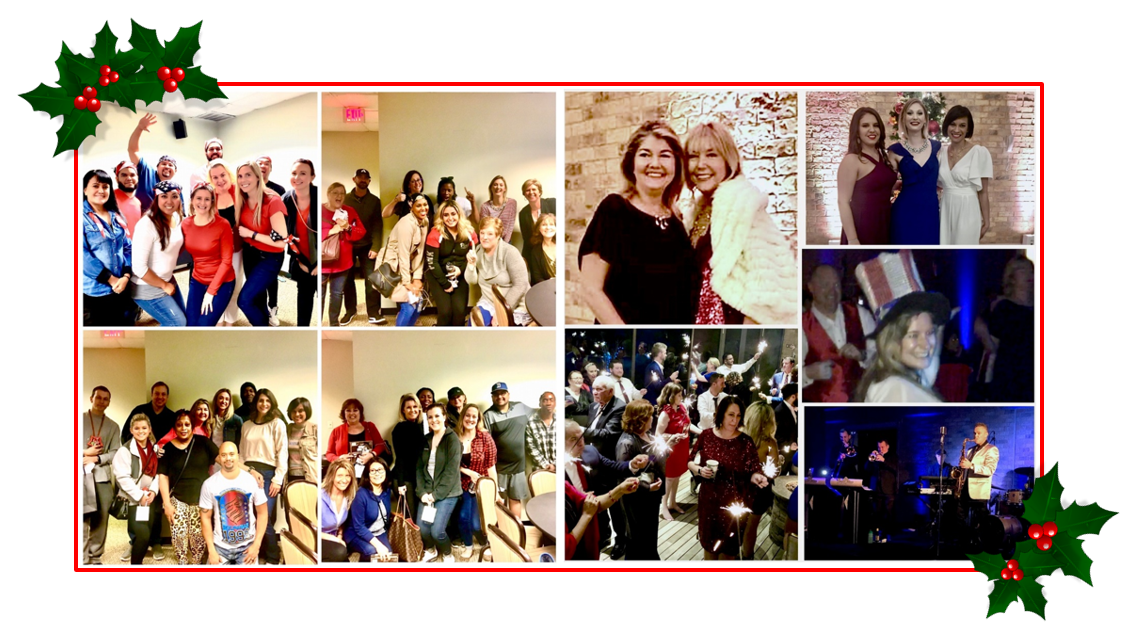 GIVE THANKS - THEN GIVE BACK!
For most of us, sitting around our Thanksgiving table reminds us to stop and give thanks for all we have. We are a nation of plenty. At Rhonda Allison, not only did we take time to enjoy a wonderful meal together, but we were also privileged to have time to give back to others.
Operation Christmas Child is a project of Samaritan's Purse, an international relief organization. Its mission is to provide local partners around the world with shoeboxes filled with small toys, hygiene items and school supplies as a means of reaching out to children in their own communities. The boxes are shipped outside the United States to children affected by war, poverty, natural disaster, famine and disease and to children living on Native American reservations in the U.S.
Find a way this holiday season to give back - make a difference in someone else's life. Afterall, a shoebox is such a small thing, but it can mean the world to a child!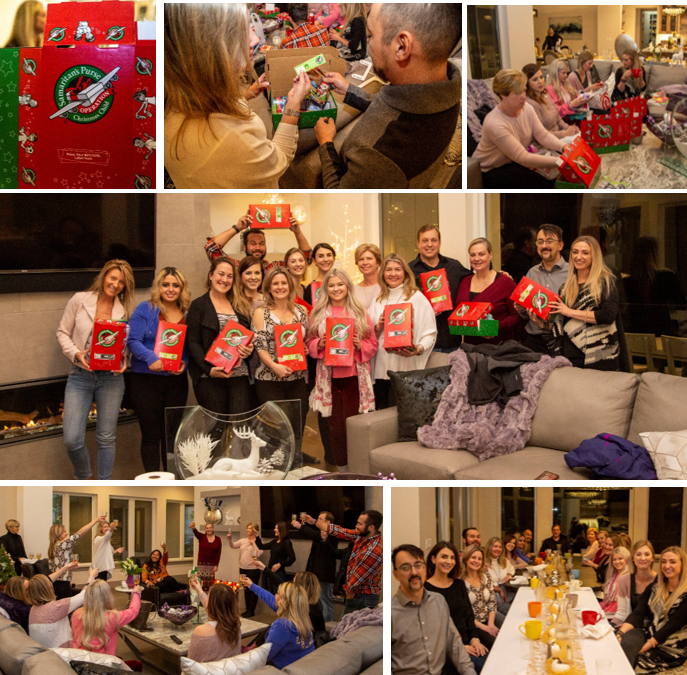 Family, Food and Lots of Thankfulness
Annual RA Thanksgiving Feast

Another festive RA family thanksgiving feast (Texas-style) in the books! Everyone walked away with visions of cranberries, cornbread stuffing and pumpkin pie. With full tummies, thankful minds and laughter in our hearts, we pushed away from the table with smiles on our faces.
From our table to yours, we wish you all a Thanksgiving Day filled with laughter, light and lots of good food – but above all, a heart full of gratitude and thankfulness.
"Gratitude unlocks the fullness of life. It turns what we have into enough, and more. It turns denial into acceptance, chaos to order, confusion to clarity. It can turn a meal into a feast, a house into a home, a stranger into a friend." -Melody Beattie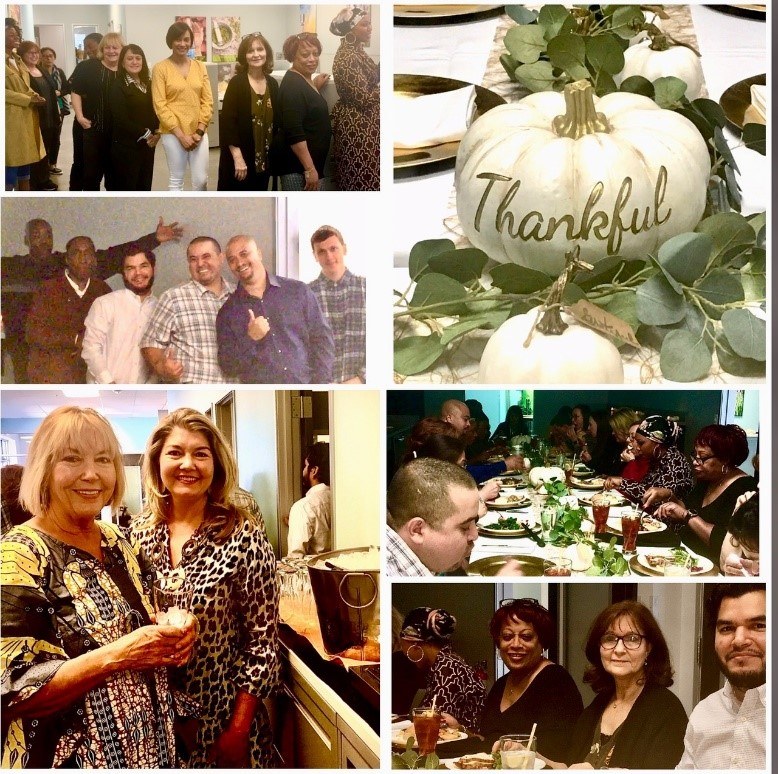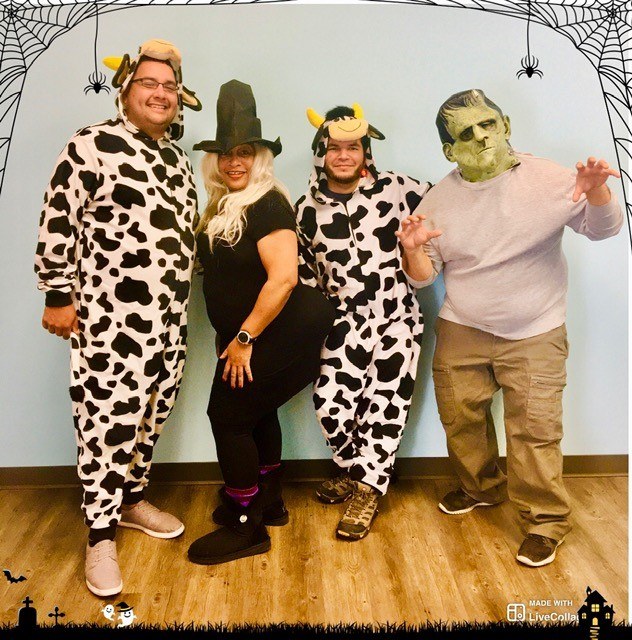 It was a spooky time at Rhonda Allison this Halloween as everyone came out in search of their favorite candy and treats. Everything from witches, monsters… and cows? It was an utter blast with lots of candy trading going on!
With All Saints Day behind us, we start look forward in anticipation to a month of thanksgiving! We at RA would like to start off this joyful season by saying we're thankful to each and every one of our Rhonda Allison partners.
A favorite quote by Ralph Marston says, "Make it a habit to tell people thank you. To express your appreciation, sincerely and without the expectation of anything in return. Truly appreciate those around you, and you'll soon find many others around you. Truly appreciate life, and you'll find that you have more of it."
RA Celebrates All Those 1969 Babies with a Jubilee Year Celebration!
Thank you to all who tuned in to celebrate our 1969 RA babies! As you may know, our CEO Shannon Esau turned 50 this year and we wanted to acknowledge this jubilee year of love and life together. We had great fun celebrating our RA family as we sang happy birthday and toasted to 50 more years of new beginnings to open to bright horizons. A time for self-evaluation, renewed optimism and hope for the future.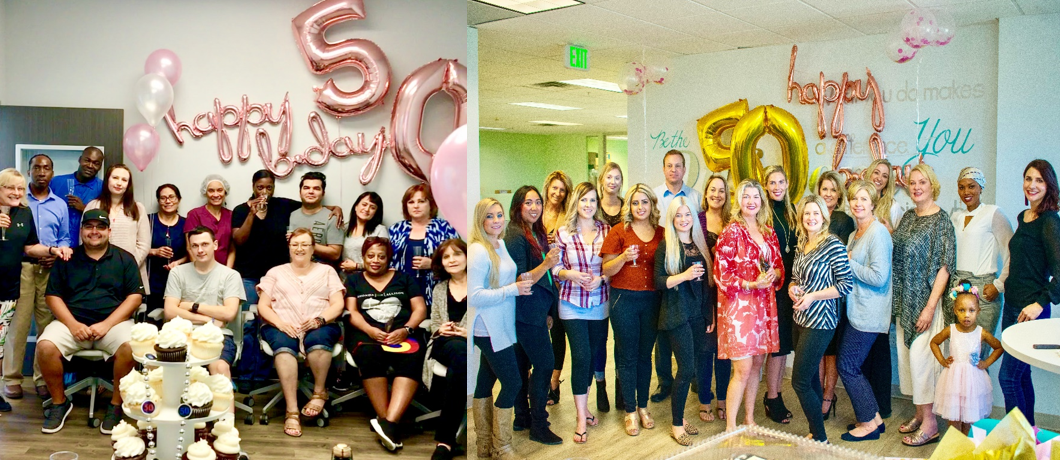 In case you've missed it – be sure to be watching Shannon's 50/50/50 every Wednesday as she shares some of her personal tips to make a difference, her favorite quotes, and of course, some skin care tips. 50 years of life spread over 50 weeks throughout 2019.