RA Specials
Throughout the year, Rhonda Allison offers special discounts on seasonal treatments, selected kits and products and new product releases. Be sure to login as a professional to purchase these items. Make sure to come back and check out our specials each time you shop!


Rescue Skin this Winter with RA's Seasonal Home Systems!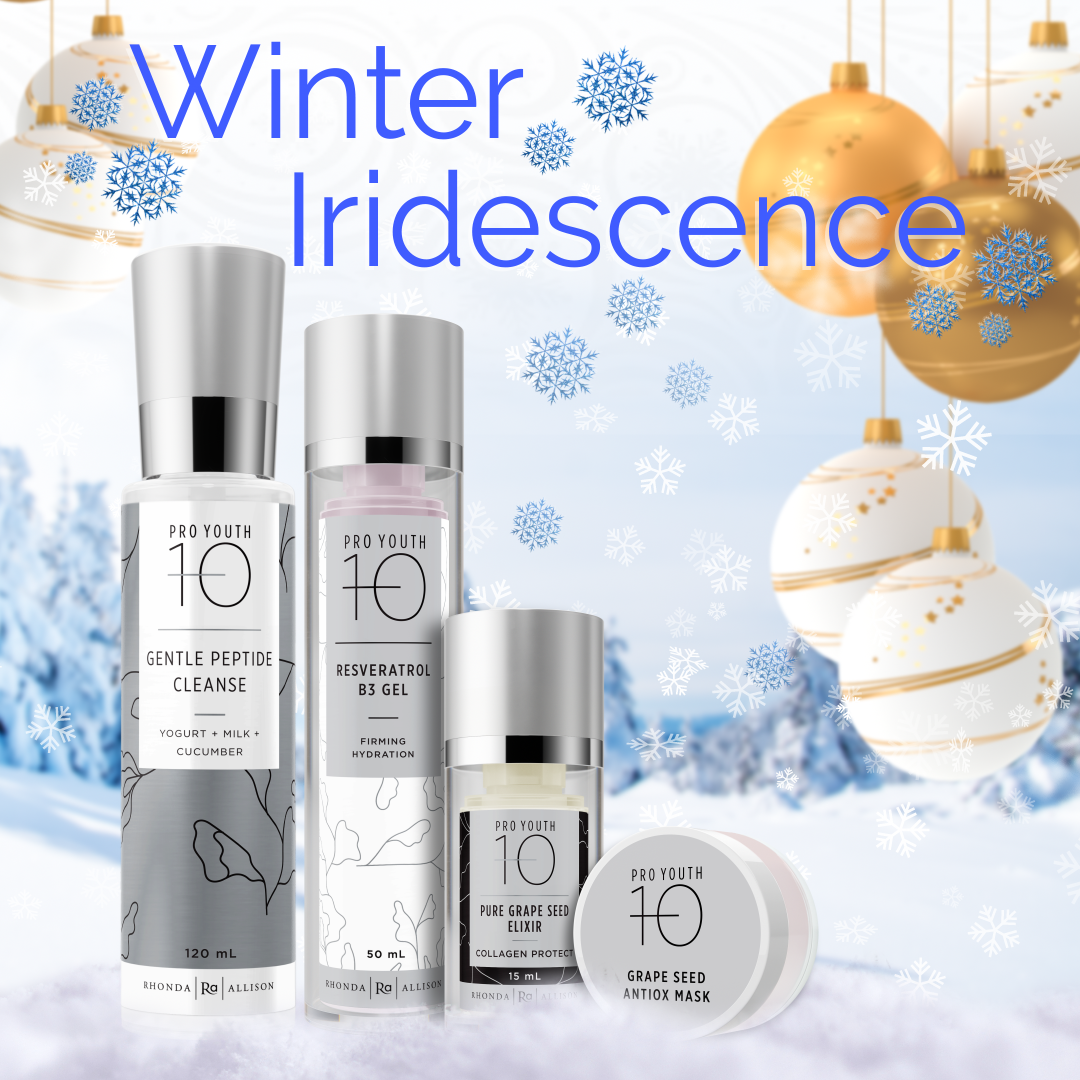 WINTER IRIDESCENCE Essentail System (K3174)
SPECIAL: Set of 3 - $127 (15% OFF each kit)
Individual Kits Also Available at Full Price - $49.50 ea.
Suggested Retail $118 ea.
System Includes
Gentle Peptide Cleanse 120ml
Resveratrol B3 Gel 50ml
Pure Grape Seed Hydrating Elixir 15ml
Grape Seed Antiox Mask 15ml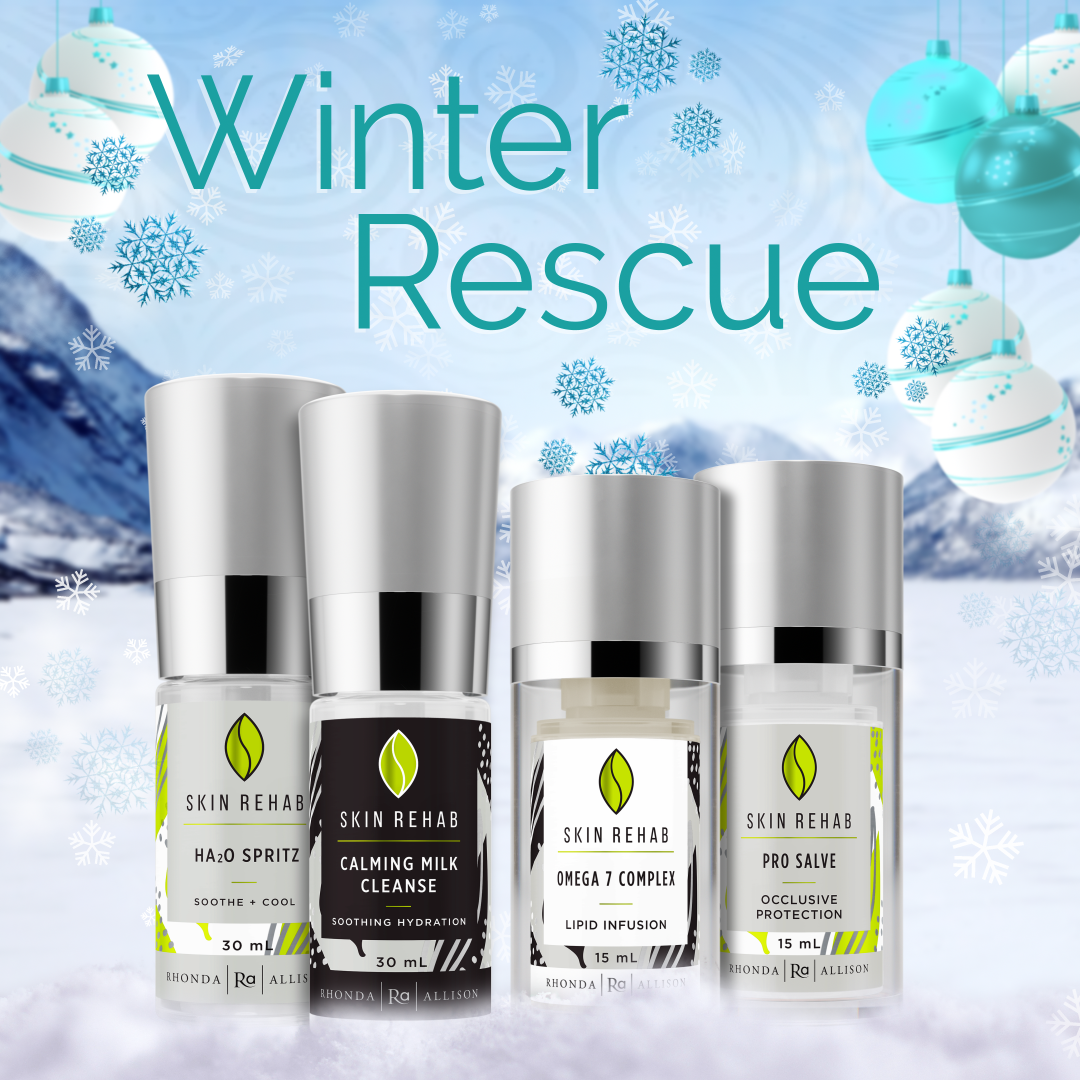 WINTER RESCUE Travel System (H22WRS)
SPECIAL: Buy 5/Get 1 FREE - 6 kits for $130
Suggested Retail $45.50 ea.
Calming Milk Cleanse 30ml
Omega 7 Complex 15ml
Pro Salve 15ml
HA2O Spritz 30ml
RA Petite-Sized Treats are an Easy Indulgence that Slip
Easily into Anyone's Stocking!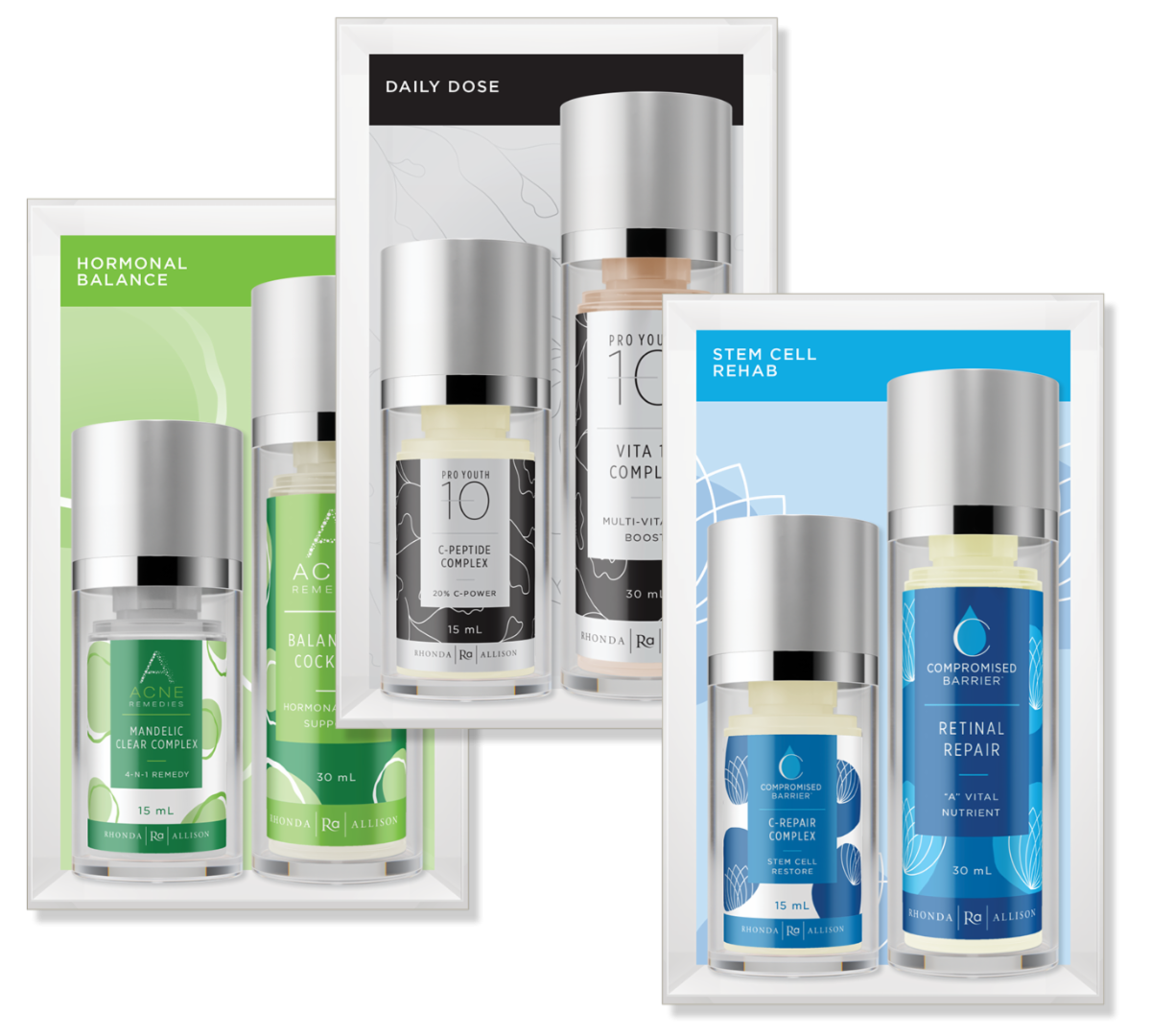 RA DUO SYSTEMS
SPECIAL: Buy Any 5 / Get 6th FREE*
* Free duo based on least expensive system.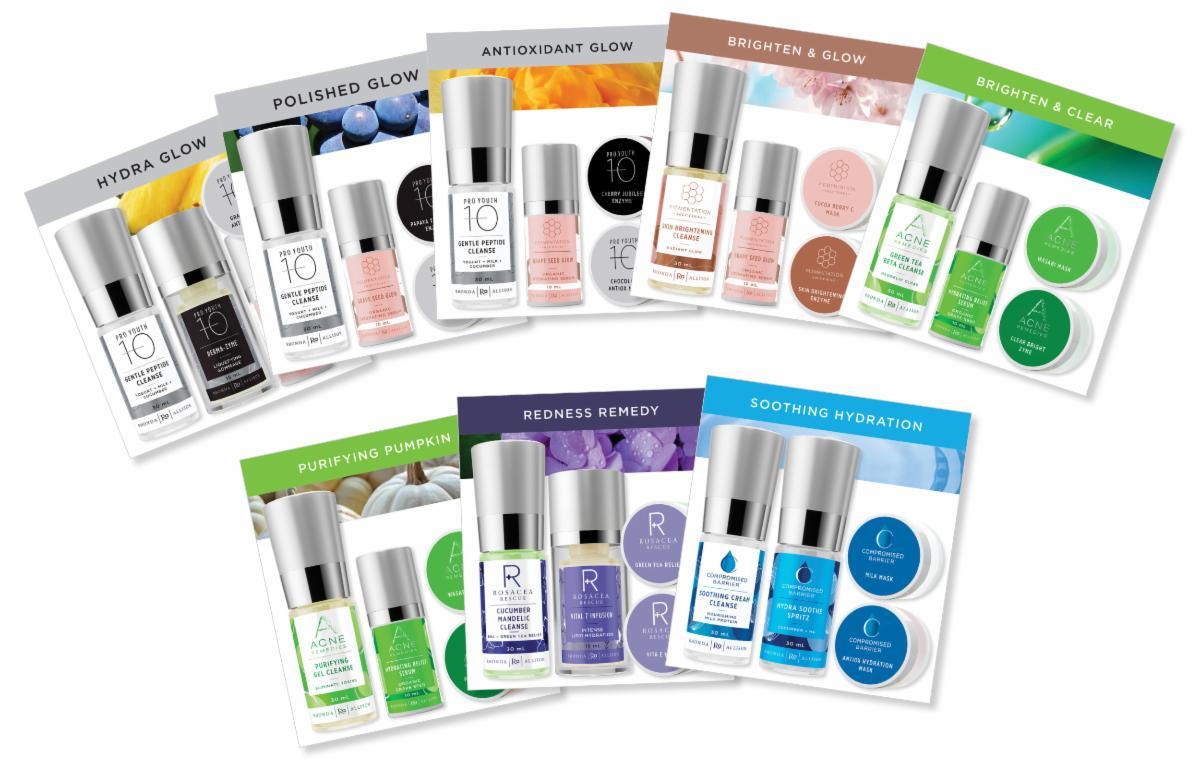 AT- HOME FACIAL KITS
SPECIAL: Buy 5 / Get 1 Free for $132.50
May mix and match between brands!
Each Facial Includes:
• Cleanser 30ml
• Enzyme 15ml and/or Mask 15ml
• Hydrating Antioxidant Serum 10ml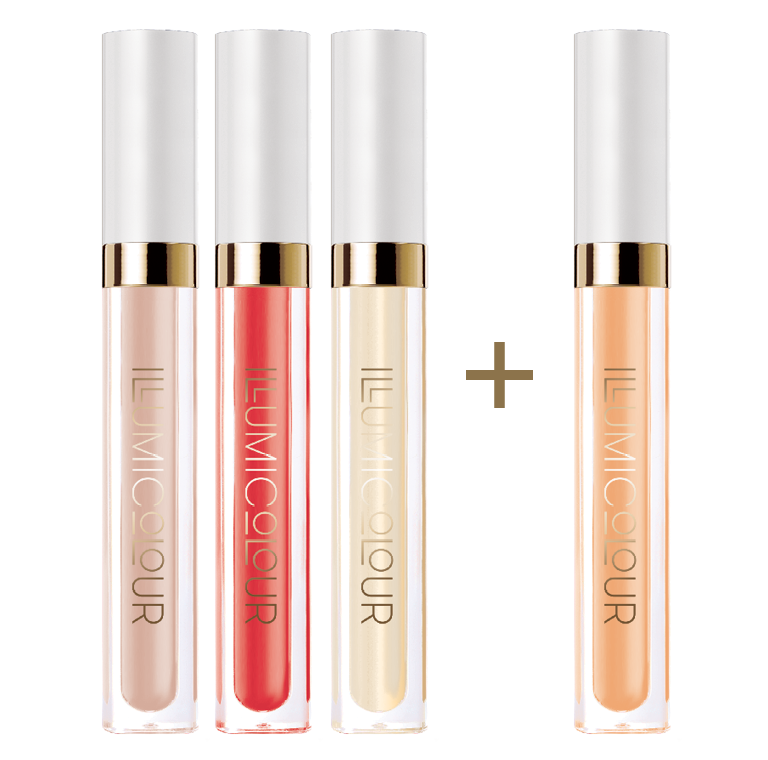 LIPS TRIO
SPECIAL: Buy 3 / Get 1 FREE $91 PLUS an additional FREE Bellini LIPS Gloss
Suggested Retail: $74
LIPS TRIO COMBINATIONS:
Rooibos Spice + Kashmiri Chai + Champagne Shimmer (LTRK)
Blossom+ + Kashmiri Chai + Rose Shimmer (LTBK)
Blossom+ + Fuschia Roselle + Rose Shimmer (LTBF)
Nude + Poppy + Champagne Shimmer (LTNP)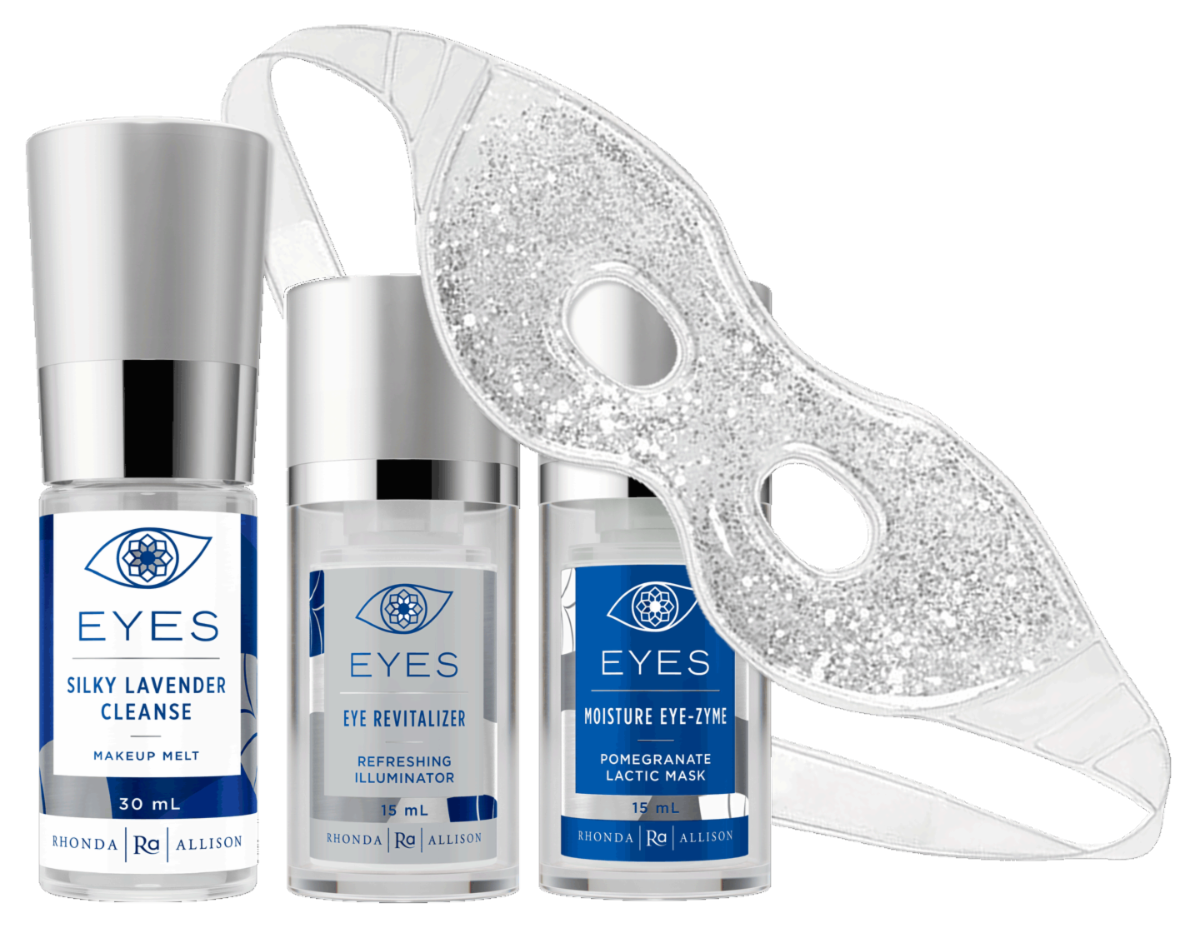 I.C.E. COLLECTION (HICE1)
Intense Clinical Eye Collection
SPECIAL: $33.00 – Includes Free Eye Mask with Each Purchase – supplies limited
Suggested Retail: $84
Silky Lavender Cleanse 30mL
Eye Revitalizer 15mL
Moisture Eye-Zyme 15mL
RA Essential and Travel Systems are a must for every woman's wish list!

The perfect gifts for clients to enjoy or share with loved ones!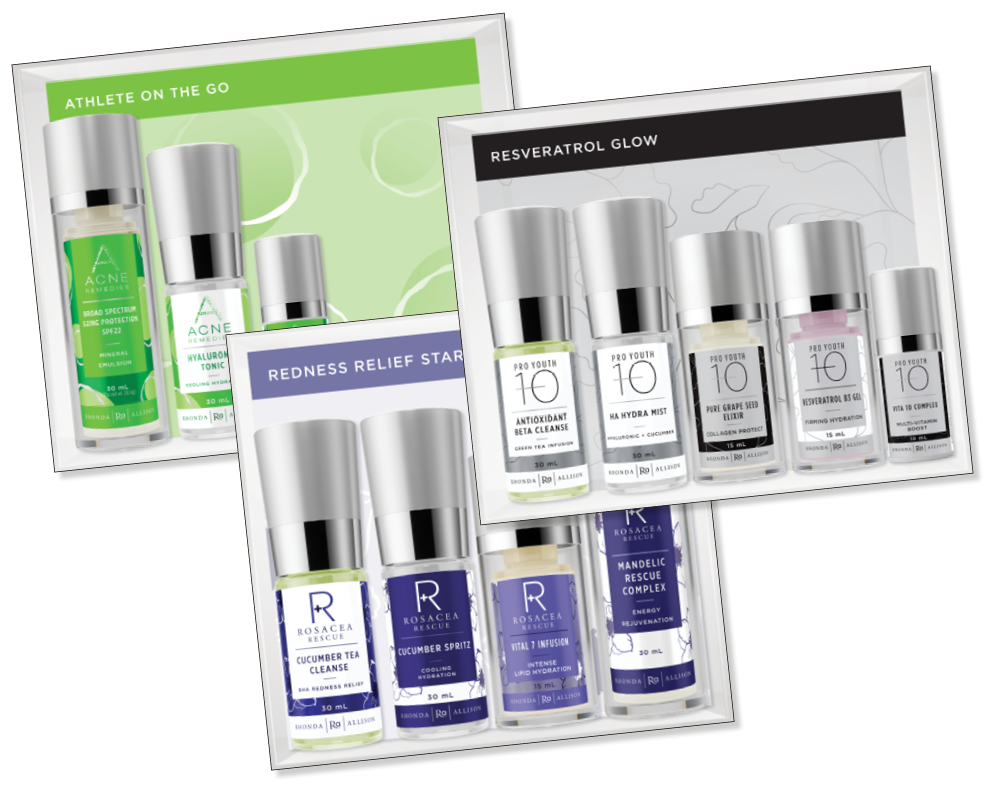 RA TRAVEL SYSTEMS
SPECIAL: Buy Any 5 / Get 1 FREE*
*Free travel system based on least expensive system.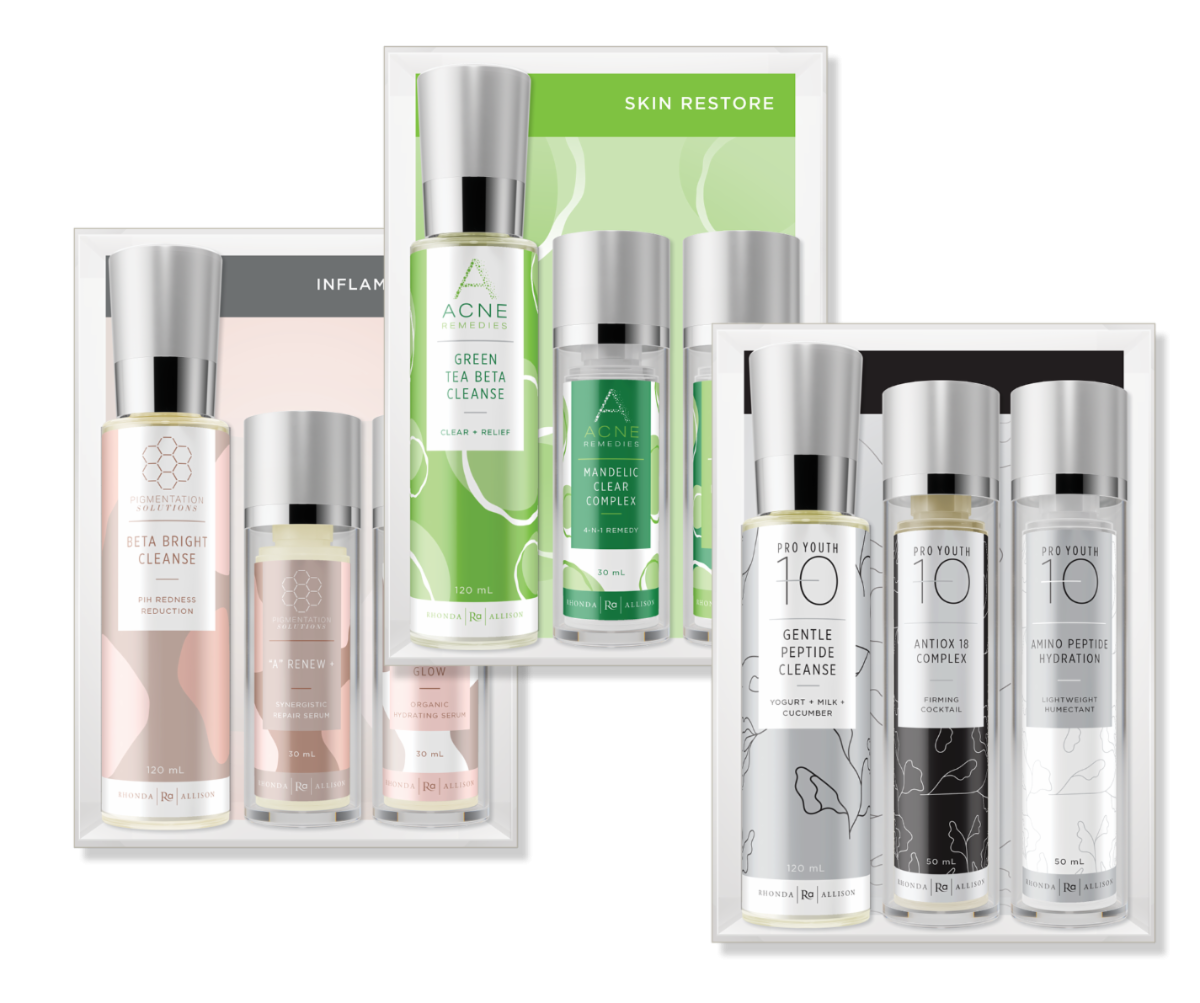 RA ESSENTIAL SYSTEMS
SPECIAL: Buy Any 3 / Get 1 FREE*
*Free essentials system based on least expensive system.
Recommend the Gift Every Woman Needs - Touchable, Flawless,
Luminous Skin – Even in Winter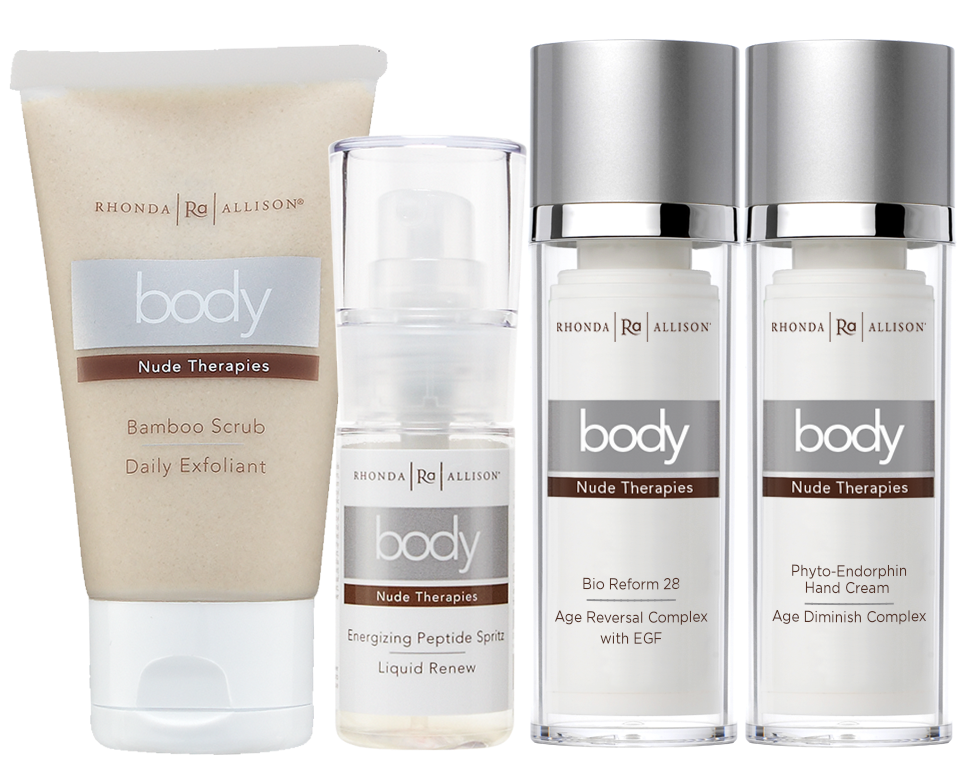 BODY REFORM HOME SYSTEM
SPECIAL: $42 – A 25% Savings
Suggested Retail: $125
System Includes:
• Bamboo Scrub – Daily Exfoliant (60 ml)
• Energizing Peptide Spritz - Liquid Renew (30 ml)
• Bio Reform 28 – Age Reversal Complex with EGF & Plant Stem Cell (30 ml)
• Phyto-Endorphin Hand Cream – Age Diminish Complex (30 ml)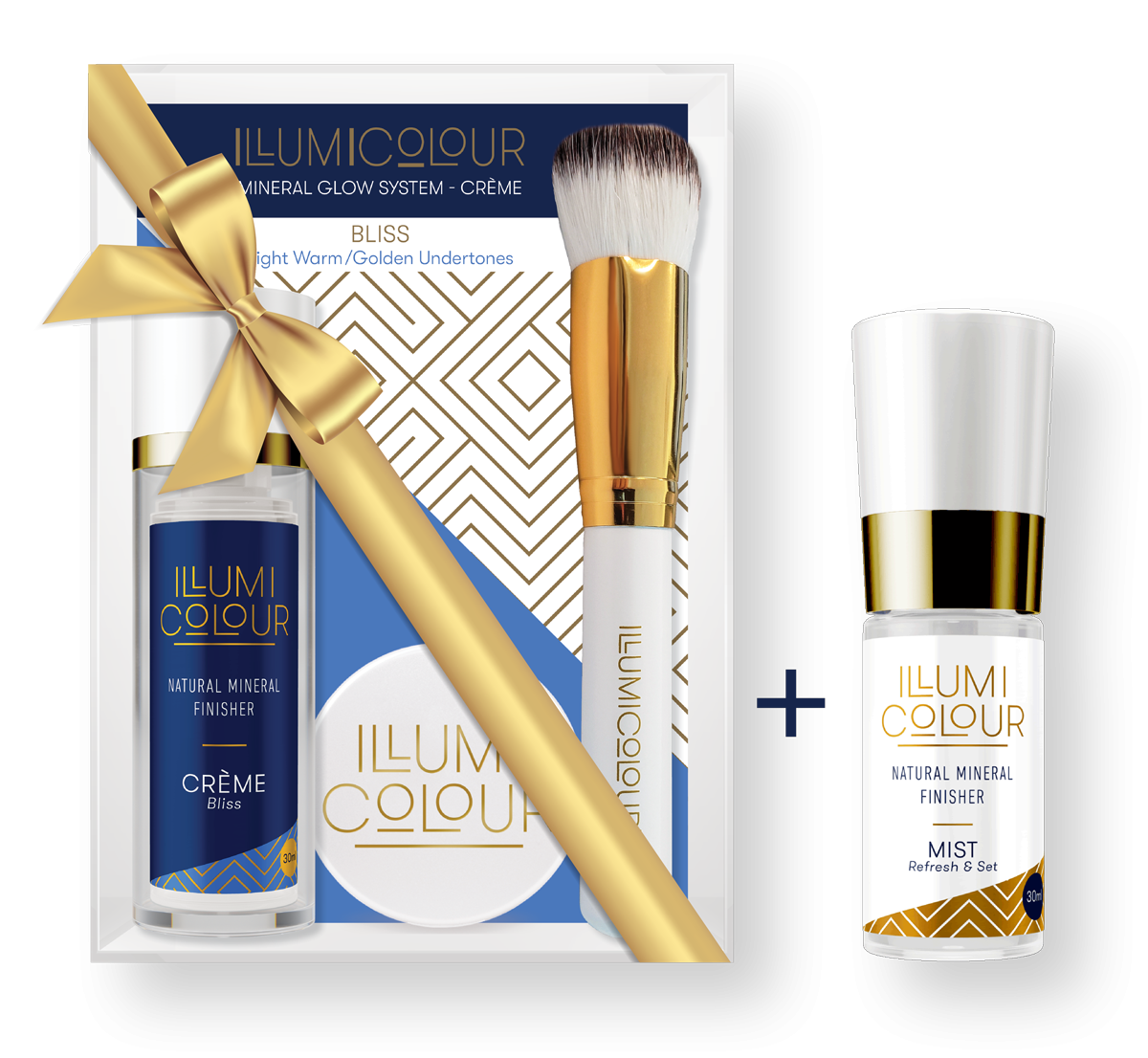 IC MINERAL GLOW SYSTEMS
SPECIAL: $62 ea. – Receive a Complimentary IC Mist (30ml size)
Suggested Retail: $127 ea.

System Includes:
• IC Natural Mineral Crème or Matte Natural Mineral Crème (30mL)
• IC Natural Mineral Powder (9g)
• IC Elegant Brush (1)
Holiday Solutions for Every Man's Skin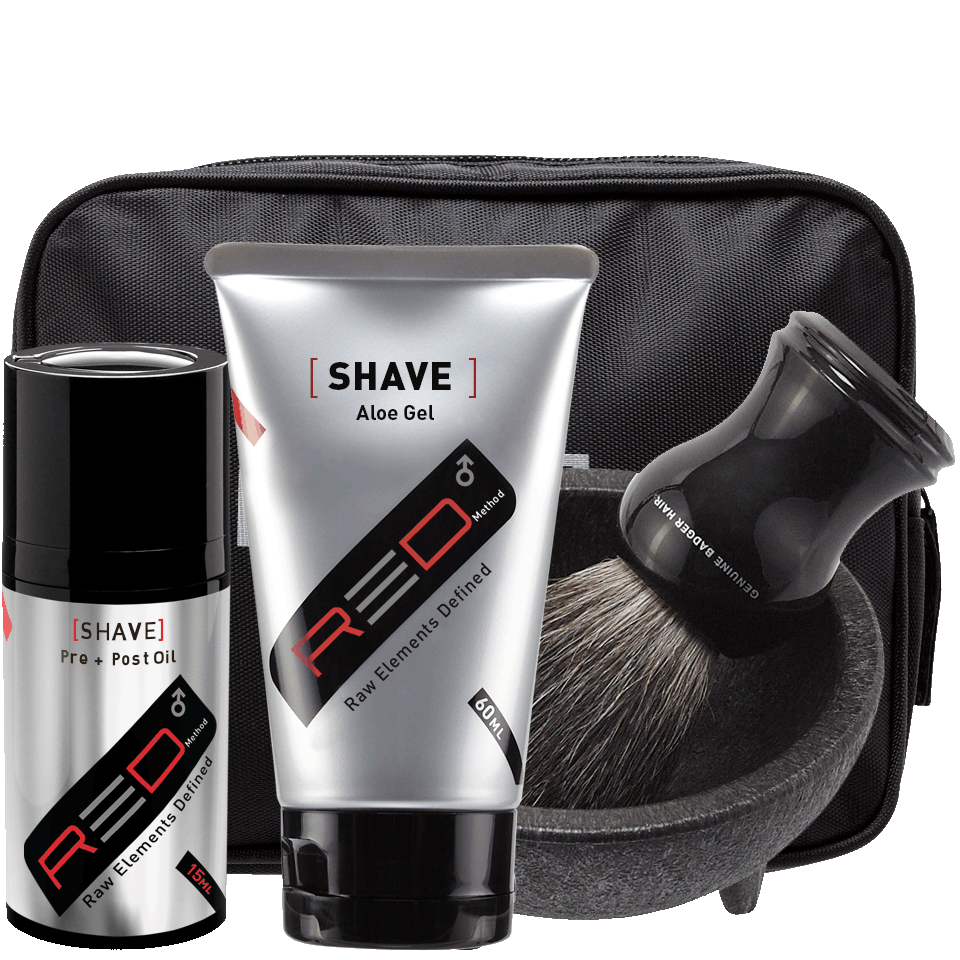 REDMETHOD KITS
REDMethod Travel Essentials / 20% OFF
All Other REDMethod Kits / 25% OFF
TAKE ADVANTAGE OF 30% OFF DISCOUNTS
In order to bring you the freshest product using only natural ingredients as preservatives, some products have a shorter shelf life.
Due to an over-production on these favorites, we have an abundance on our shelves with a shorter expiration date, expiring in 4 months. Please keep in mind that our formulations continue to be at their highest efficacy and do not start to oxidize for 2 months past the expiration date.
Rosacea Rescue - EGF Relief Gel (50ml & 15ml)
Light gel base
Soothing hydration
Alleviates heat and irritation
Supports cellular regeneration and skin strengthening
Ideal for oily, impure, acne rosacea skin
50ml - $21 (originally $30)
15ml - $9.80 (originally $14)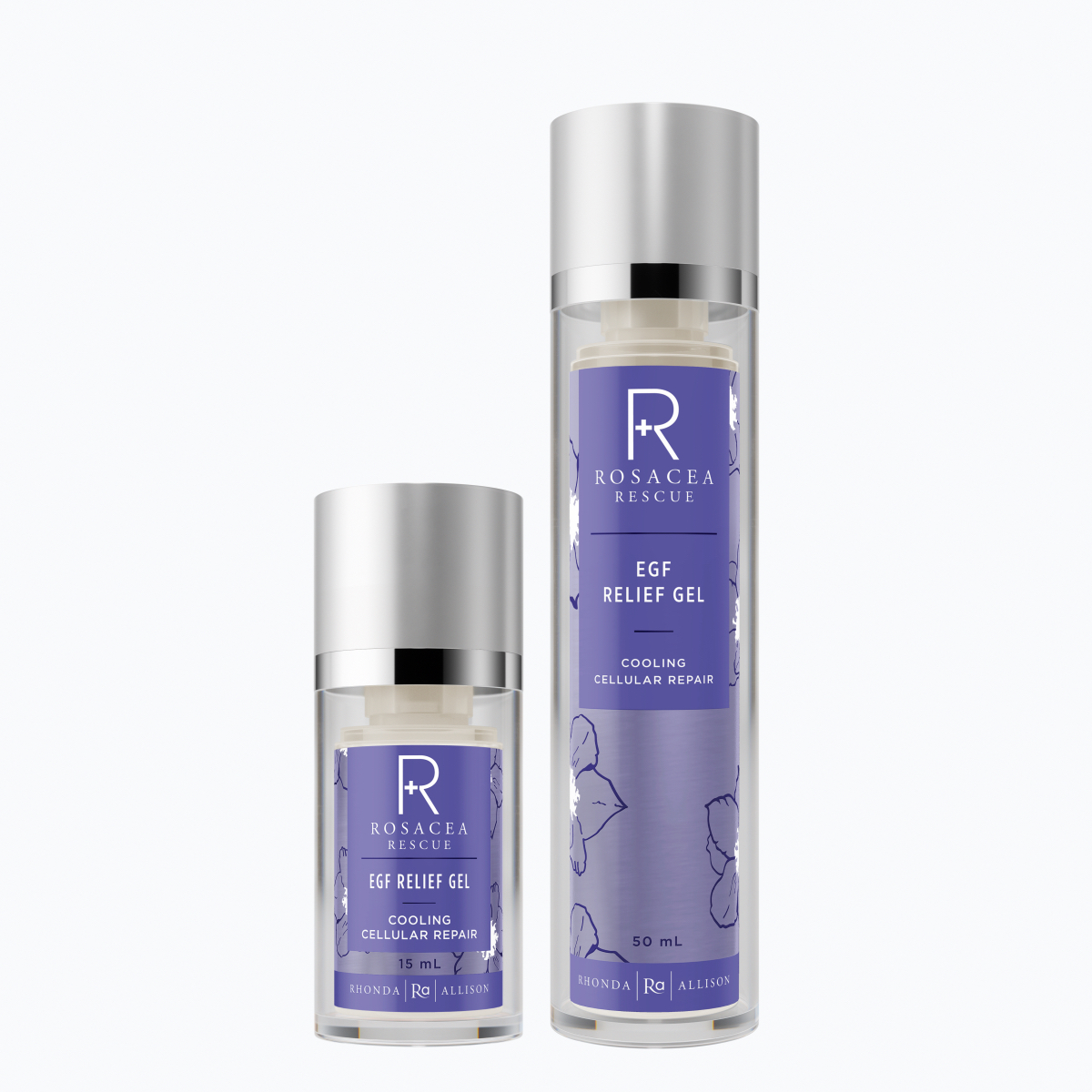 Rosacea Rescue - Green Tea Power Tonic (30ml)
Active toner for thicker skin
Reduces surface oils
Visibly reduces redness and inflammation
Great for reactive, thick, oily, acne rosacea skin
30ml - $5.25 (originally $7.50)


25% off Hibiscus Peel
Limited Time Offer!
Are you using one of the most versatile acids we offer? This powerful blend of a flower acid and an enhanced mandelic complex makes this a Pro Series favorite for every skin condition! RA currently has a batch of Hibiscus Peel that will be expiring December 2022 – but can actually be used through March 2023 - and we would love to pass along some savings to you!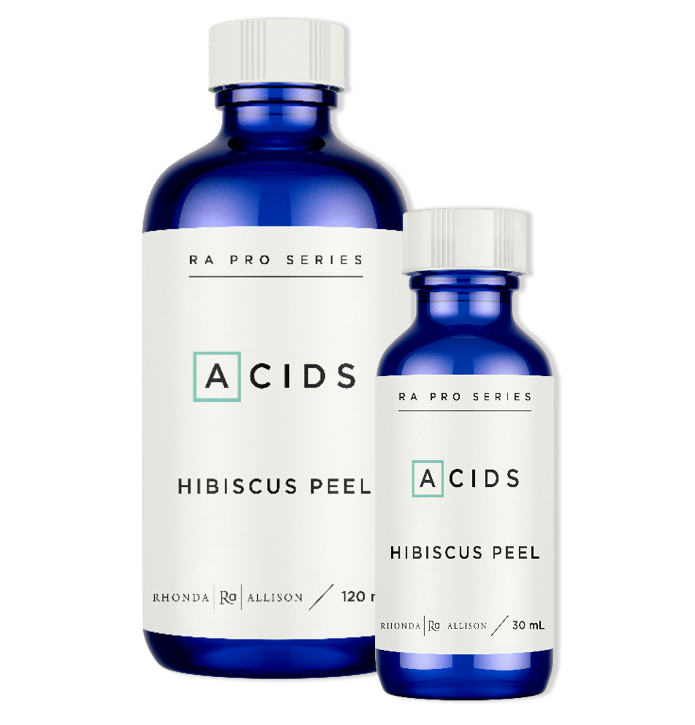 Treat to tone skin, stimulate collagen activity and balance excess oil, it is perfect for most all skin types, especially those dealing with hyperpigmentation, acne or healthy aging.
Focus ingredients include:
Hibiscus Sabdariffa Flower Extract – second-generation AHA, this flower acid increases cell turnover, exhibits good cutaneous tolerance and is more moisturizing than lactic acid.
Mandelic Acid (L) – AHA with strong antiseptic and antibacterial activity beneficial in the treatment of skin problems such as acne, photo aging and irregular pigmentation, but produces less prickling sensation making it tolerable for most all skins.
Phytic Acid – natural antioxidant that provides a powerful chelating affect on iron to prevent free radical damage and helps prevent the formation of free radicals that typically follow cell disruption caused by a peel.
Pyruvic Acid – potent Keto acid with a pH of 2.65 and part of the Krebs cycle of respiration, this powerhouse ingredient increases cellular metabolism and stimulates collagen, ensuring cells are performing at an optimum level.