RA Specials
Throughout the year, Rhonda Allison offers special discounts on seasonal treatments, selected kits and products and new product releases. Be sure to login as a professional to purchase these items. Make sure to come back and check out our specials each time you shop!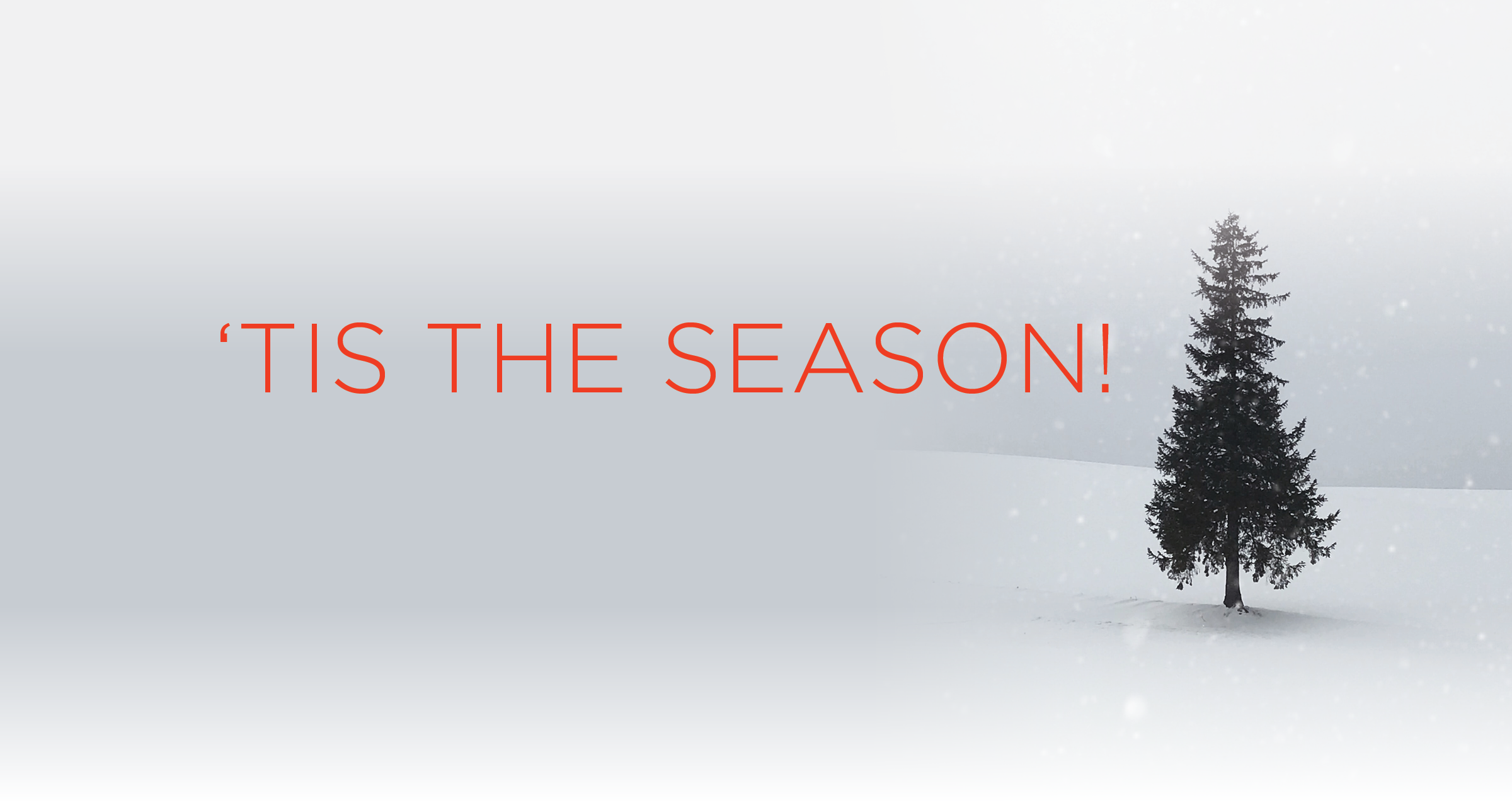 RA's FAVORITE HOLIDAY TREATMENTS ARE HERE
Featuring our Limited Edition, Two-Phase Cleansing System
Let skin sparkle this season as the enticing aromas of sheer holiday decadence fills the air. Sure to become a winter favorite, clients will relax with soothing massages and the sensations of hot and cold therapy as skin is bathed in rich, creamy indulgence that will leave skin hydrated, radiant and ready for those special holiday events.
Delivers Antioxidant Support & Brightens Skin
Provides Light Exfoliation for Buttery-Soft Skin
Oxygenates and Supplies Essential Nutrients
Stimulates, Tones and Hydrates
Gives Skin a Flawless, Luminous Finish
A modified version of RA's classic Go & Glow, this peel will be on everyone's wish list. A progressive peel created just for the holidays that uses our illuminating Hibiscus Peel to produce glowing, pro-youth results. With minimal down time, this is the perfect treatment to target dull, tired skin and get your clients ready for those holiday festivities.
Improves Texture & Brightens Tone
Accelerates Cell Turnover & Stimulates Collagen Activity
Supplies Potent Antioxidant Results
Produces Healing, Moisturizing Benefits
Provides a Radiant, Healthy-Looking Glow

Limited Edition Holiday Cleansers
Spiced Oil Cleanser

The perfect start to any treatment, this unique, oil-based cleanser gently and efficiently removes makeup and other buildup without depleting skin of natural lipids. Delivers benefits from vital antioxidants, nutrient-rich oils and exotic spices, leaving skin clean and hydrated. Great for most all skin types.
Cherry Enzymatic Cleansers
A nourishing, polishing cleanser for all skin types, Cherry Enzymatic Cleaner is a unique wash that combines the hydrating benefits of milk with the exfoliating, antioxidant power of cherries and resveratrol. Providing strong pro-youth benefits, it gently digests and lifts away dead skin cells for a deep-pore cleanse and sparkling glow.
Limited Edition Two-Phase Cleansing Treatment (SP-SC01)
SPECIAL: $75

Includes:
Spiced Oil Cleanser 240ml
Cherry Enzymatic Cleanser 240ml
(1) 8 x 10 Frameable Gift of Radiance Counter Card
(1) 8 ½ x 5 ½ Unwrap & Glow Marketing Card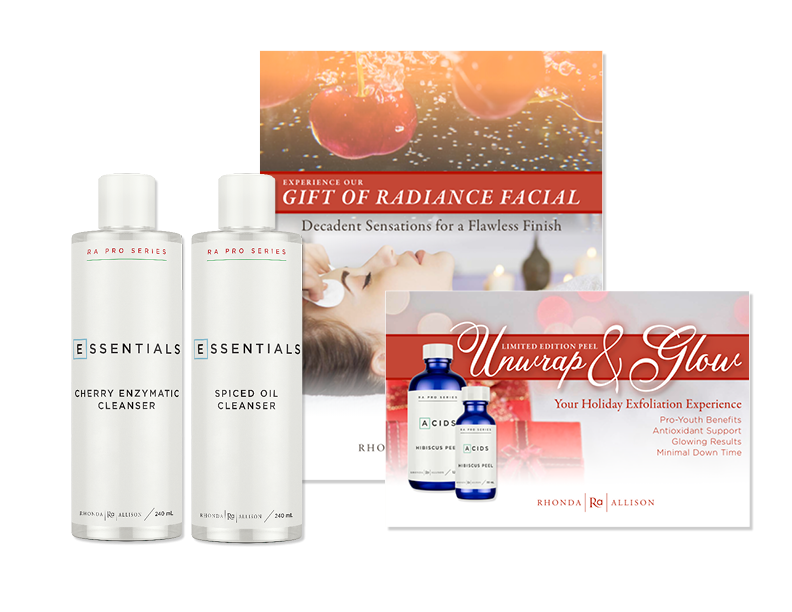 Start marketing your professional Holiday Treatments today!
Gift of Radiance Frameable 8x10 Counter Card: $1 (GORMC)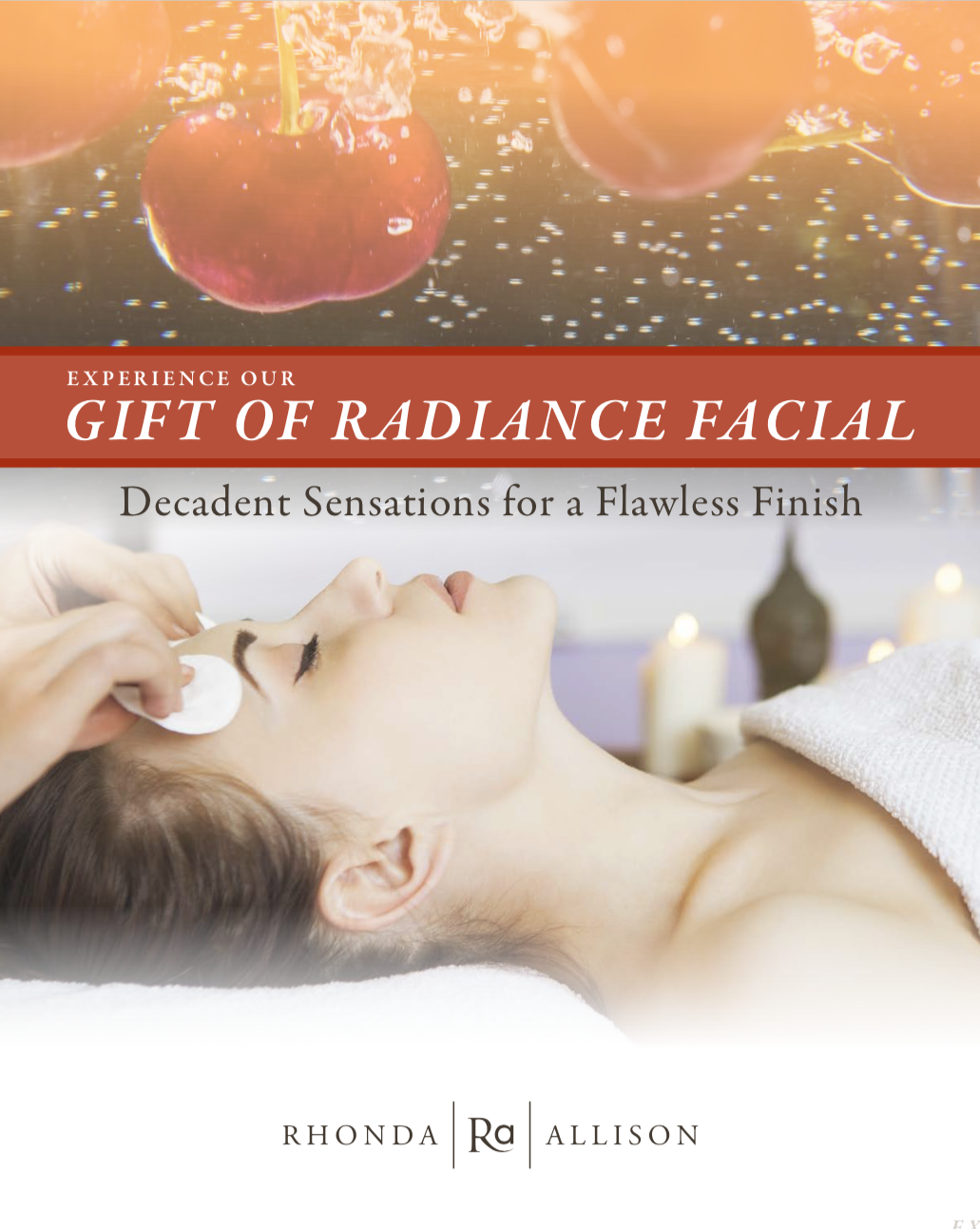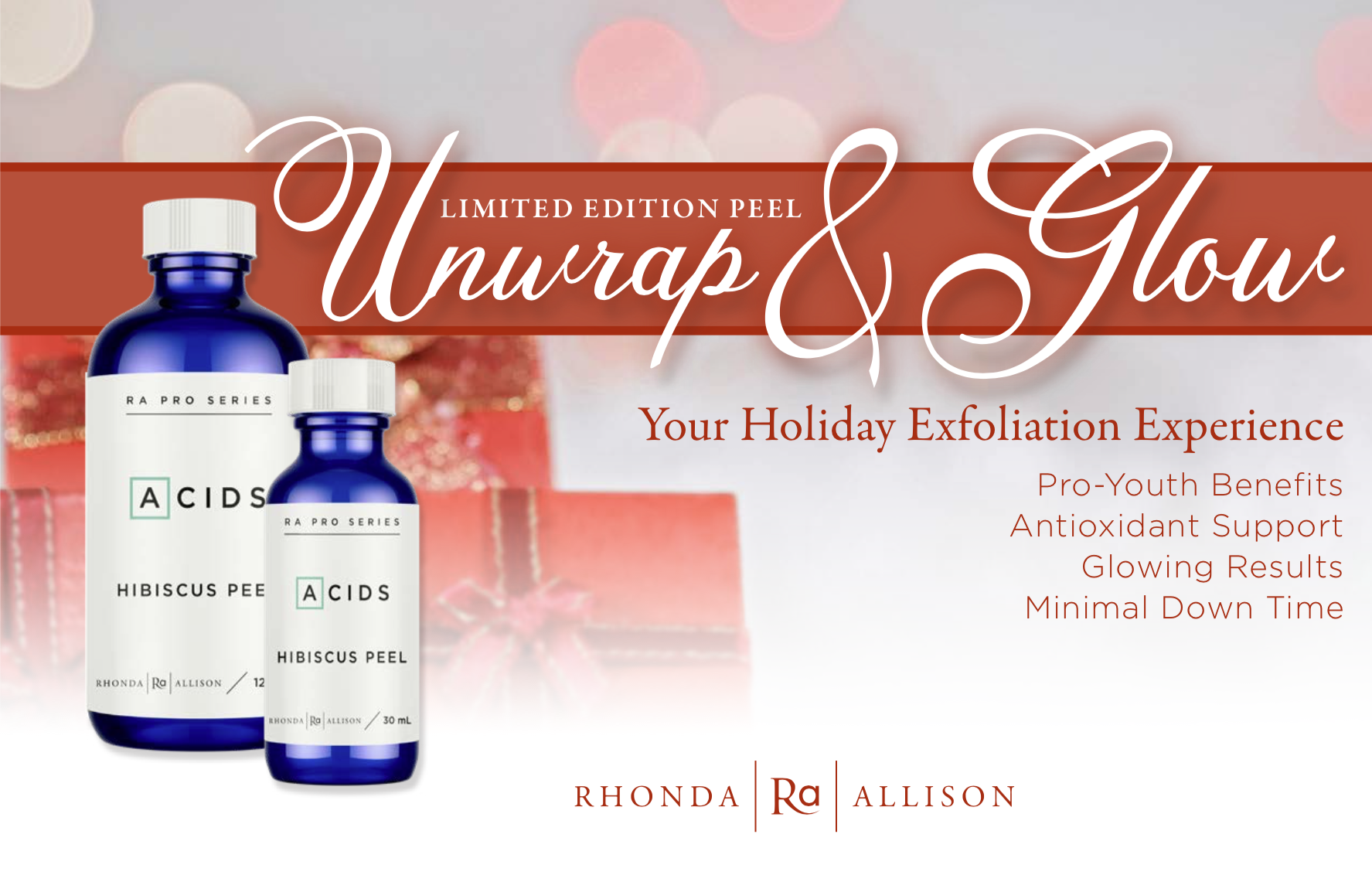 25 PK - Unwrap & Glow Holiday Peels Marketing Cards: $10 (UGMC)
Pairing some favorite RA products, our synergistic Duo Systems pack a powerful

1 - 2 punch to keep skin vibrant, beautiful and looking healthy.
RA DUO SYSTEMS
SPECIAL: Buy 5 / Get 6th FREE*
Choose from any of the following:
Pro Youth -10
Peptide Power (MTD32)
Collagen Snap Back (MTD12)
Moisture Firm (MTD22)
Vital Energy (MTD42)
Daily Dose (MTD52)
Hand Duo (SP2004-12)
Pigmentation Solutions
Fade & Glow (PSD12)
Resveratrol Defense (PSD22)
Acne Remedies
Eliminate + Hydrate (ARD12)
Wound Repair (ARD32)
Hormonal Balance (ARD22)
Hydra Relief (ARD42)

Rosacea Rescue
Stem Cell Repair (RRD12)
Replenish + Hydrate (RRD32)
Soothe + Strengthen (RRD22)

Compromised Barrier
Skin Quench (CBD12)
Cell Health (CBD22)
Stem Cell Rehab (CBD32)

EYES

Firm EyeFect (ECD12)
Lift EyeFect (ECD52)
Youth EyeFect (ECD22)
Rx EyeFect (ECD42)
For easy indulgence and essential care, RA Systems are a must for every woman's wish list!
The perfect gifts for clients to enjoy or share with loved ones!
RA TRAVEL SYSTEMS
SPECIAL: Buy 5 / Get 1 FREE
Conveniently designed to promote try-me sizes, RA Travel Systems offer complete home regimen solutions with easy-to-follow, step-by-step instructions. The perfect suggestion to get clients started down the path of beautiful skin or a great gift idea for those on-the-go or traveling this holiday season.
Choose from any of the following:
Pro Youth -10
Mandelic TransFIRMation (MTT16)
Resveratrol Glow (MTT36)
Pumpkin Power (MTT26)
Natural Lift Masque Set (MTS16)

Pigmentation Solutions
Sun Induced Travel (PST16)
Melasma Travel (PST26)
Inflammatory Travel (PST36)

Acne Remedies

Clear Relief (AR16)
Athlete on the Go (AR36)
Cystic Relief (AR26)
Rosacea Rescue
Soothing Relief Starter (RRT26)
Redness Relief Starter (RRT16)

Compromised Barrier
Climate Stress Relief (CBT16)
Revive the Glow (CBT26)

EYES

Revitalize Your Eyes (ECT26)
Unveil Your Beauty (ECT16)


RA ESSENTIAL SYSTEMS
SPECIAL: Buy 3 / Get 1 FREE
Keep skin glowing and radiant into next year! Recommend the gift of essential beauty this holiday season. Boxed and ready for the tree, RA's Essential Systems include treatment cleansers and serums to support any skin type.
Choose from any of the following:
Pro Youth -10
Collagen Boost (MTL14)
Pigmentation Solutions
Sun Induced (PSL14)
Melasma (PSL24)
Inflammatory (PSL34)

Acne Remedies

Skin Restore (ARL14)
Rosacea Rescue

Redness Relief (RRL14)
Soothing Relief (RRL24)

Compromised Barrier

Build the Barrier (CBL14)
Instant Relief (CBL24)
The Perfect Size to Slip into Any Stocking - What Woman Wouldn't Want Luminous, Kissable Lips this Holiday Season?
MERRY & BRIGHT LIPS TRIOS
SPECIAL: Buy Any 4 / Get 1 FREE $144
Suggested Retail: $91
Providing a healthy, long lasting dose of hydration for a moist, dewy shine, LIPS glosses are fortified with six natural remedy oils, including vitamin E, for lip restoration, natural flower wax to lock-in moisture and pomegranate for potent antioxidant support.
Paired in exquisite gloss colors for any time of day, each set includes our Lip Restore Serum, an iridescent nighttime recovery gloss for plumping hydration and lip tissue restoration. The velvety serum melts into skin for soft, supple, more youthful lips. Choose any combination of the following:

Poppy / Blossom (MBLT-PB)
Bellini / Petal (MBLT-BP)
Bellini / Nude (MBLT-BN)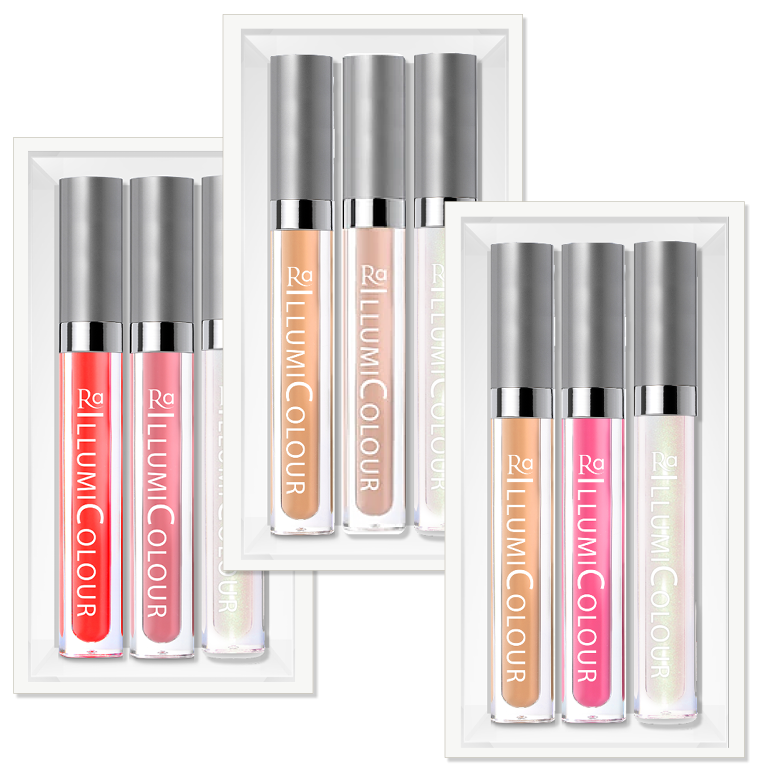 Recommend the Gift Every Woman Needs - Touchable, Flawless, Luminous Skin – Even in Winter
BODY REFORM HOME SYSTEM (K165)
SPECIAL: $42 – A 25% Savings
Suggested Retail: $125
Nude Therapies BODY Reform Home System offers the perfect solution for targeting specific body concerns, allowing clients to focus in on those stubborn body issues. Containing elements typically reserved for the most exclusive facial products, including AHAs, Peptides, Retinols, Plant Stem Cells and EGF, this non-invasive body contouring system reforms skin for a smooth, supple, firm, youthful appearance.
System Includes:

Bamboo Scrub – Daily Exfoliant (60 mL)
Energizing Peptide Spritz - Liquid Renew (30 mL)
Bio Reform 28 – Age Reversal Complex with EGF & Plant Stem Cell (30 mL)
Phyto-Endorphin Hand Cream – Age Diminish Complex (30 mL)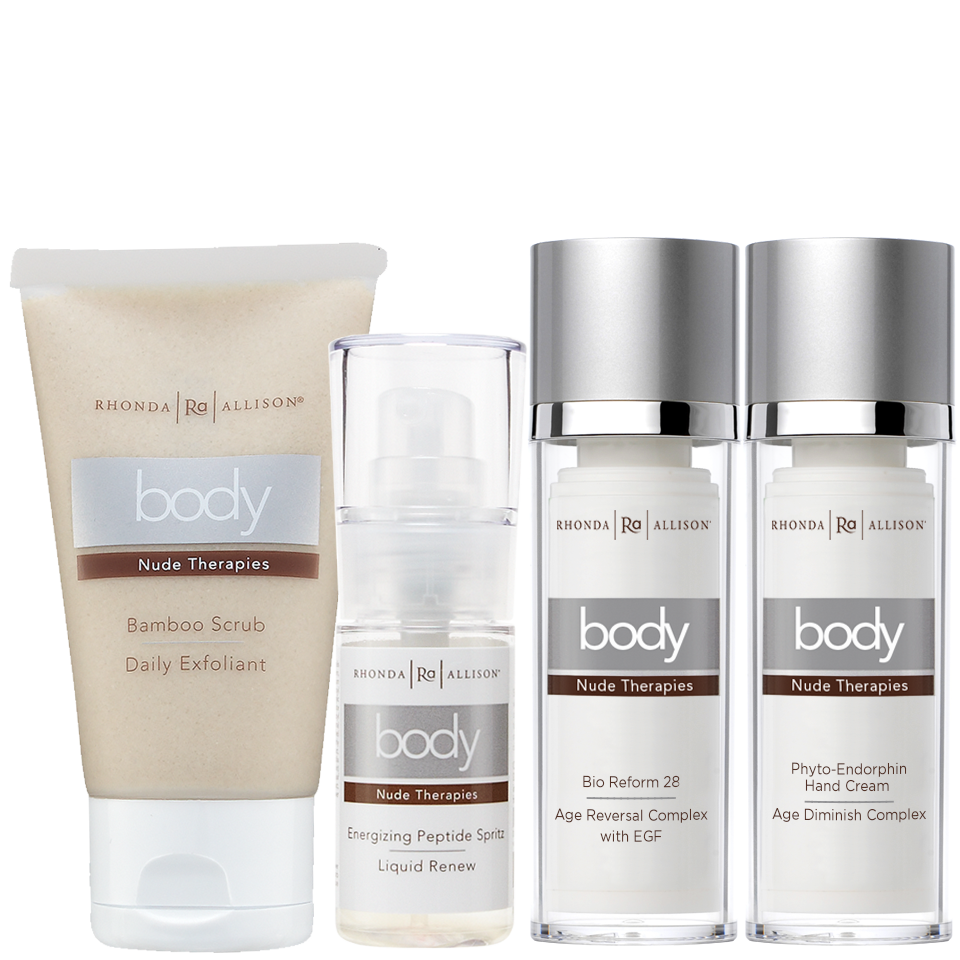 Brown Sugar Glow
Organic Coconut + Lime Essence Body Scrub (SP2011-3)
SPECIAL: Buy 3 / Get 1 FREE - $54
Suggested Retail: $40 ea.
A unique, high-end body scrub, our Brown Sugar Glow gently melts into skin, lifting away dead skin cells without causing stress to the skin. Incorporating the organic oil essence of coconut, macadamia nut, grape seed and lime, this is a great polish for all skin types.
Provides gentle exfoliation & deep hydration without clogging pores.
Immerses skin with antioxidants & nutrient-rich support .
Leaves skin smooth & supple.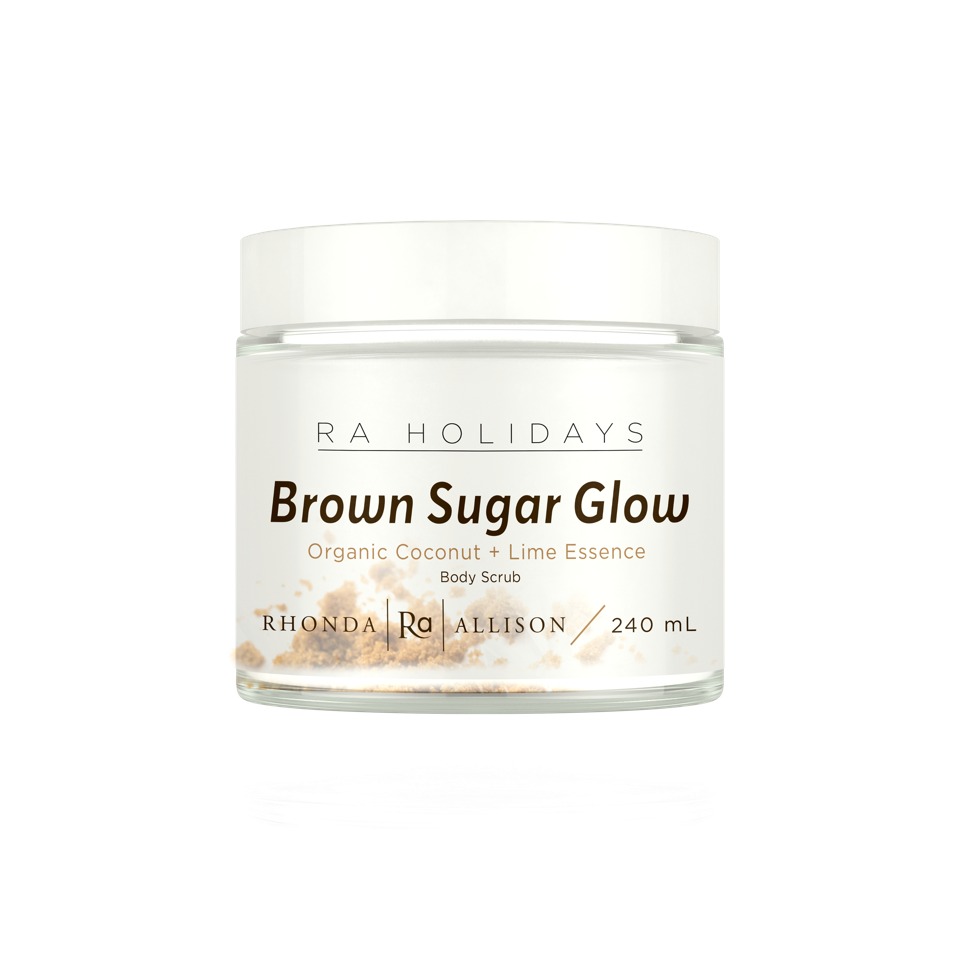 IC Mineral Glow Systems
SPECIAL: Buy 3 – Same Color / Get 1 FREE $186
Suggested Retail: $127 ea.
Illuminate the skin with a protective dose of antioxidants and pure minerals that deliver healthy, pro-youth results. IC Mineral Glow Systems are available in five natural shades - select from either Matte Crème or our original, ultra-hydrating Natural Mineral Crème formulation.
Apply with our elegant soft brush using our unique "Hydra Technique" and Natural Mineral Powder which acts as a 3-n-1 concealer, foundation and finishing powder. Pro-youth results for that flawless, glowing finish women want.
System Includes:
IC Natural Mineral Crème or Matte Natural Mineral Crème (30mL)
IC Natural Mineral Powder (9g)
IC Elegant Brush (1)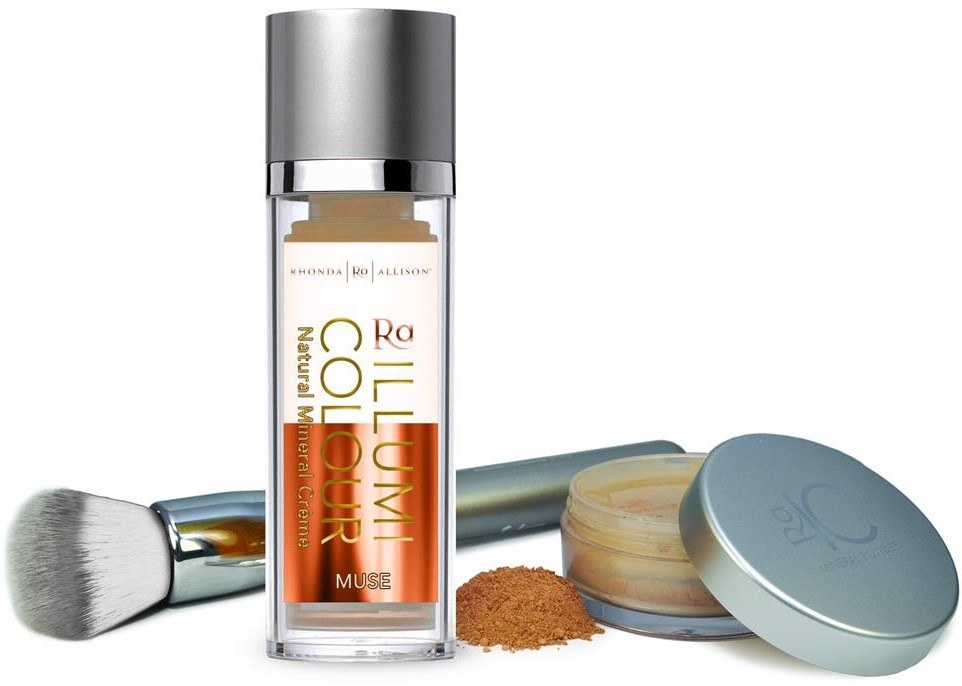 REDMethod Kits - Holiday Solutions for Every Man's Skin

Are your clients having a hard time figuring out what to get those special men in their lives? Deliver the results men want! Simple steps – maximum results!
REDMETHOD KITS
SPECIAL: 20% OFF ALL KITS
Packaged in convenient travel bags, REDMethod systems have been carefully put together with men in mind. Treating everything from aging and puffy eyes to acne and oily skin. Or, for those looking for that perfect barber shop experience and baby-smooth skin, we offer the ultimate shave system. Whatever the need, men will love the feel, aromas and end result!
Choose from any of the following kits: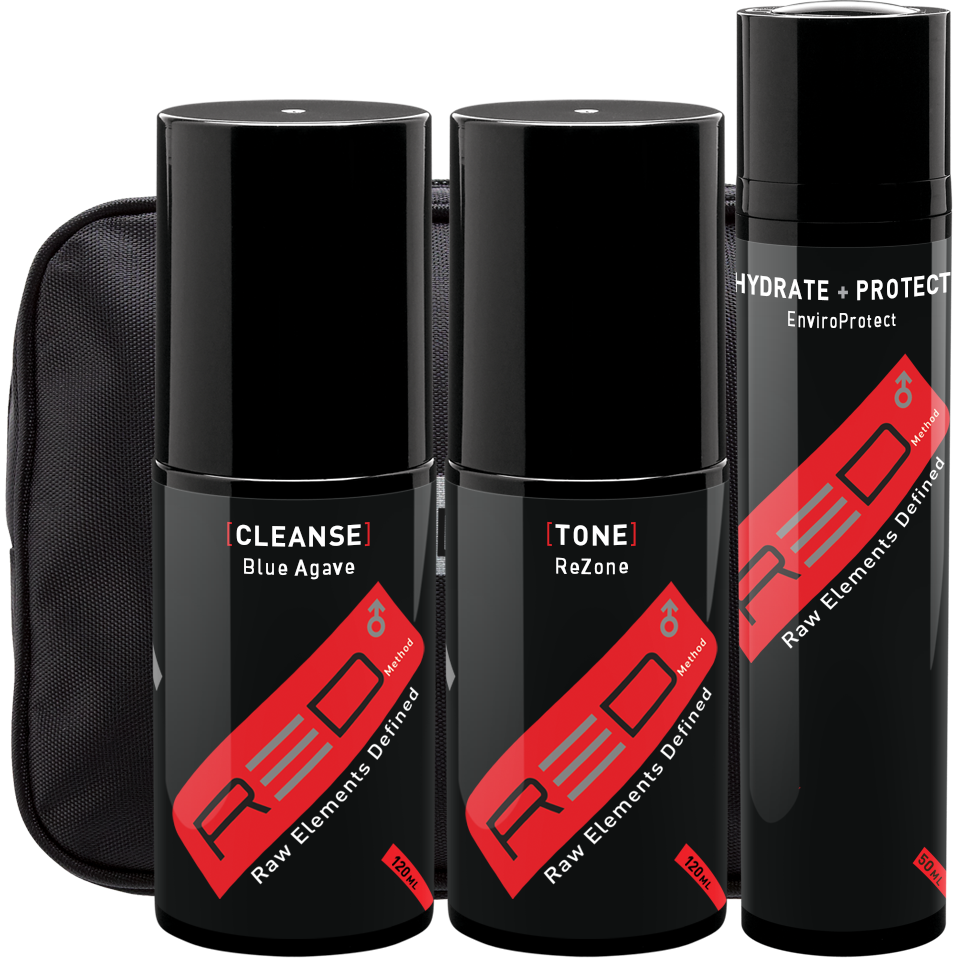 Essentials - Oil Control (RK01)
Travel Essentials – Oil Control (RK13)
Essentials – Age Control (RK01-2)
Travel Essentials – Age Control (RK14)
Essentials – All Skin (RK11)
Travel Essentials – All Skin (RK15)
Essentials – Ingrown Relief (RK11)
Travel Essentials – Ingrown Relief (RK16)
Ultimate Cleanse & Scrub (RK02)
Firm & Defend (RK03)
Ultimate Age Control (RK04)
Teen Fix (RK08)
Ultimate Shave (RK09)
Core Shave (RK10)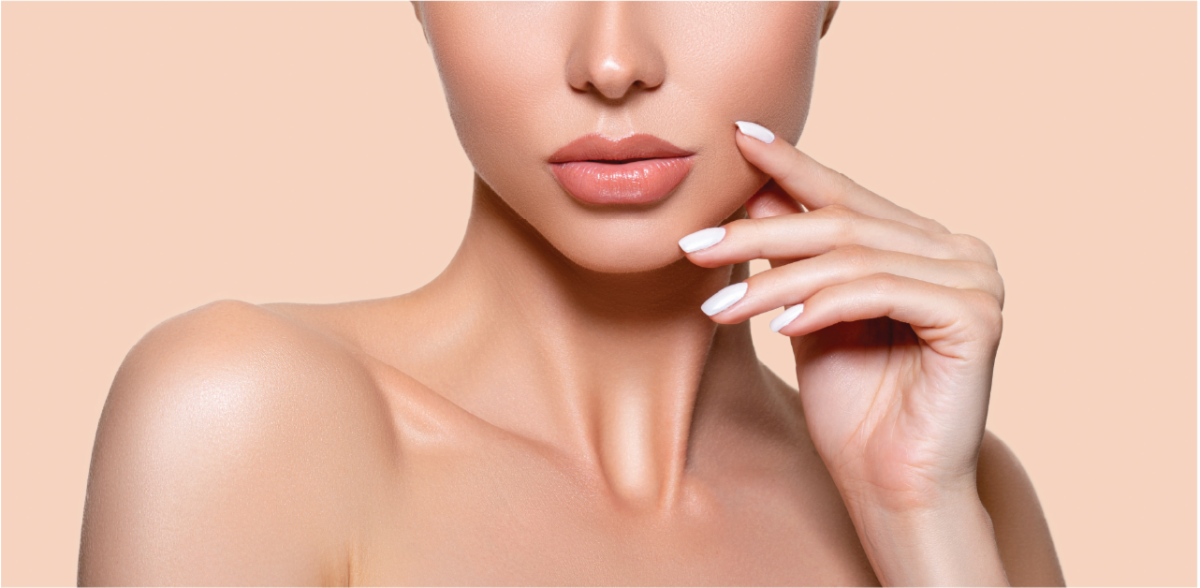 IllumiColour is Getting a New Look and Refined Formulations

We are so excited for you to see and experience IllumiColour's "brand new" look and enhanced formulations. To make room on our shelves, we'd like to pass on some savings before the new inventory arrives.
SAVE 25% ON RA ILLUMICOLOUR ELEGANT BRUSHES
Now $15 ea.
RA Illumicolour Elegant Brushes are ultra-plush, total face makeup brushes with cruelty-free, synthetic bristles that will not shed. Applying the perfect amount of loose mineral powder, or even crème makeup, these premium foundation brushes deliver a flawless, natural-looking finish every time!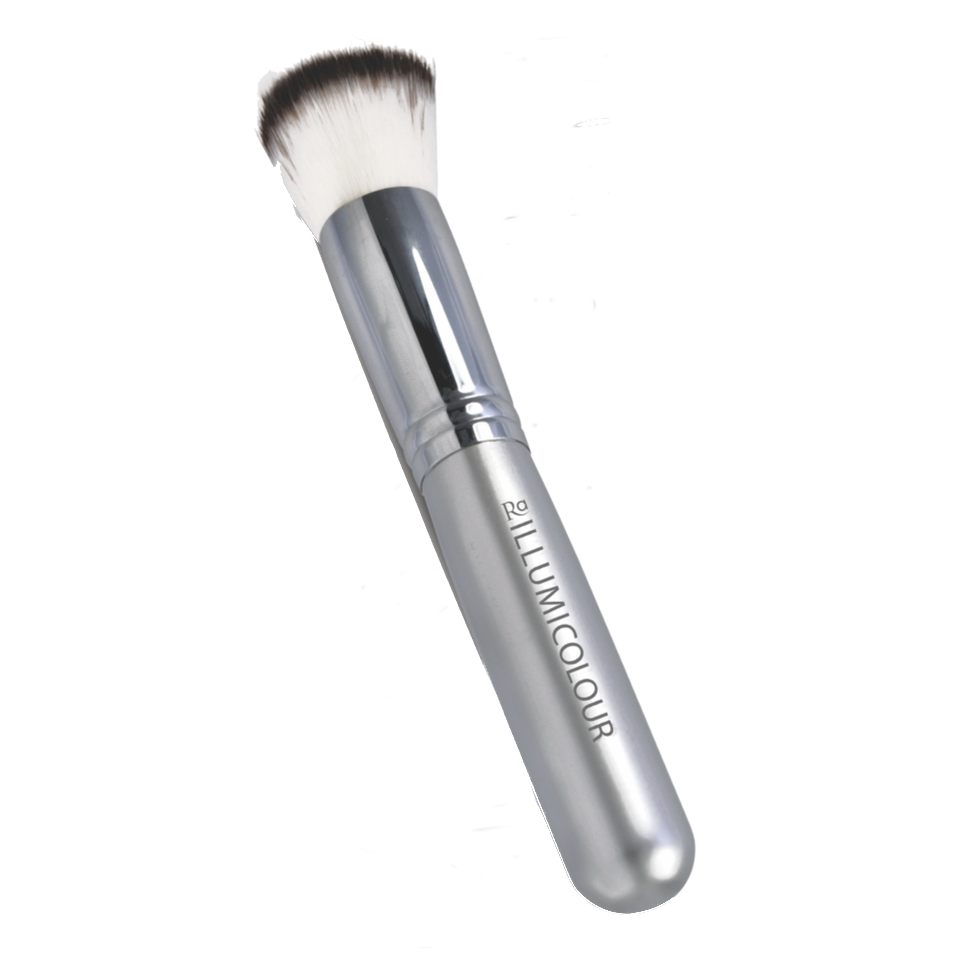 SAVE OVER 25% ON LIPS ORIGINAL FORMULA GLOSSES
Now $8 ea.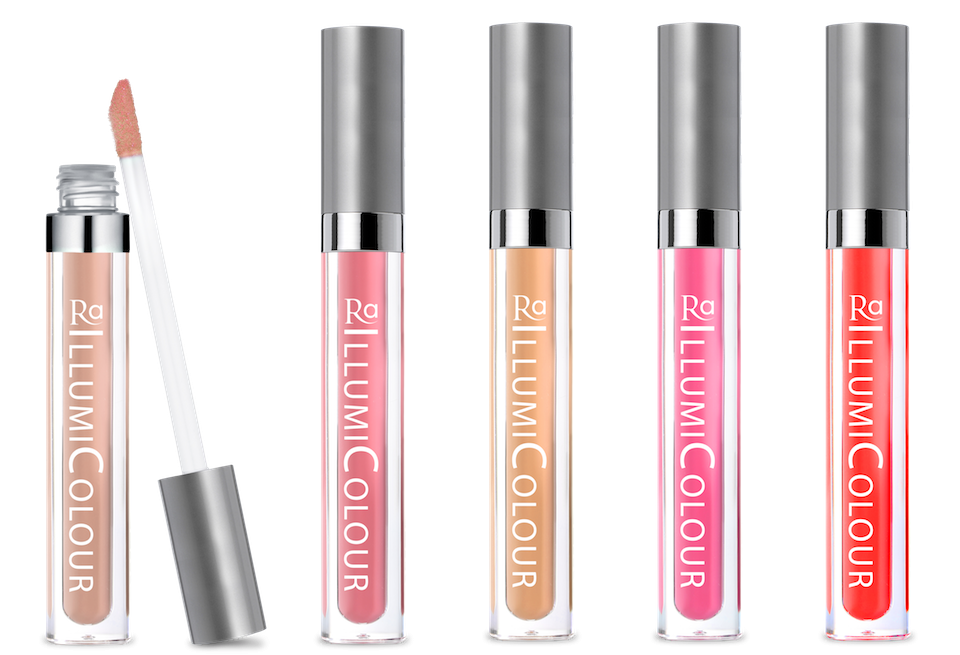 Providing a healthy, long lasting dose of hydration for a moist, dewy shine, LIPS original formula glosses are fortified with six natural remedy oils, including vitamin E, for lip restoration, natural flower wax to lock-in moisture and pomegranate for potent antioxidant support.
Available In 5 Divine Colors:
Nude – a subtle blushed touch
Petal – the softness of pale pink flower petals
Bellini – a light hint of beautiful peach
Blossom – for a deeper awakening of pink
Poppy – a burst of delicate red
SAVE OVER 20% ON CBD-INFUSED LIPS GLOSSES
Now $10 ea.
Using a high quality, organically-grown, hemp-based CBD oil to enhance healing support, CBD-Infused LIPS glosses contain all the benefits of our original formula PLUS an added boost of antioxidant, antibacterial and anti-inflammatory support that seals in moisture to prevent dry, flaky lips.
Rooibos Spice + - spiced peach nectar
Kashmiri Chai + - for the faintest blush
Fuchsia Roselle + - deep red essence
Blossom + - a shimmering shade of pink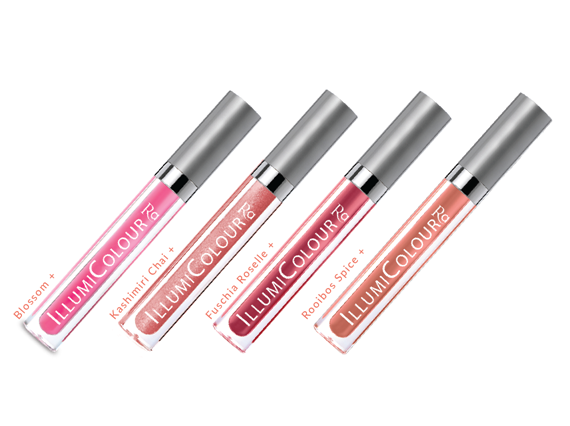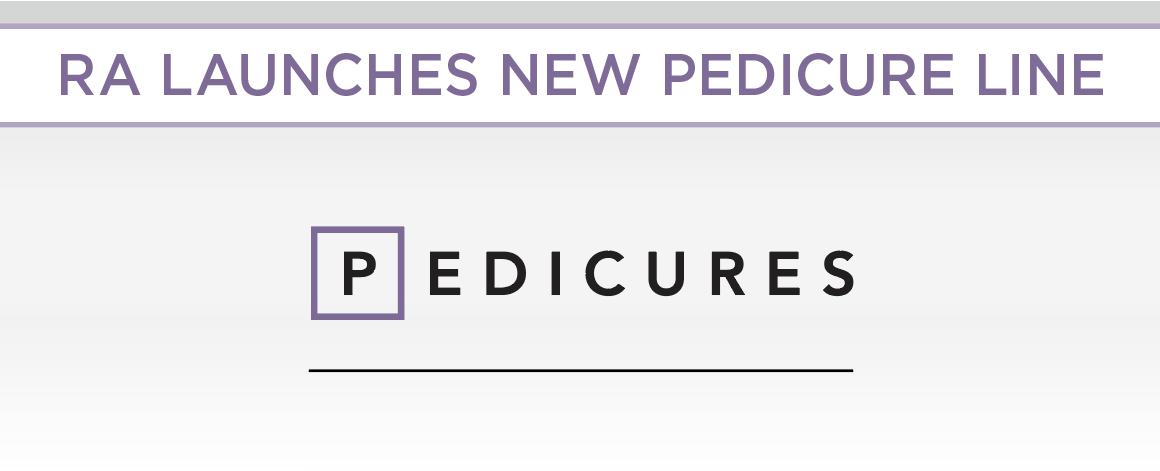 Does your business or spa offer luxury pedicures?
RA has been a major contributor to the aesthetic industry over 30 years. What started as R&D for result-oriented chemical peels fast developed into a world-renowned skin care line with far-reaching outcomes for all skin.

Realizing we had much to offer the pedicure world, we began testing formulations. The result - RA Pedicure Series!
Our formulations conisit of botanical extracts, acids and nutrients that will change the skin, delivering softer, smoother, well-hydrated feet. We believe strongly in formulating without skin irritants and using the purest ingredients possible.
Naturally Based
All scents and coloring are natural properties of plants – no artificial dyes or fragrance
Paraben free
No sodium lauryl sulfates
Essential oil preservative systems
Formulated with epidermal growth factors, antioxidants, nourishing lipids and more!

CHOCOLATE CHERRY DECADENCE

Bathe feet in pure decadence! Let the skin softening properties from fruit and lactic acids gently exfoliate rough, calloused tissue, revealing smoother, healthier feet while antioxidant-rich chocolate fills the air creating the ultimate treat for the feet. Finish with a veil of silky moisture from omegas and grape seed oil during a relaxing massage. Feet will be left softer, smoother and hydrated!

PUMPKIN REVITALIZING ESSENCE

Purify and hydrate tired feet! This pedicure begins with a gentle exfoliation using pumpkin fruit and lactic acid to smooth and soften rough, calloused feet. Then let the purifying blend of cactus flower and earth clays draw out impurities, easing fatigue and stress. Finish your treatment with a relaxing foot massage using our nourishing and hydrating blend of grape seed and omega oils. The perfect way to revive and restore feet!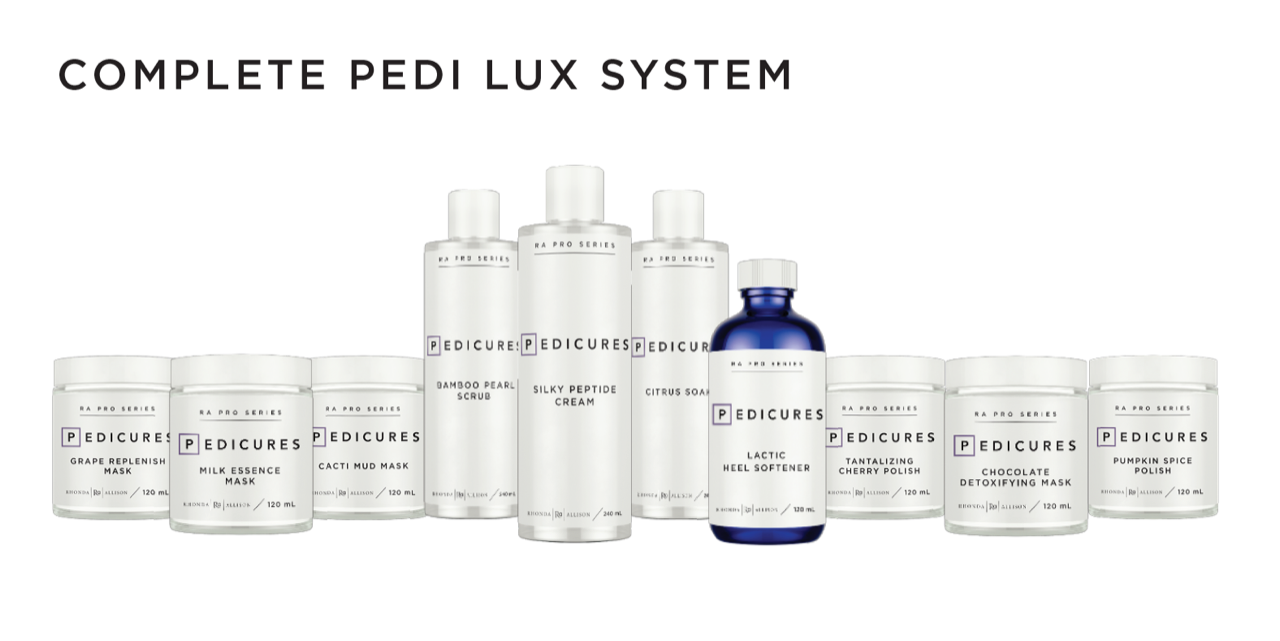 COMPLETE PEDI LUX SYSTEM (SPPED)
Special Buy-In Pricing - $325 (About 25% Off)
Everything you need to perform any RA Luxury Pedicure Treatment.
System Includes:
Citrus Soak (240ml)
Lactic Heel Softener (120ml)
Tantalizing Cherry Polish (120ml)
Pumpkin Spice Polish (120ml)
Milk Essence Mask (120ml)
Grape Replenish Mask (120ml)
Chocolate Detoxifying Mask (120ml)
Cacti Mud Mask (120ml)
Silky Peptide Cream (240ml)
Bamboo Pearl Scrub (240ml)
Products also available for individual purchase.
Learn more about the RA Skin Care Pedicure Line.
Purchase your RA Pedicure Products today.