RA Specials
Throughout the year, Rhonda Allison offers special discounts on seasonal treatments, selected kits and products and new product releases. Be sure to login as a professional to purchase these items. Make sure to come back and check out our specials each time you shop!



Are You Ready for All Things Pumpkin?


This is the perfect time of year to repair summertime damage, reveal a healthier complexion and rejuvenate skin! The properties of pumpkin and other fall ingredients can do just that!
PUMPKIN VITALITY SERIES
This trio of treatments has been curated to rejuvenate skin through powerful pumpkin extracts, firming malic and tartaric acids and nourishing rich lipids. Skin is exfoliated, firmed, toned and radiant – it's better than a Pumpkin Spice Latte!
PUMPKIN PEPTIDE FACIAL
Begin the repair and rejuvenation process with our Pumpkin Peptide Facial. The perfect treatment to prepare the skin for the Pumpkin Apple Fall Peel, this corrective facial firms, tones, hydrates and nourishes for an amazing glow.
PUMPKIN APPLE FALL PEEL
Rejuvenate and renew skin with the flavors of fall. RA's Pumpkin Apple Fall Peel awakens skin using all the benefits of apples and pumpkin to firm and tone while nourishing and brightening dull, dry summer skin. Clients will love the pro-youth results just in time for holiday festivities! Great for smoker's skin, too!
PUMPKIN APPLE FALL FACIAL
Bring fall into the treatment room this year with our Pumpkin Apple Fall Facial. An exciting facial created just for the season, this corrective treatment has everything you need to revive dry summer skin. Packed full of nutritious pumpkin and rejuvenating apple wine extract, it is sure to generate results. Tightens and firms, infuses skin with potent antioxidant support and brightens skin tone for a beautiful, glowing polish and radiant skin that will last for weeks.
Click here to download the protocols
PRO PUMPKIN VITALITY SERIES ESSENTIALS (SP2109-1)
Pro Series System $250
All the essentials you need to perform this treatment series!
Essentials Special Includes:
Pumpkin Cleanser (240ml)
Pro Youth -10 Pumpkin Tonic (120ml)
Cell Conditioner (30ml)
Pro Youth -10 Pumpkin E Serum (30ml)
Pumpkin Parfait Enzyme (120ml)
Mandelic Arginine Peel (30ml)
Melanin Suppressant Solution (30ml)
TCA Sake Peel (30ml)
Apple Wine Peel (30ml)
Vitamin A+ Peptide Peel (30ml)
Pro Youth -10 ChronoPeptide A (30ml)
AND
(25) Fall Vitality Series Marketing Cards - While Supplies Last!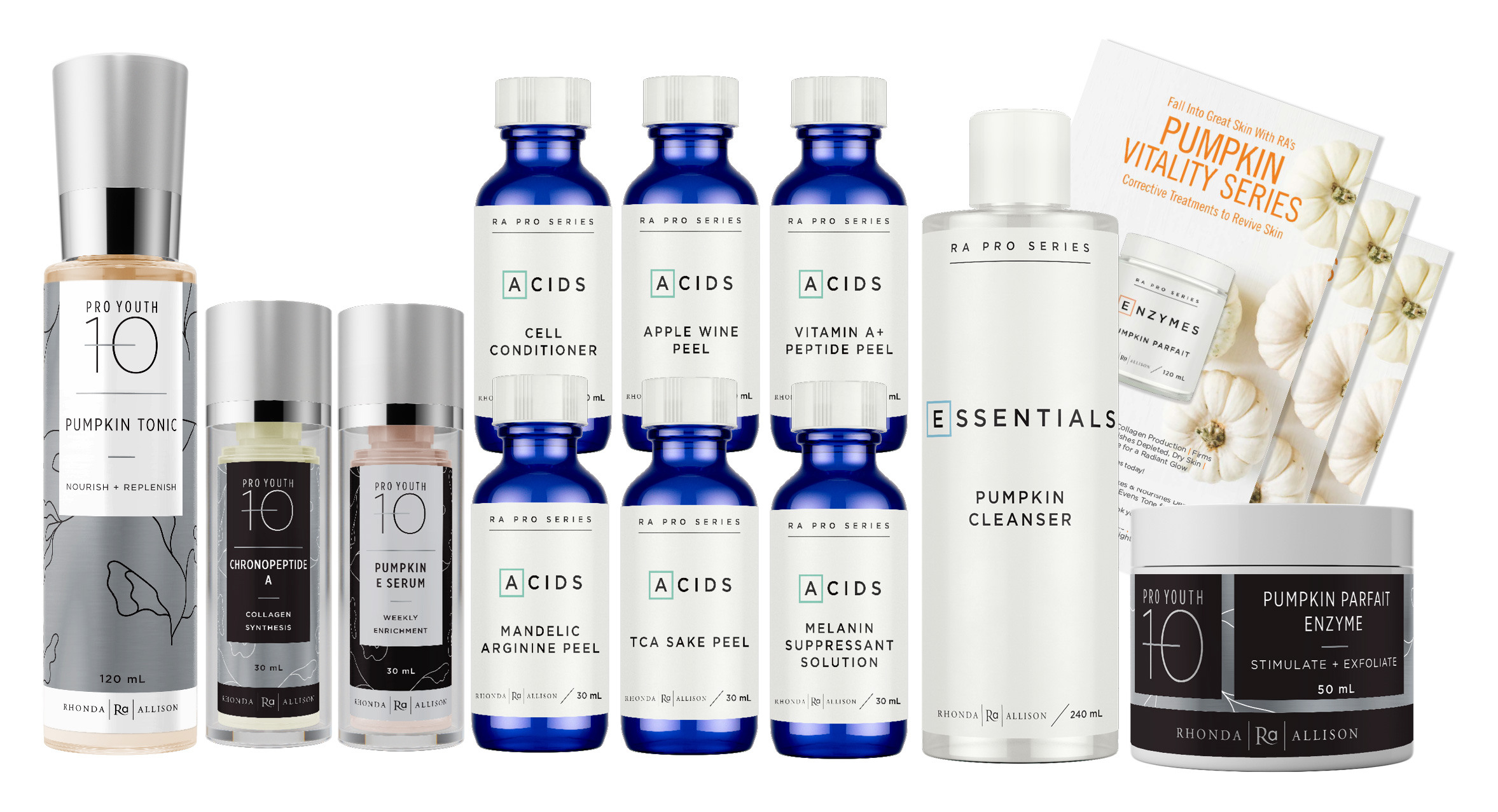 PUMPKIN VITALITY MARKETING CARD BUNDLE (M208)
25-Pack on Sale Now - $12
Perfect to promote this series! Mail to your clients, display around your business.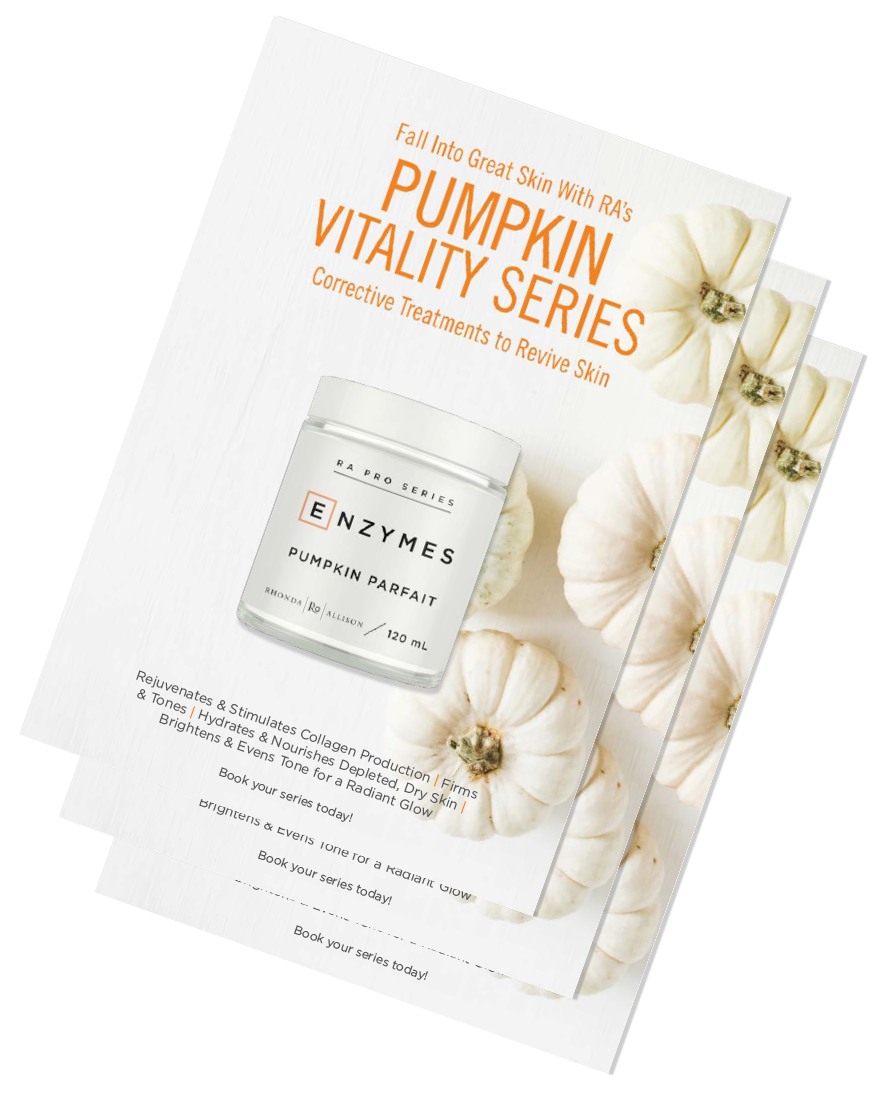 PRO YOUTH -10 PUMPKIN RETAIL SPECIALS ARE BACK!
Stock up and save on these fall favorites! Create a beautiful, retail display with fall leaves, cinnamon sticks, warm-scented candles to help get clients excited about this beautiful time of year for their skin.
REFRESHINGLY PUMPKIN - TRAVEL SYSTEM (SP2109-3)
SPECIAL: Buy 5 / Get 1 FREE - $257.50
Suggested Retail Price: $130.75 ea
RA's Refreshingly Pumpkin Travel System provides potent pro-youth formulas in convenient petite sizes to protect skin from free radicals and environmental damage while supplying vital skin nutrition and reparative, healing, hydrating support for brighter, toned, luminous skin. A great option for try-me sizes to start your clients out on!
System Includes:

Pumpkin Lactic Cleanse (30ml)
Pumpkin Tonic (30ml)
Pumpkin E Serum (10ml)
Bio 53 Matrix Plus (15ml)
Derma-Zyme (15ml)
Grape Seed Antiox Mask (15ml)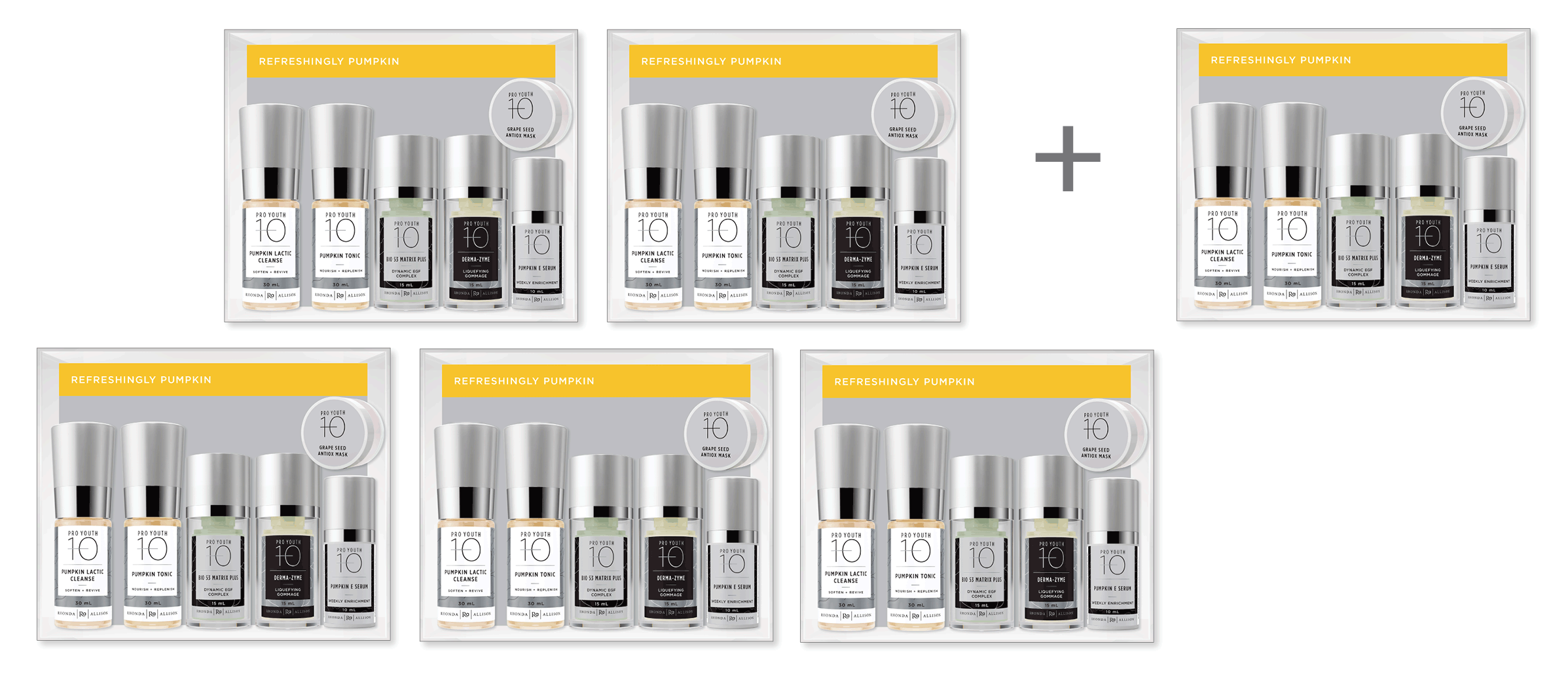 REFRESHINGLY PUMPKIN – ESSENTIALS SYSTEM (SP2109-4)
SPECIAL: Buy 5 / Get 1 FREE - $325
Suggested Retail Price: $153.50 ea
Always a seasonal favorite, RA's Refreshingly Pumpkin - Essentials System is beautifully boxed and ready for your fall shelves. This high-end system is a potent anti-aging ally, protecting skin from free radical damage and supplying important nutrition and rejuvenating, hydrating support for healthy, polished, younger-looking skin.
System Includes:
Pumpkin Lactic Cleanse (120ml)
Pumpkin Tonic (120ml)
Pumpkin Parfait Enzyme (15ml)
Bio 53 Matrix Plus (15ml)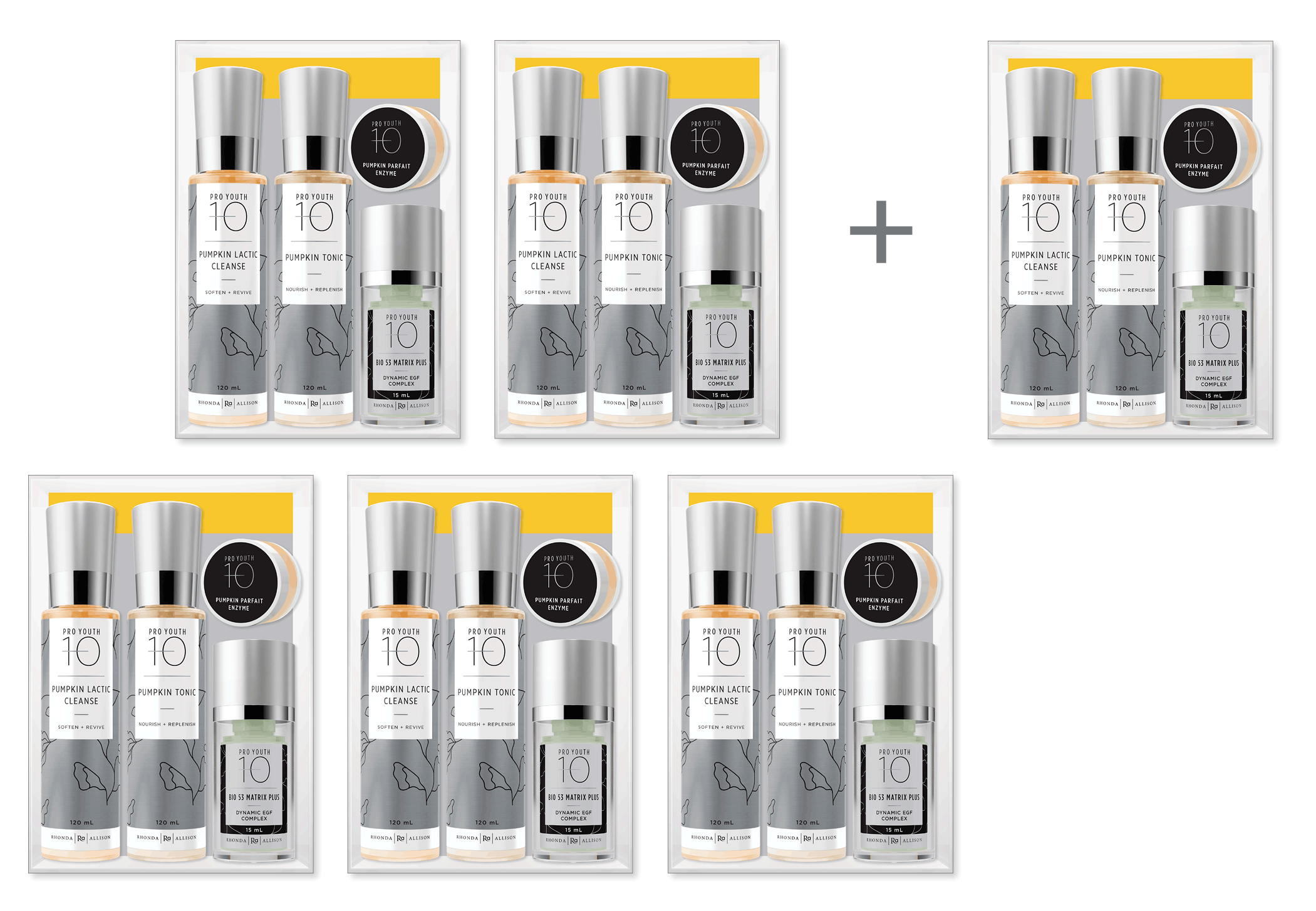 PUMPKIN POWER (SP2109-2)
SPECIAL: Buy 5 / Get 1 FREE - $257.50
Suggested Retail Price: $134.25 ea.
Let the power of pumpkin work for you to plump away fine lines and hydrate for vibrant, younger-looking skin. Using powerhouse antioxidants to protect skin from sun-aging, we've added in the benefits of anti-glycation ingredients, powerful stem cells and age-defying peptides to make skin brighter, firmer and more youthful.
System Includes:
Pumpkin Lactic Cleanse (30ml)
Pumpkin Tonic (30ml)
AGE less (10ml)
Pumpkin E Serum (10ml)
Elite Luxe Hydration (15ml)
Also available individually at regular price: $51.50 (MTT2)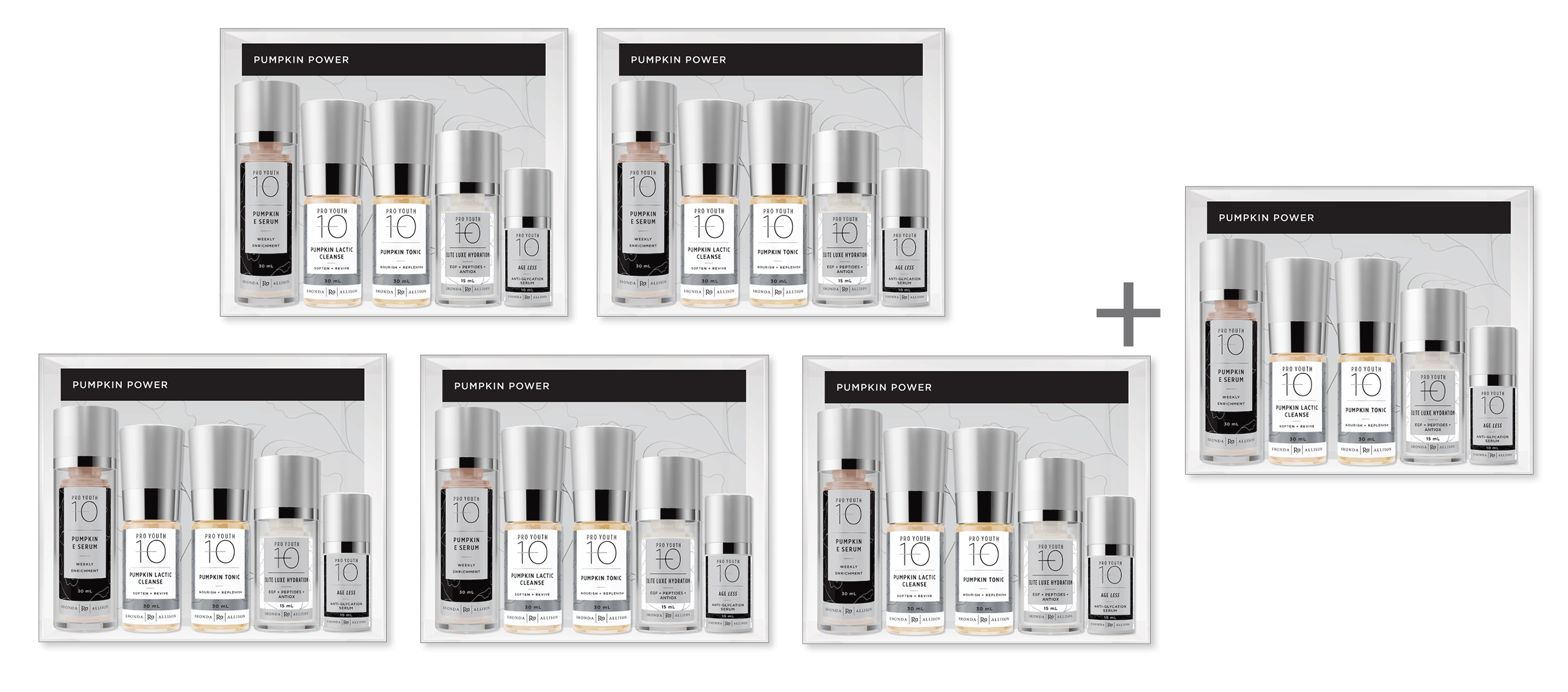 Pumpkin E Serum 30ml (MT693)
SPECIAL: Buy 5 / Get 1 FREE - $90
Suggested Retail Price: $38
Revive tired, dull, dry, lifeless skin with this concentrated blend of vitamin E and pumpkin seed oil. Boost oxygenation and increase cell protection and antioxidant support to reveal healthy, radiant skin. This weekly serum takes pro youth skin to a whole new level.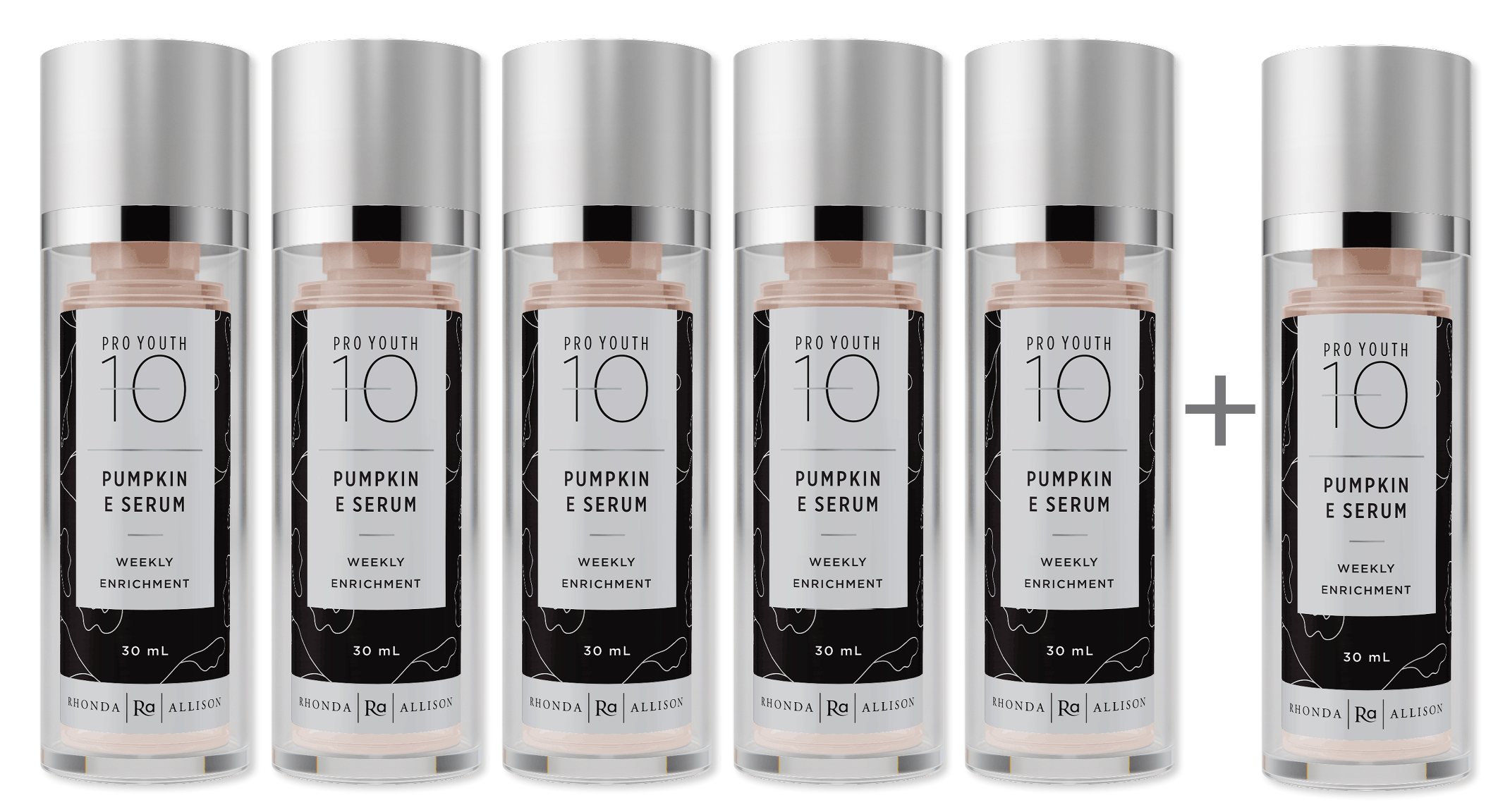 Vital Tissue Repair (SR6571)
SPECIAL: Buy 5 / Get 1 FREE - $55
Suggested Retail Price: $25

This nutrient-rich serum restores skin immunity, prevents scarring and thickens tissue with a high concentration of vitamin E and pumpkin seed oil. Perfect to have in your medicine cabinet and apply to superficial wounds and after sutures are removed to promote healthy healing.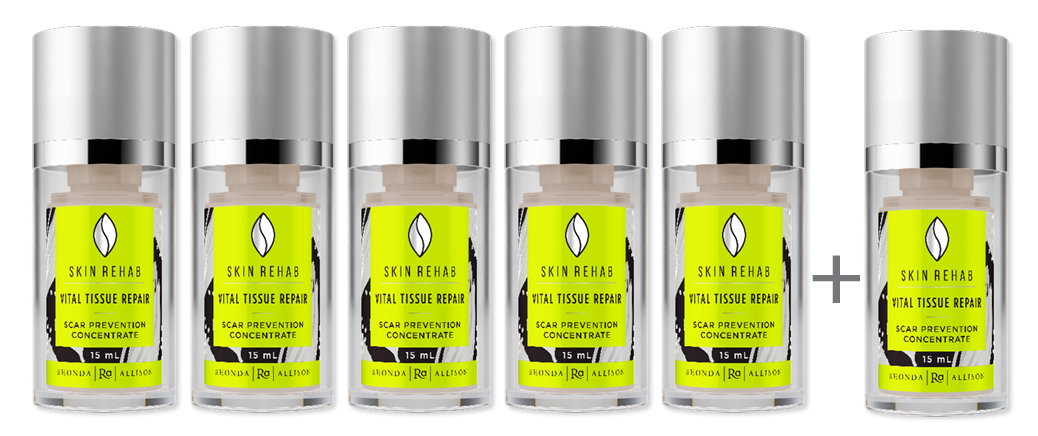 TAKE ADVANTAGE OF 30% OFF DISCOUNTS
In order to bring you the freshest product using only natural ingredients as preservatives, some products have a shorter shelf life.
Due to an over-production on these favorites, we have an abundance on our shelves with a shorter expiration date, expiring in 4 months. Please keep in mind that our formulations continue to be at their highest efficacy and do not start to oxidize for 2 months past the expiration date.
Rosacea Rescue - EGF Relief Gel (50ml & 15ml)
Light gel base
Soothing hydration
Alleviates heat and irritation
Supports cellular regeneration and skin strengthening
Ideal for oily, impure, acne rosacea skin
50ml - $21 (originally $30)
15ml - $9.80 (originally $14)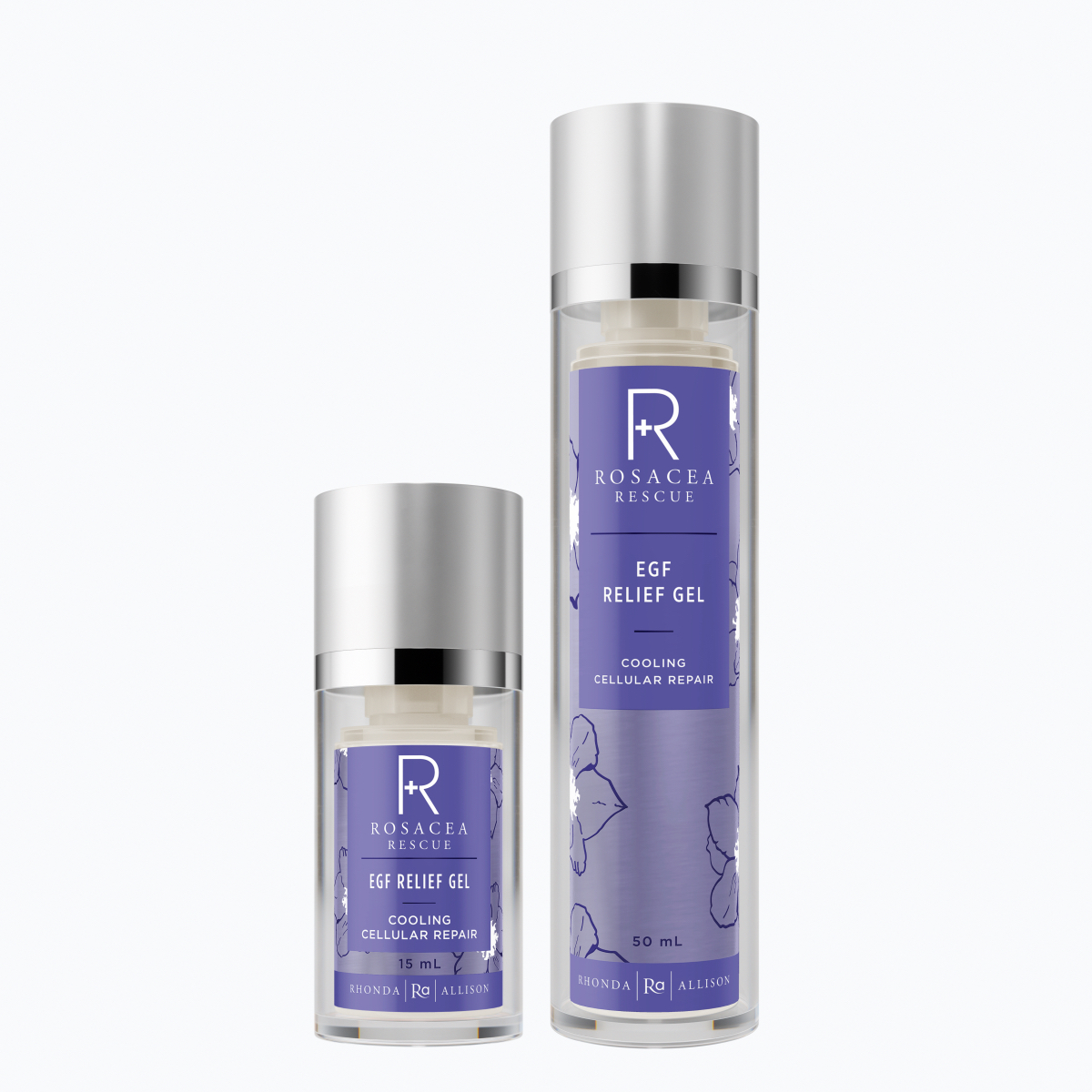 Rosacea Rescue - Green Tea Power Tonic (30ml)
Active toner for thicker skin
Reduces surface oils
Visibly reduces redness and inflammation
Great for reactive, thick, oily, acne rosacea skin
30ml - $5.25 (originally $7.50)

SUN REFLECT's NEWEST FORMULA -
Green Tea Hydrate


This lightweight outdoor topical soothes inflamed, oily, blemish-prone skin while offering an SPF equivalent of 15. Perfect for this time of year when teens and young adults are returning to the classroom.
Key Ingredients Include:
Green Tea Leaf Extract
Aloe Leaf Juice
Sodium Hyaluronate (L)
Ethylhexyl Salicylate
Menthyl Anthranilate

25% off Hibiscus Peel
Limited Time Offer!
Are you using one of the most versatile acids we offer? This powerful blend of a flower acid and an enhanced mandelic complex makes this a Pro Series favorite for every skin condition! RA currently has a batch of Hibiscus Peel that will be expiring December 2022 – but can actually be used through March 2023 - and we would love to pass along some savings to you!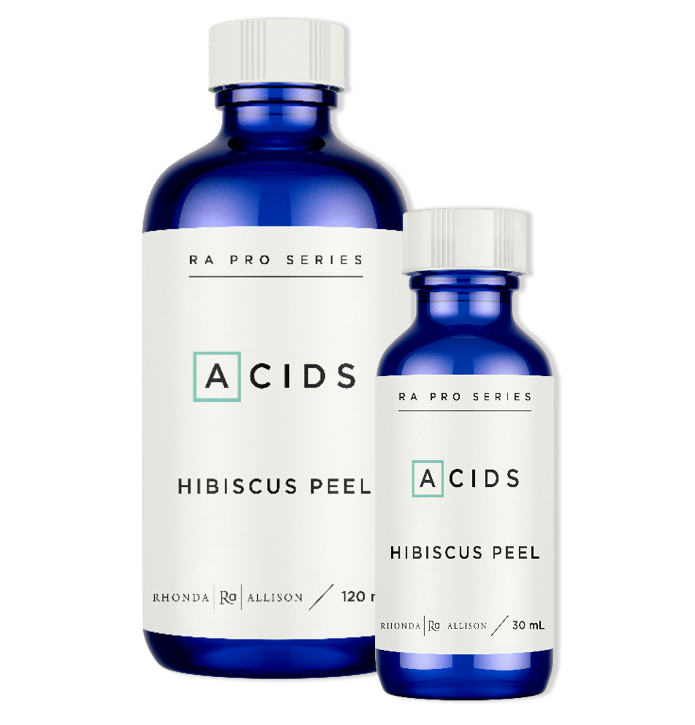 Treat to tone skin, stimulate collagen activity and balance excess oil, it is perfect for most all skin types, especially those dealing with hyperpigmentation, acne or healthy aging.
Focus ingredients include:
Hibiscus Sabdariffa Flower Extract – second-generation AHA, this flower acid increases cell turnover, exhibits good cutaneous tolerance and is more moisturizing than lactic acid.
Mandelic Acid (L) – AHA with strong antiseptic and antibacterial activity beneficial in the treatment of skin problems such as acne, photo aging and irregular pigmentation, but produces less prickling sensation making it tolerable for most all skins.
Phytic Acid – natural antioxidant that provides a powerful chelating affect on iron to prevent free radical damage and helps prevent the formation of free radicals that typically follow cell disruption caused by a peel.
Pyruvic Acid – potent Keto acid with a pH of 2.65 and part of the Krebs cycle of respiration, this powerhouse ingredient increases cellular metabolism and stimulates collagen, ensuring cells are performing at an optimum level.